3 Ways to Improve Patient Intake
Reading Time:
4
minutes
Many traditional tasks associated with patient intake can pull staff away from your patients. Handling paper forms, verifying insurance, and calling to confirm upcoming appointments can prevent your staff from providing a positive patient experience. The process can also be frustrating for patients who need 15-30 minutes to manually complete all the necessary paperwork.
HIPAA regulations require re-verification of the information, which slows down patient intake even more. Clearwave can help you make the process more efficient.
Here are three ways to enhance the patient intake process:
1. Online Scheduling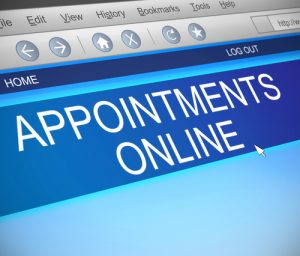 Healthcare consumerism is here to stay. Patients have become more selective with whom they entrust their care, forcing practices to provide better experiences. Patients have more choices today with the increase in virtual visits and urgent care centers. Self-scheduling gives patients access to a pleasurable experience and makes you their preferred care provider.
Clearwave's smart scheduling platform lets your patients feel like they are in control of their appointment and their time by ensuring an accurate, real-time provider-patient match. This incorporates your practice's health system for both provider and patient needs.
Online scheduling with Clearwave not only saves your staff time, but also boosts patient engagement. Patients who are empowered to self-schedule are highly likely to show up for their appointments, rather than being a costly no-show.
Online scheduling takes patient convenience to the next level. you're your patients don't just prefer self-scheduling – they demand it. Online scheduling also sets up your digital front door to drive new patient acquisition. It attracts new patients looking for specialty care and captures market share from other providers who don't provide patient access.
Online scheduling and Clearwave's Pre-Check work incredibly well together as well. Mobile patient check-in solutions allow your patients to bypass traditional paper check-in by completing the process on their preferred mobile device.
Here's how Pre-Check™ works for patients:
Before a scheduled appointment, patients receive an appointment reminder by text message or email. This is more convenient than yet another phone call from your practice that will go right to voicemail!
After receiving the reminder, the patient confirms the appointment. They then receive a prompt asking them to complete the pre-check process.
During this process, patients verify their current contact and insurance information. If there are updates that need to be made, patients can make them easily and quickly. Patients can also electronically sign any forms that your practice uploads.
On the day of their appointment, patients don't even need to talk to the front desk to check in. Instead, they can verify their arrival using Pre-Check™ or a Virtual Waiting Room, if your practice has one set up.
Thanks to Pre-Check™, your practice really can say goodbye to mountains of paperwork. And most practices have seen their patient check-in times drop to under 3 minutes.
Looking to stand out against your competition? In a similar Black Book survey from 2017, only about 9% of providers said they had the ability to provide their patients with all the tools they expect. By getting ahead of the curve and offering your patients solutions and tools to better their experience, you'll be on top as an innovator.
2. Automated Insurance Eligibility
Collecting payments from patients is usually one of the most challenging parts of the intake process. Many practices get it backward. Rather than collecting at the start of the visit before services are rendered, they try to collect payment after seeing the patient. In some instances, collecting those funds becomes more difficult than necessary.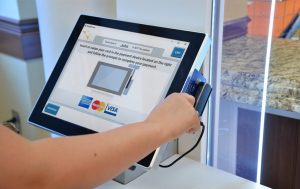 With Clearwave's eligibility engine, your practice can potentially decrease insurance claim denials by 90 percent while improving collection rates by 65 percent. You'll be able to verify insurance during patient intake, eliminating uncollectible revenue because of insufficient or invalid insurance benefits. Clearwave's real-time Eligibility-as-a-Service allows you to see co-pay amounts and at the same time verify primary, secondary, and tertiary benefits at every interaction to confirm coverage hasn't lapsed.
Having the benefits information of your patients at the time of their appointment helps your practice get paid quicker and improves the patient experience.
3. Two-Way Texting
Almost 97 percent of smartphone users text frequently. That means text messaging is an effective way of improving communication between your patients and practice. Your patients want exceptional care with a personal touch. Smarter, automated communication using Clearwave's two-way texting drives that connection by allowing you to communicate with your patients without the extra work of calling patients.
You can quickly and conveniently engage with your patients by sending a text reminding them about their next visit. Using this strategy has been shown to reduce no-shows considerably. With routine reminders and messages, your patients will feel more informed, not to mention empowered to take charge of their healthcare.
Cultivate Loyalty with Clearwave's Patient Intake
Patient satisfaction and the productivity of your staff are intertwined. Paper forms and other conventional patient intake processes cause your staff headaches and don't promote patient satisfaction. By leveraging Clearwave, you eliminate the manual tasks that your staff has been tasked with completing, not to mention redundant steps for everyone, streamlining the process across the board. The result is an excellent patient experience and increased loyalty.
Wondering how Clearwave can help your practice with patient intake and other common problems you may be dealing with? Download our newest Clearwave Connect for Mobile Data Sheet to learn more!
Reading Time: 2 minutes How does a hospital, health system or specialty practice signal an innovative approach to high-quality care? Joining exceptional patient treatment…
Reading Time: 2 minutes Patient check-in can be the difference between a high patient attrition rate and loyal patients who even refer others to…
Reading Time: 3 minutes At its most basic, patient access is the ability for patients to take charge of their own care. Although the…