FROM CLEARWAVE
Patient Check-In Kiosks
Implement patient check-in kiosks to help your practice reduce claims rejections, accelerate cash flow and provide the experience today's patients require. High-growth practices use Clearewave's ADA-compliant patient check-in kiosks to streamline collections, data capture and throughput.
Patient Check-In Kiosks For
High-Growth Practices
From airport check-in to grocery store checkout — businesses are seeing significant benefits from self-service kiosks. Healthcare is no exception. High-growth practices of all sizes and specialties are adopting patient check-in kiosks to reduce wait times and increase revenue. Allow your patients to check in themselves, update their own data and make payments, all without staff intervention. Patients can quickly scan their insurance cards, license or input other identifiers, and automatically find their appointment. From there, they can update their own data and proceed with the check-in workflow determined by the practice.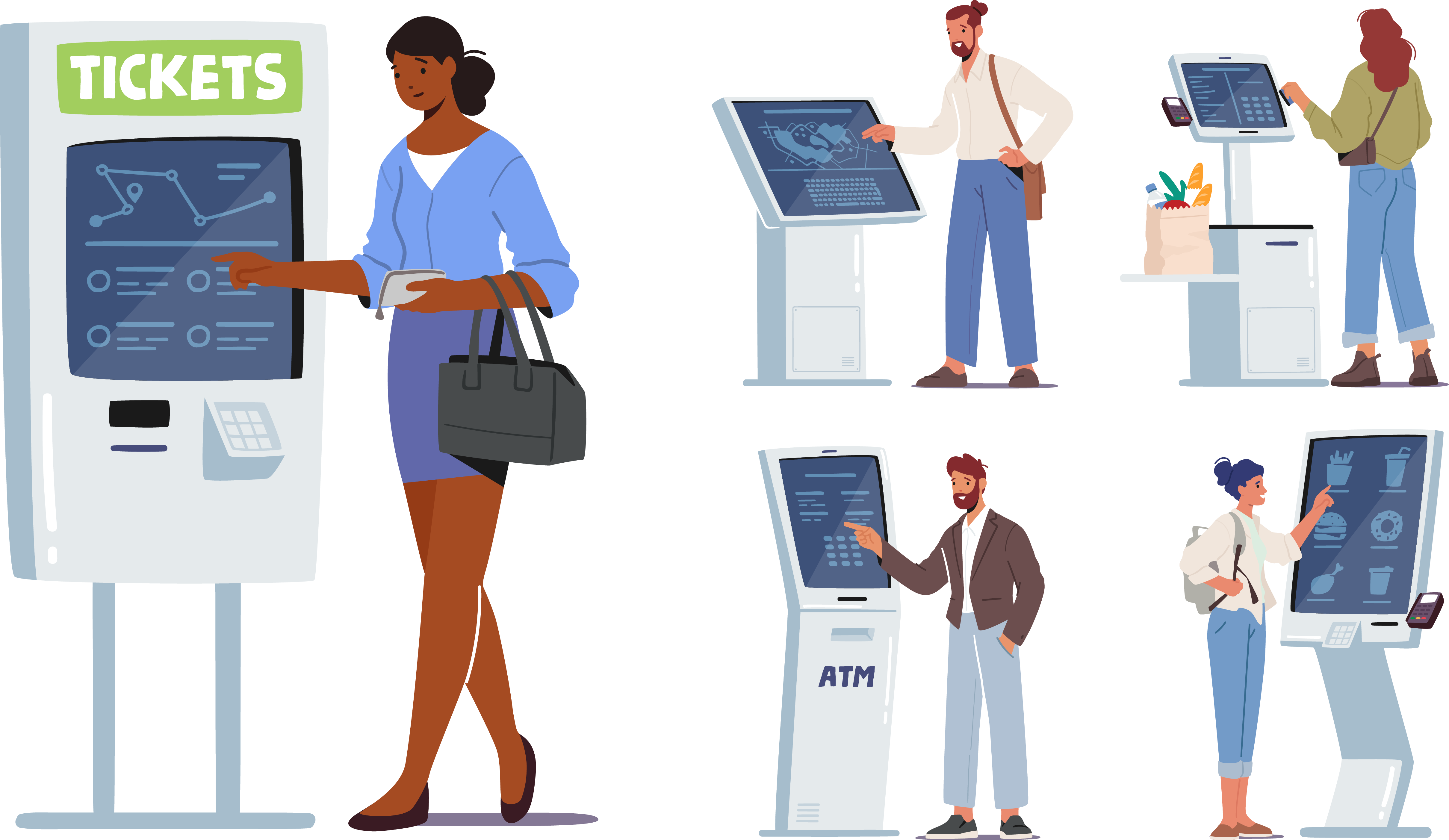 The Benefits of Clearwave Patient Check-In Kiosks


Truly Self-Service Registration
Pen and clipboard registration can increase errors and the potential for claims rejections. Additionally, handing patients tablets or navigating portal sign-ups and app downloads can be tricky for patients and staff alike, leading to frustration and time wasted at check-in. Remove manual staff intervention in patient registration to enable staff to tackle higher-value responsibilities like patient care and billing. Clearwave patient check-in kiosks are designed to be user-friendly with a simple touchscreen, similar to self-service kiosks that patients see when checking in at the airport or buying groceries.
Increase Point-of-service Collections


Increase Collections
See immediate revenue results when implementing patient check-in kiosks. In a busy office, staff may feel uncomfortable or too rushed to ask for payment. Patient portals have their own setbacks due to historically low adoption rates, causing patients to avoid using those systems to register and make payments, once again leaving your staff to facilitate collections. Rather than rely on staff to ask for payments, you can immediately increase point-of-service collections by implementing self-service registration kiosks that will ask for payment every time a patient checks in. Patient check-in kiosks can collect payments via card swipe and enable you to keep cards on file for future transactions.
Improve Patient Data Capture


Improve Patient Data Capture
Effective stand-alone patient kiosks capture insurance and license screenshots, electronic signatures, consents, patient demographics, compliance information, medical intake, custom questions and more — all directly from the patient or their guardian. This information then flows from the Clearwave patient check-in kiosks directly into your PMS/EHR, reducing manual data entry errors. With data right from your patients, you can process cleaner claims and put more time back into your staff's day to focus on genuine patient interaction and high-value administrative and billing tasks. Clearwave seamlessly integrates with 50+ PMS/EHRs.
Direct Patients to Premium Services


Direct Patients to Premium Services
The Clearwave patient registration kiosk gives you the flexibility to source leads for premium service patients, without added costs, staff challenges or increased wait times. Simply add custom questions about premium services to patients who fit the right demographics and ask them privately via self-service registration kiosks. Patients can quickly learn about the service and signal their interest, keeping check-in times short and removing any awkward staff interactions.
Reduce Patient Wait Times


Reduce Patient Wait Times
A clear goal for a patient check-in kiosk is to remove the time your patients have to spend in their provider's office. With a self-service kiosk, patients can quickly scan their insurance card, or other identifiers, find their appointment, update any information, sign consents and make their payment all in just a few minutes, sometimes even less. No need for patients to remember a password or go back and forth with staff to help them update data. With Clearwave patient check-in kiosks, you can also configure workflows to speed up registration even further, by taking out any repeat questions for your patients and allowing them to keep their card on file or scan it on the spot for faster payments.
Practices see up to a 90% reduction in wait times with Clearwave self-registration kiosks.


We're Stronger When We Support Each Other
High-growth practices choose technology solutions by evaluating price, fit and partnership. Your practice will grow further, faster with a vendor partner who CAREs about your outcomes, your challenges and your patients. At Clearwave, our experience working with medical practices of all sizes and across specialties has shaped our belief that we're stronger when we support each other – that's why we provide clearwaveCARE. With a focus on building lifelong partnerships, your experience will go beyond technology to ensure you maximize value.
How Patient Check-In Kiosk are Benefiting Specialty Practices
Southview Medical Group, a healthcare organization that sees over 700 patients a day across locations and specialties, saw immediate revenue…
ABOUT THE WEBINAR From airports to drive-throughs and even your patient's other specialty care providers — self-service kiosks have become…
East Alabama Health (EAH) offers both ambulatory and acute healthcare including emergency and internal medicine, family practice, outpatient care and…
Let's Get You Paid!
See how Clearwave patient check-in kiosks can help your practice accelerate growth.