FROM CLEARWAVE
Patient Scheduling Software
High-growth practices increase patient access and empower patients to self-schedule appointments. Clearwave's smart patient scheduling software - complete with automated eligibility verification and waitlist - reflects your practice's preferences and priorities to maximize scheduling and increase patient acquisition.
How Our Patient Scheduling Software
Increases Acquisition
Clearwave's patient scheduling software works closely with your critical EMR/PMS, allowing you to centralize patient and provider data from multiple sources. Once a patient books, cancels or reschedules in the Clearwave scheduling platform, your critical systems will update in real time, meaning no lag time, no staff intervention, no overbooking, and most importantly, no patient confusion.
Key Ways The Clearwave Patient
Scheduling Platform Benefits Your Practice
Online Patient Scheduling


How Clearwave Online Patient Scheduling Streamlines Acquisition
With a 24/7 online patient scheduling solution that can be embedded into an existing website or mobile app, your practice becomes instantly searchable, allowing new patients to shop for care and schedule appointments with providers. Working seamlessly across desktop and mobile devices, smart scheduling is accessible for all patients, ensuring accurate, real-time patient-provider match incorporating patient, provider and health system needs.
Multi-Language Scheduling


Clearwave Self-Scheduling Offers 13 Languages
Clearwave's self-scheduling solution is the only one on the market that offers practices the option to add more language options to patients when booking appointments. By offering additional languages to patients, you not only streamline their experience by making it more accessible but also reduce the likelihood of scheduling errors by removing language barriers. Show your patients and your community that you value them and want to simplify their healthcare journey from the start!
Clearwave supports 13 languages including, English, Spanish, Portuguese (Brazil), Portuguese (Portugal), Russian, Persian/Farsi, Korean, Albanian, Vietnamese, Chinese (simplified), Haitian Creole and French.
Scheduling for Call Centers


How Clearwave's Call Center Scheduling Drives Practice Growth
Practices use Clearwave's patient scheduling platform to book more patients without increasing acquisition costs. Use our patient scheduling solution for call centers to instantly streamline workflows, improve patient loyalty and acquire more patients. Our customers have even increased practice locations with no increase to call center volume or FTE costs. Customers have also decreased call-time length decreased by 70% and reduced new agent training time by 30%. Bring in more patients, for less, with Clearwave's SchedLogic™ call center solution.


Contact Center and Back Office Scheduling
With our guided scheduling dialogue, Clearwave Patient Scheduling provides call center agents and office schedulers with an interactive script specifically designed to collect information from patients. Agents simply input patients' responses, and SchedLogic™ does the rest. Our smart rules ensure a perfect match for every patient, reflecting your providers' preferences, reducing training time and eliminating human error.
SchedLogic™ Matching Algorithm
Perfectly match patients with the right providers, at the right times, to create appointments that reflect providers' preferences, maximize organizational efficiency and best address your patients' needs. Our complex patient scheduling algorithm handles all appointment types and can be customized based on your organization's workflow. Built with the understanding that patient and physician needs keep changing, nothing is hard coded, and practices can easily make changes to reflect their constantly changing environment at any time. SchedLogic is EMR/PMS-agnostic, which allows your organization to centralize patient and provider data from multiple sources and apply it to best benefit your needs.
PATIENT NEEDS

The patient steps through a guided workflow, and is asked relevant diagnostic and algorithmically personalized questions along the way to understand what they need

PATIENT HISTORY

PMS/EMR integrations ensure patient historical data is leveraged in scheduling decisions

PROVIDER EXPERTISE & PREFERENCES

Back-end rules reflect real-life provider priorities and preferences in the digitized workflow

BUSINESS LOGIC

Matching algorithms align appointment slots with organizational constraints such as insurance restrictions and reimbursement policies
How Our Patient Scheduling Software
Accelerates Growth for Speciality Practices


INCREASED EFFICIENCIES
Allow patients to instantly find and schedule appointments with providers, reducing the workload and burden on staff. Our smart engine matches the right care to the right patient, in real time. Our platform mimics the complex needs and logic of each organization we work with. 


IMPROVE PATIENT
ENGAGEMENT AND LOYALTY
With 24/7 scheduling and a waitlist option, patients are instantly enabled to view relevant providers and schedule care through their preferred channel at their preferred time, increasing patient satisfaction and loyalty, and creating a more engaged customer base.


DRASTICALLY REDUCE
NO-SHOWS
Online appointment management and automated patient appointment reminders ensure that patients and their providers are always on the same page.


MAXIMIZE PHYSICIAN
TIME WITH FEWER GAPS
The NextUp waitlist enables you to easily fill appointment gaps, without creating additional work for your staff. As available times open, NextUp will notify patients and book new appointments upon confirmation. With smart rules, NextUp will minimize gaps and maximize your physicians' valuable time.
of appointments booked online are new patients
of appointments booked online are made after hours
of appointments booked online are made last minute
"We needed a scheduling solution that put patient preferences first —and made access to care faster and simpler. Clearwave's digital patient access platform ticked all our boxes, enabling rapid and flexible deployment to deliver superior patient satisfaction and operational efficiency." - Annie Cain, Technology Manager | PANW
Of appointments scheduled online are last-minute appointments, filling schedule gaps
Increased in appointments scheduled online from previous solution
Of all appointments are scheduled after-hours, providing the convenience patients need
Scheduled appointments/month 
Reduction in agent training time
See How The Patient Scheduling Platform Works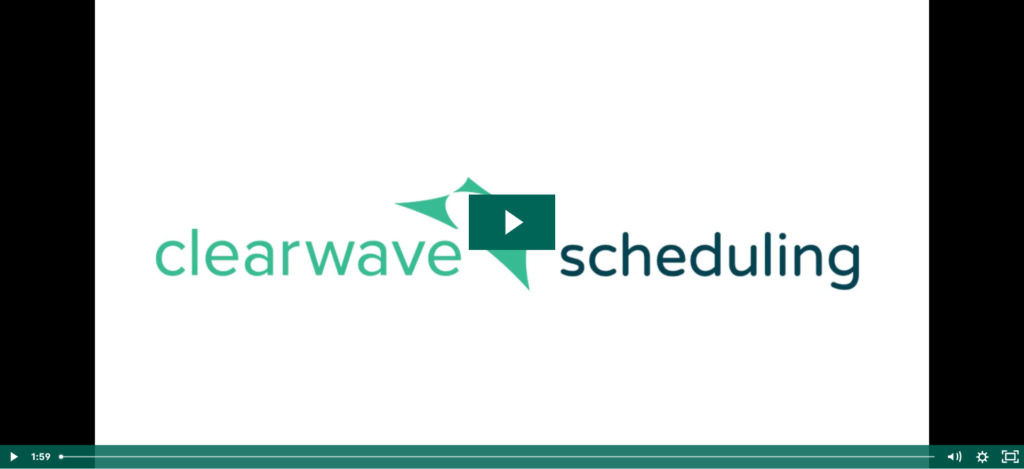 We're Stronger When We Support Each Other
High-growth practices choose technology solutions by evaluating price, fit and partnership. Your practice will grow further, faster with a vendor partner who CAREs about your outcomes, your challenges and your patients. At Clearwave, our experience working with medical practices of all sizes and across specialties has shaped our belief that we're stronger when we support each other – that's why we provide clearwaveCARE. With a focus on building lifelong partnerships, your experience will go beyond technology to ensure you maximize value.
How Clearwave's Patient Scheduling Software Helps Practices Like Yours
Digital patient access is a key factor in a competitive healthcare market. Providing healthcare solutions like online scheduling meets patients'…
Legacy Community Health, a full-service FQHC with over 200 providers and 15 locations, needed a complete digital patient access solution…
The Children's Clinic, a physician group located in the metro area of Portland, Oregon, wanted to enable online and mobile…
Let's Get You Paid - Literally
Connect with our team for a brief solution overview and get $50 - no strings attached.