FROM CLEARWAVE
Patient Registration
Flexibility and efficiency at patient check-in on mobile, tablet, kiosk — or a device combination. Give your practice an advantage and accelerate cash flow, collections and throughput.
How Clearwave's Patient Check-in
System Drives Revenue
The digital-first experiences patients want, and the solution turbo-charged for practice revenue growth. See how Clearwave's digital patient check-in systems can help your practice improve data entry, claims processing and throughput.


How Our Patient Check-in System Improves Pre-Registration
No more wasted time filling out forms in the waiting room. Patients can complete all the necessary demographic and medical history information in advance on their own device. Pre-Registration from Clearwave ensures patients provide thorough and accurate data you can see in real-time, enabling you to customize patient workflows or even offer premium services. See patient financial responsibility as soon as an appointment is booked, and collect payment upfront for larger procedures. Drastically reduce no-show percentages with better patient engagement and ease-of use. They see convenience and independence — you see a smooth, maintained cash flow. And once their information is in the system, they'll never have to fill out the same forms again on subsequent visits.
How Our Patient Check-in System Improves Clinical Intake
Reduce the staff effort required to capture clinical intake data and ensure accuracy. Have your patients complete their medical history and clinical intake by adding custom or standard clinical intake forms to your Clearwave pre-registration workflows. Patients will complete these forms as the last step in their pre-check and their information will flow into your EHR/PMS system by PDF or discrete data field updates. Capture clinical intake ahead of time to reduce check-in times and streamline the patient experience.

How Mobile Patient Check-In Improves Registration
Clearwave Connect for Mobile gives you the flexibility to offer patients the ability to check-in confidentially and conveniently from their personal device. This promotes safe zero-contact check-in protocols, and the implementation of virtual waiting rooms. Self-service check-in dramatically reduces patient wait time, too – driving higher patient satisfaction and loyalty.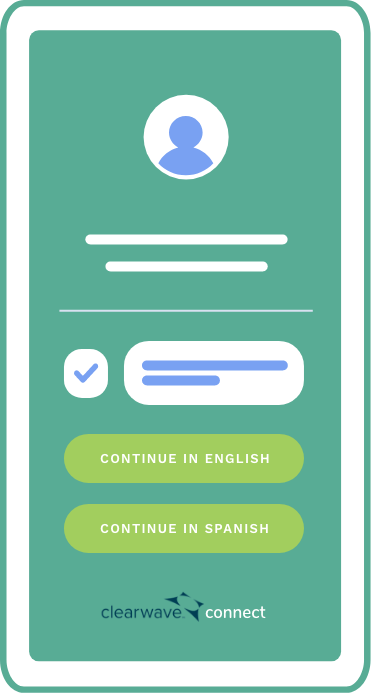 How Our Patient Check-In Tablets Improve Registration
Clearwave patient check-in via tablet gives your patients a confidential, flexible check-in, right from your practice's own tablets.
Whether used to reduce front desk check-in lines, provide hand-held options for patients with mobility challenges or offer a more private check-in experience, tablet patient check-in is an excellent adaptation for your practice. Easily collect data and payments through patient self-service for a smooth flow and satisfying patient experience.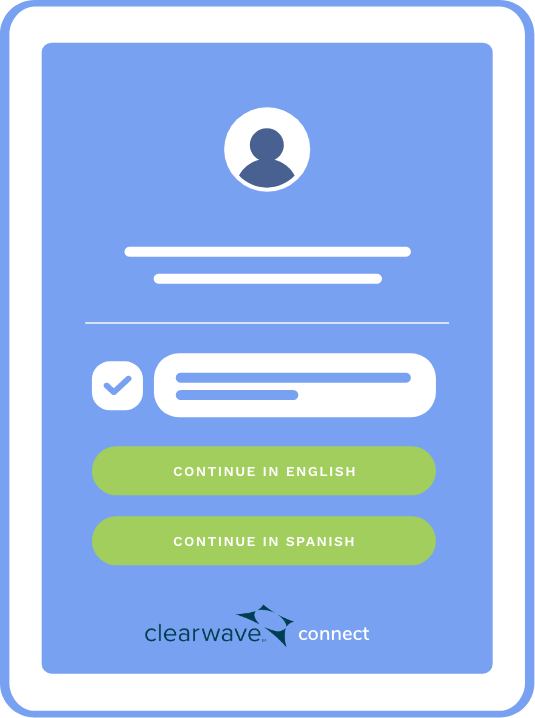 How Patient Check-In Kiosks Improve Registration
Clearwave's ADA-compliant Kiosks transform your front office with quicker patient self-check-in at one or more devices. Collect the most accurate billable patient data for cleaner claims and quick reimbursement. With two ADA-compliant kiosk models to choose from, find the best fit for your office and floor plan. Allow the smoother, more centralized flow of patient, eligibility and payment information to improve your processes and allocate front office staff to the most productive tasks and functions.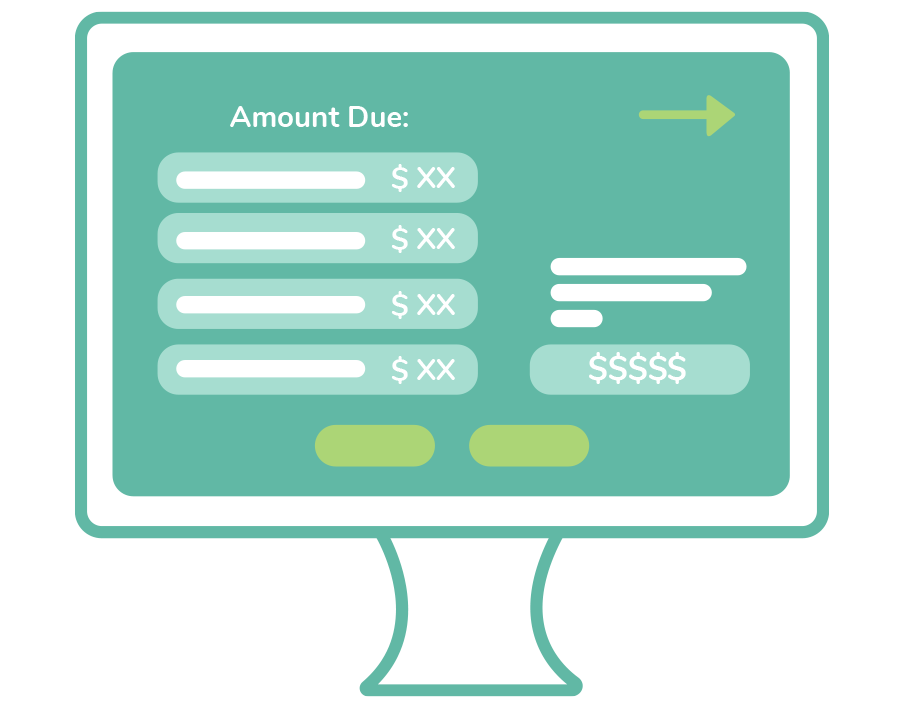 How It Works: 6 Points To Revenue-Focused Patient Registration


REMINDER
An appointment reminder is sent. Patient gets an early text or email — or real-time text message if same-day visit. Eligibility verification has already started, automatically.


ARRIVAL
The patient arrives for their visit. Their information is complete, updated & pre-verified.


PRE-REGISTRATION + CLINICAL INTAKE
Pre-registration and clinical intake is prompted and complete. Insurance cards & driver's license scanned. All pre-registration and clinical intake data is now visible in your PM system.


CHECK-IN
The patient checks in and pays their point-of-service responsibility (including past-due balances). Patients can self-check-in on mobile, or in-office using tablets or kiosks.


OVERVIEW
An overview is available in the dashboard. Staff reviews and fixes/clears any alerts identified by Clearwave. The day's schedule is prepped — open spots can be filled at any time.


VISIT
The patient is now ready to be seen. The process is expedited and efficient, with minimal staff intervention.
Create Frictionless Patient Check-In with Clearwave Registration for Mobile
Make check-in easy for patients by making it passwordless and portal free. Learn how Clearwave Registration for Mobile helps patients register using their phones, without needing an extra app or login information. Demonstrate your commitment to patient-centric care and increase point-of-service collections in the most seamless format possible with Clearwave Registration.
Watch Clearwave Connect for Mobile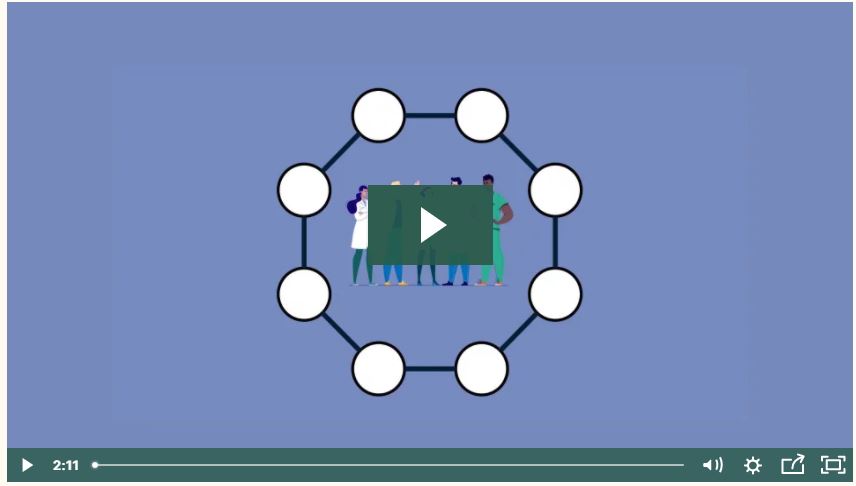 We're Stronger When We Support Each Other
High-growth practices choose technology solutions by evaluating price, fit and partnership. Your practice will grow further, faster with a vendor partner who CAREs about your outcomes, your challenges and your patients. At Clearwave, our experience working with medical practices of all sizes and across specialties has shaped our belief that we're stronger when we support each other – that's why we provide clearwaveCARE. With a focus on building lifelong partnerships, your experience will go beyond technology to ensure you maximize value.
in monthly patient visits
in new LASIK revenue, while dropping advertising by $5K per month
in point-of-service collections
in eligibility checks completed
"With Clearwave we now have a user-friendly system that handles the bulk of the data validation before patients walk in the door. Expediting the patient check-in process and having a better-quality experience has been a win-win for everyone, especially our patients." - Leeann Garms, CEO | Raleigh Neurology Associates
Increase in point-of-service collections year-over-year
Reduction in check-in times for returning patients
Average monthly patient data updates at kiosk, which flows directly into their athenahealth system
How Clearwave's Patient Check-In Software Helps Practices Like Yours
Raleigh Neurology Associates needed a solution to solve their congested waiting rooms, sluggish intake process and lack of privacy in…
St. Cloud Orthopedic Associates wanted to find a way to reduce long lines that were often out of the door….
United Skin Specialists was looking for a digital check-in system that centralized their workflows and integrated with Nextech. Using Clearwave,…
Let's Get You Paid - Literally
Connect with our team for a brief solution overview and get $50 - no strings attached.