Show Patients You're Prepared for COVID-19's Next Wave
Reading Time:
3
minutes
We're nearing the end of 2020 and at the highest spike yet in confirmed COVID-19 cases. While we have a margin in cases that may or may not be due to increased testing, the statistics are still dominating news headlines and markedly affecting people's willingness to move around in public.
Fewer people are choosing to visit busy locations where their risk of exposure may be increased, which can include medical clinics and practices.
How it Unfolded – from the Autumn Rush to Winter Re-Quarantining
We saw a post-COVID rush around August and September as many people began to reschedule non-urgent visits and see their providers again. This uptick in appointments may have coincided with the start of the 2020-2021 school year with people re-prioritizing regular healthcare visits after several months of quarantining.
Fall and winter holidays are typically times when US families travel to spend time together and college students travel home. People may be looking at the calendar and deciding to shelter in place again to keep everyone healthy through the holidays.
Providers can stay agile and prepared for any fluctuation in patient volume and help patients see the benefits of keeping up with regular appointments.
Showing Strength and Leadership in a Crisis
What can providers do to show they're prepared to continue care and put patients first?
Be COVID-resilient
Promote safety protocols
Maximize schedules
Create clear communication and communicate often
Being a COVID-Resilient Practice
During the first wave of COVID-19, practices and health systems needed to make quick decisions with the information they had at hand. This was especially important for providers with patients requiring continual care and treatment and urgent care. In subsequent COVID waves, leaders have the ability to identify best practices and respond with tried-and-true approaches to safety.
"In summary, I am looking like a genius for installing these months before the COVID-19 outbreak. The doctors have remarked over and over how our new processes were essential in keeping us and them safe. I was already very impressed with the entire system. This pandemic illustrated how useful Clearwave is and how technology combined with staff can make your organization more efficient and allow increased infection control."
 – Kyle Matthews, CEO, Phoenix Heart
Pandemic resiliency is an organizational benefit that should be promoted internally and externally. Repeated communication of safety measures and protocols with staff becomes the backbone of their every conversation and allows them to confidently respond to patients' questions. Staff should be completely aware of protocols in place, such as Zero-Contact Patient Registration, Virtual Waiting Rooms and Two-Way Texting. Staff should know what the communication process and cadence are like, so patients know what to expect — and everyone understands that safety is your #1 priority.
In a recent webinar with Leeann Garms, the Chief Executive Officer of Raleigh Neurology Associates, we took an audience poll on the biggest challenges to patient care during the pandemic.
The top two challenges were:
Maintaining staffing
Patients disengaging or deprioritizing their care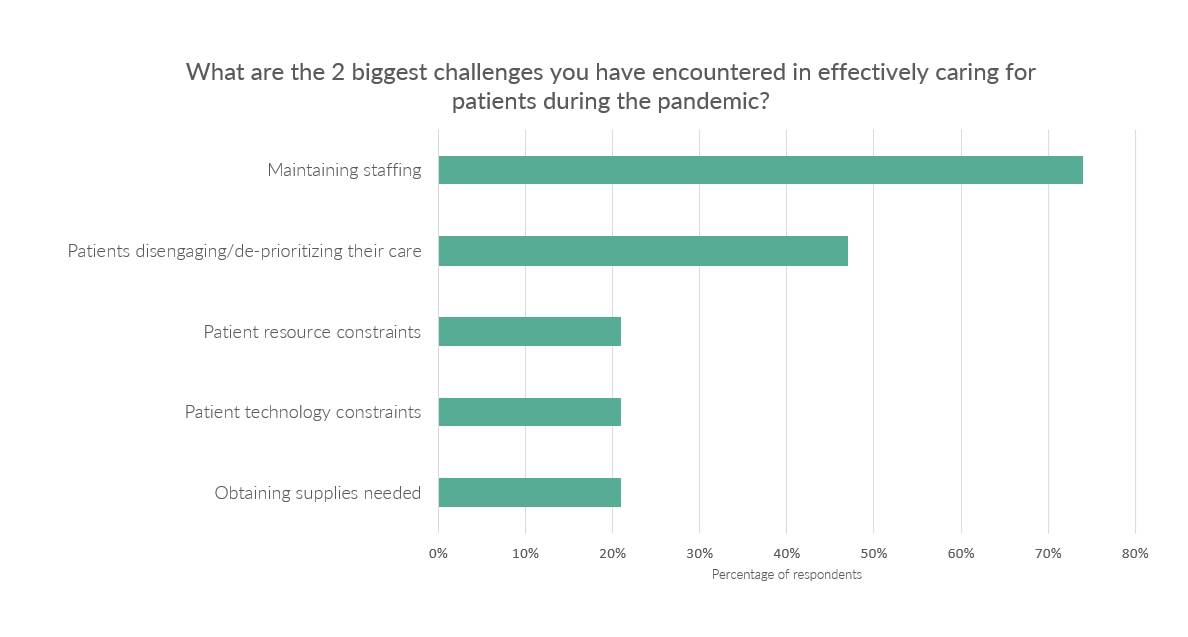 Strong messaging around your practice's COVID-resiliency can have a direct impact on these top two concerns and help you to retain experienced staff and continue patient care.
Promote Safety Protocols
Developing infographics, videos, website announcements and printing posters for the office that relate to your practice's pandemic safety protocols will reassure existing and new patients and keep staff updated.
Use email campaigns and social media to direct patients to any informational resources you have in place and make them feel comfortable about coming in or scheduling a telehealth appointment.
In a health crisis, patients continue to look to medical providers for guidance. By anticipating challenges and knowing how to move ahead, providers can own the narrative and proactively keep patients engaged in their care.
Reading Time: 5 minutes By Chloe From Clearwave | August 7, 2023 In today's dynamic healthcare landscape, effective communication is crucial for getting patients…
Reading Time: 3 minutes By Blakely Roth | July, 26, 2023 Across industries, consumer-facing organizations are embracing self-service solutions to solve staffing complications and…
Reading Time: 6 minutes By Chloe From Clearwave | June 5, 2023 Effective communication is a critical component of successful healthcare practices. In today's…