Take Patient Scheduling to the Next Level with Appointment Reminders
Reading Time:
3
minutes
Your patients spend a lot more time going about their everyday routine, whether it's at work or home, rather than at your practice. For this reason, it's essential to focus on patient engagement. 
Patient engagement occurs when your patients have the know-how, tools and willingness to take an active part in their health care. A patient scheduling platform that comes with automated reminders plays a significant role in boosting patient engagement, not to mention your bottom line.
Automated appointment reminders allow you to maintain two-way communication that is both personalized and relevant to keep your patients engaged. With built-in appointment reminders from Clearwave, your patients will have the motivation and education they need to make informed decisions about their care. 

Texts Get Seen
According to research conducted by Asurion in 2019, people check their phones 96 times every day. Since patients rarely answer their phones and prefer texting, appointment reminders sent by text message are crucial if you want to get your patient's attention and get a response. Appointment reminders are convenient for your patients, as well as your practice. This kind of digital communication enables your patients to request, respond to or confirm an appointment in the shortest time possible, despite their busy schedules.
Benefits of Appointment Reminders
Here are some of the ways automated appointment reminders can improve patient scheduling and patient engagement. 
Reduced No-Shows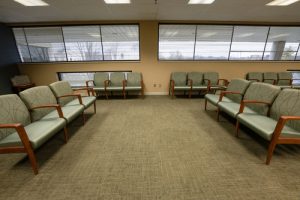 Integrating your patient scheduling system with appointment reminders allows your practice to send text reminders for patients to quickly and easily confirm, cancel or reschedule their appointments, reducing no-shows. When your patients reschedule or cancel their appointments ahead of time, you can fill the slot with other patients on your waiting list. This way, you'll have more satisfied patients who won't have to wait a long time before seeing their doctor.
Improved Staff Productivity
Replacing manual calls with automated appointment reminders frees up more time for your front office staff to take on other responsibilities. This means your staff will no longer have to stay on the phone, calling every patient individually to remind them of their appointment. Instead, they can divert their attention and energy to providing personalized attention to patients in your practice. 
Enhanced Health Outcomes and Practice Efficiency
Appointment reminders are key in ensuring the front office at your practice operates efficiently. When automated reminders are sent using text messages, your staff has more time on their hands. This is a good thing because they can get to know patients better and make sure each patient receives quality care.
Utilizing appointment reminders also reduces late arrival appointments. This is important when it comes to improving health outcomes. By sending automated reminders for your patients' upcoming or overdue follow-up appointments, you ensure their health is top-of-mind for both you and your patients. Keeping patients updated is vital to better health outcomes. 
Helps You Run A Successful Practice
While no-shows may seem like a slight inconvenience, they can have a negative impact on your practice. Some practices have no show-rates that are as high as almost 50 percent! 
This can impact your daily revenue considerably, yet allocating staff to solve the problem can end up canceling out your lost revenue. But with the help of patient appointment reminders to reduce no-shows and need less manpower, your practice can increase revenue.
Refine Your Existing Protocols with Clearwave
Clearwave's built-in appointment reminders reduce cancellations, no-shows and missed appointments by providing a solution that can be integrated with your patient scheduling software. Your practice can leverage Clearwave to enhance patient engagement and simplify the process of scheduling in your practice. 
Ready to discover how Clearwave can benefit your practice? Request your 30-minute demo today!
Reading Time: 5 minutes By Chloe From Clearwave | September 27, 2023 Earning the distinguished classification of a "high-growth" practice is no small feat,…
Reading Time: 4 minutes By Chloe From Clearwave | September 7, 2023 Self-scheduling has become an integral part of the winning patient acquisition formula…
Reading Time: 4 minutes By Chloe From Clearwave | September 5, 2023 One technological solution that has proven to be a game-changer for patient…