The Importance of Screening Patients During COVID-19
Reading Time:
3
minutes
Coronavirus (COVID-19) is unlike anything medical practices and the world have ever seen before. During a pandemic, it's important to use every tool at your disposal to help curb the spread of disease and keep your community informed.
One tool available to Clearwave's network of practices is Mobile Pre-Check™. Mobile Pre-Check with our COVID-19 Screening Module, makes it easy to screen patients for symptoms before they ever walk into your practice.
With an infectious disease like COVID-19, keeping patients and healthcare workers safe is the most important thing.
Self Check-In Reduces Direct Contact Between Patients and Staff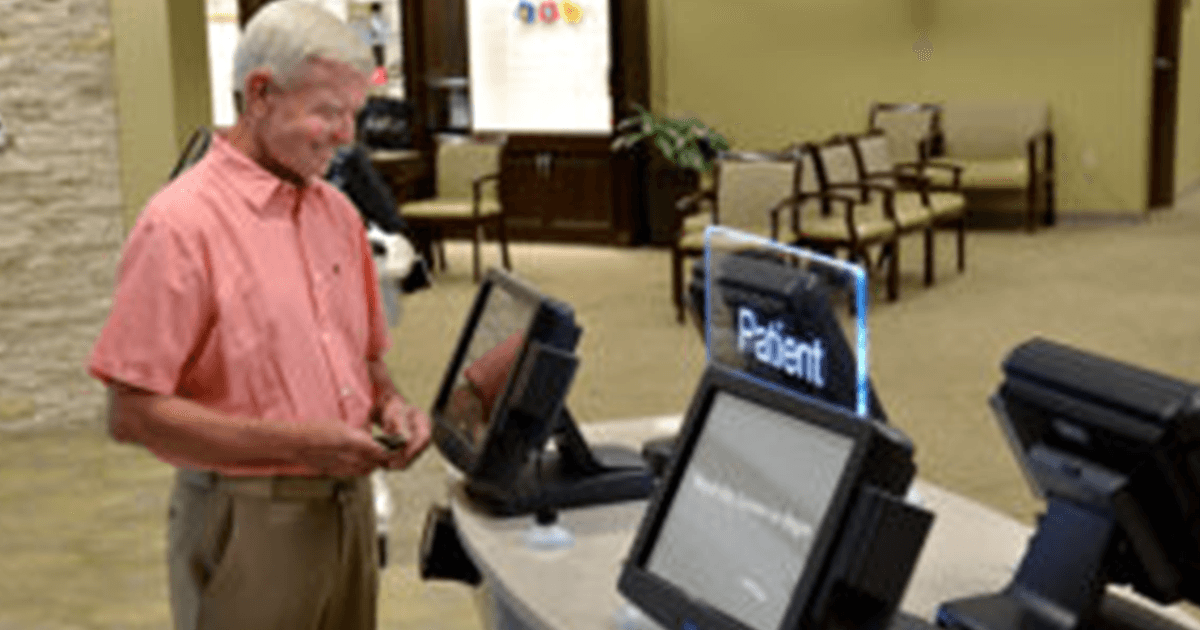 COVID-19 primarily spreads through person-to-person contact. According to the CDC, the virus is believed to spread between people who are in close contact with one another, and through respiratory droplets from coughing or sneezing, which can be inhaled into the lungs.
Although it's less likely, the virus can also spread before people show any symptoms.
It also may be possible that COVID-19 can spread from contact with contaminated objects or surfaces that have the virus on them. Per the CDC, "Current evidence suggests that novel coronavirus may remain viable for hours to days on surfaces made from a variety of materials. Cleaning of visibly dirty surfaces followed by disinfection is a best practice measure for prevention of COVID-19 and other viral respiratory illnesses in households and community settings."
With self check-in options like Mobile Pre-Check and check-in kiosks, Clearwave customers are able to reduce the amount of necessary direct contact. At this time, it is also extremely important to properly clean and maintain check-in kiosks following best practices.
There's an inevitable feeling of nervousness when it comes to sitting in a public waiting room right now. Why not reduce unease and make the process of checking in as safe as possible for patients?
Other precautions your medical practice can take include:
Encourage employees that are sick to stay home to keep other employees healthy
Encourage patients to wash their hands thoroughly and frequently
Put out hand sanitizer for staff and patients to use between hand washings
Wipe down shared surfaces like your front desk, pens, check-in kiosks, doorknobs, countertops, and anything that gets touched regularly
Employees and healthcare workers should do their best to stay at least six feet away from patients in proximity
If patients are experiencing any respiratory symptoms or COVID-19 symptoms, isolate them from other patients until the virus can be ruled out
Mobile Pre-Check™ COVID-19 Screening Module Helps Keep Patients Safe
Washing your hands, keeping 6 feet away from other people, and practicing social distancing are crucial components if we want to flatten the curve with COVID-19. But in many instances, patients still need to see their doctors.
When this happens, your medical practice will want to keep all patients as safe as they can be. Mobile Pre-Check allows your practice to screen patients for COVID-19 symptoms before they ever step foot in your practice.
Clearwave is now offering the COVID-19 Screening Module on our electronic self check-in solutions. This comes at no additional cost if you already use a Clearwave electronic check-in solution like Mobile Pre-Check, Kiosks, or Tablets.
Using the COVID-19 Screening Module, practices can interact directly with their patients to determine if the patient needs isolation during their visit. It also ensures the staff are kept safe and can wear protective eyewear, masks and clothing if a patient may have been exposed to the virus and is contagious.
There are only so many resources to go around, which is why we need to keep our healthcare workers and medical practices safe from infection whenever possible. With the COVID-19 Screening Module, practices can create a virtual barrier using recommended questionnaires provided by the CDC.
Questions include where a patient has traveled recently, if they have been to a place that has higher infection rates and what symptoms they are currently experiencing, if any.
We can all do our part to keep COVID-19 from spreading. Educating and protecting patients is part of our responsibility to them when they are under our care. Find resources to help prevent the spread of coronavirus with our COVID-19 Resources Hub, located here.
Reading Time: 6 minutes By Chloe From Clearwave | June 5, 2023 Effective communication is a critical component of successful healthcare practices. In today's…
Reading Time: 6 minutes By Chloe from Clearwave | May 24, 2023 Facing a low booking rate for Botox, laser hair removal, anti-aging and…
Reading Time: 4 minutes By Chloe from Clearwave | May 18, 2023 With so much to accomplish each day—meetings, deadlines, dropping kids to and…