State of Healthcare Patient Check-In
Reading Time:
5
minutes
Many providers are familiar with the challenges that limit healthcare practices from providing great patient experiences – from tedious, error-prone paper forms to the long lines they create. From the time spent on the phone validating insurance to the resulting lost staff productivity to the high deductible health plans that have turned the patient into the payer. This has been the story for too many clinics for too long.
However, there is a way for our industry to provide seamless, connected experiences while staying compliant with HIPAA Privacy and Security laws and supporting the bottom line for our businesses.
These manual and inefficient processes frustrate patients causing friction between the patient and the provider. The question Clearwave has asked since it was founded in 2004 is: "why can't healthcare's registration process be as simple as using an ATM?" It can.

Friction-Free Self-Service Landscape
In every other part of our lives, industries have implemented self-service to create less friction and more convenience. Banks started installing ATM machines in 1969 and gas stations began allowing consumers to pay at the pump in 1973. In the past year, how many times have you gone into a bank to withdraw cash or gone into a convenience store to pay for your gas?
At airports, we've also seen airlines install self-service kiosks and a Pre-check process while airports implement TSA and CLEAR programs all with a goal to reduce lines and increase throughput. Disney World installed bio metric check-in devices in 2013 and Panera Bread started a nationwide roll out of self-service ordering in 2015.
Amazon has also provided us the convenience of one-click online shopping for years. In 2018, the first Amazon Go store open to the public with the slogan: "No lines, no check-out – just grab and go."
Consumers have grown accustomed to this fast and frictionless environment and their newfound preferences don't change when entering the door of your practices. In fact, they expect the convenience and choice that self-service brings.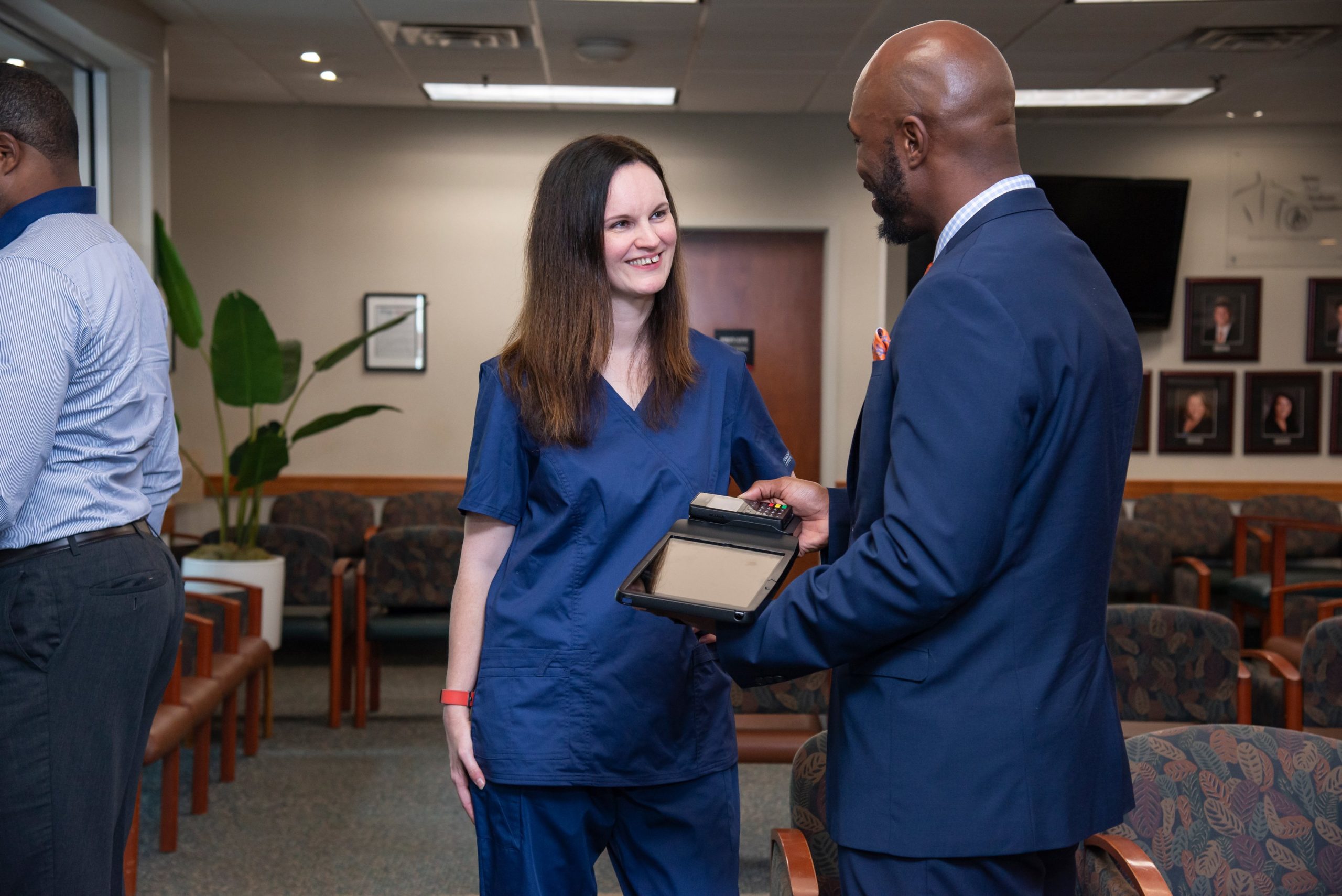 Patient Empowerment & Convenience
Today's patients are more empowered than ever. They can Google their symptom and get linked to healthline, mayoclinic and webmd. They Google their doctor and get linked to Healthgrades, Vitals, and Yelp. They will go to your practice's website to research their doctor but also would love to be able to schedule their appointment and make an online payment.
Most patients do not come to your office to see the registration staff, read the magazines or watch the TV in the waiting room. They come to your office to see the doctor. So all the manual repetitive processes in place in your practice causes frustration for the patient. They expect the same convenience and experience they see in every other aspect of their life.
Healthcare companies are beginning to notice. Insurance companies are beginning to provide more transparency and wellness tools to their customers. CVS, Walmart and Amazon have created or are creating clinics in the name of convenience and flexibility for patients.
It is imperative that healthcare practices recognize and react to these trends and customer expectations in order to stay competitive.
"Society is changing, and patient values, attitudes, and behaviors have followed suit. Today's patients are more informed and empowered than ever, and as you would expect, their preferences and expectations have mirrored current trends among consumers in general, namely:

· They demand instant response and feedback

· They expect convenience and ease of use at every turn

· The end-to-end experience is just as important as the quality of the product or service itself"

The Future of Healthcare Solutions – Staying Competitive
How can healthcare practices stay competitive in this new fast, flexible, and friction less world?
1 – Provide a Seamless Patient Experience
Practices need to focus on the patient experience before the patient even walks in the door. From web-based preregistration tools to a seamless transition in the waiting room, the customer experience must be prioritized across the board.
"We will continue to see more clinics focus on the patient experience before the patient walks in the door, beginning with web-based check-in and preregistration tools… This is how consumers shop, make restaurant reservations, and reserve a tee time—they expect the same service from their healthcare provider."

– Experity, Urgent Care Trends to Watch in 2018 – The Year of the Patient
Providing this familiar and efficient experience will drive better patient experiences, better outcomes, and will improve their perception of your practice.
2 – Offer Greater Choice and Flexibility
From scheduling to post-visit follow-ups, patients have a variety of ways to interact with your practice and will choose the method that works best for them.
While many patients are comfortable interacting digitally, there are some who continue to prefer face-to-face exchanges – providing the appropriate method of interaction adds to the patient experience.
These interactions also don't stop at the check-in form factor. With a increasingly diverse US demographic, offering communications in the patient's native language helps you stay competitive and provide better service.
"To maximize patient engagement, [practices] should opt for deploying "consumable" self-service technology permitting patients to interact with the healthcare system in a meaningful and relevant way… Today's providers have to connect with patients when and where it's convenient for the patients , whether it's on a smartphone at 2 o'clock Thursday afternoon at Starbucks, or on a tablet at 8 o'clock Saturday morning at the dining room table."

– Jim Dowling, A convenient truth: Self-service works in healthcare, Healthcare IT News, 2013
3 – Support Seamless Data Entry & Integration
Finally, the data collected from the patient has to be authenticated and integrated with your practice management and electronic health record systems. Throughout this process, the information needs to remain uniform, organized, and accurate.
If your practice can achieve this, it will be able to evolve with its customers and use the information that it collects from the patient to customize the patient's registration process and resulting experience throughout the practice.
For example, a simple marketing question during check-in can lead to thousands of dollars in additional services or a reduction or reallocation in marketing spend.
"Data has always been an integral part of healthcare, and comes in many different forms, but new types of data and ways of collecting it will impact the quality of customer service in the healthcare industry. A benefit of automated systems is that they can filter through large amounts of data in real-time to provide the best patient experience."

– Prometheus Research, 10 Health Care Quality Improvement Trends You Can't Ignore
Implementing Technology to Stay Competitive
Clearwave is committed to helping today's practices stay competitive and provide the best patient experience. With the availability of Clearwave Connect, ​a tablet-based check-in solution, Clearwave is extending a sixteen-year kiosk self-service experience, bringing additional benefit to patients and practices alike. The Connect offers the familiar rich and friction less check-in experience of the Clearwave Kiosk in a more flexible and extensible format – putting patients first and opening new opportunities for practices.
Watch our  video demo to learn more about how to improve your practice with our tablet-based solution.
{{cta('15a6104d-6dea-4b39-8837-d84b562e45a4′)}}
Reading Time: 4 minutes By Chloe From Clearwave | October 23, 2023 When payments are slow it's frustrating for healthcare providers, meanwhile patients may…
Reading Time: 4 minutes The ability to pre-register for appointments, ahead of their office visits, has become a top requirement that patients are looking for…
Reading Time: 5 minutes By Chloe From Clearwave | August 7, 2023 In today's dynamic healthcare landscape, effective communication is crucial for getting patients…