Preparing Your Neurology Practice for Post-COVID
Reading Time:
4
minutes
The coronavirus pandemic has turned the world upside down, forcing businesses and individuals alike to change their daily routines and adapt to a rapidly changing world. Medical facilities have had to change how they deliver services to patients to curb the spread of the virus.
Canceled appointments and postponed surgeries are two critical ways the pandemic has affected medical practices across the country. Neurologists are now operating on an entirely different model from what they were once used to.
This means that when things do get back to normal, there will be a phase where practices need to restructure operations to get back to where they were before. For some, routines and policies may change permanently.
Some of the solutions being used to deal with the pandemic can simplify service delivery afterward. It's important to note that this change has not only affected medical professionals but their patients as well.
Any efforts to transition from the current situation to a post-COVID era should consider solutions that are best for both staff and patients. Below are some suggestions that will help you get your neurology practice back on track post-COVID:
Telehealth

Telehealth has been one of the primary solutions that have allowed physicians to stay in business while safely attending to patients. Specialists have been able to hold appointments and consultations with patients over media such as video calls. When the pandemic has ended, you will have the option to continue using telehealth to serve your patients.
Before this event, practices had adapted various telehealth solutions to improve service efficiency. If you've only started using this type of technology, then it can also be helpful in a post-COVID environment.
For instance, digital check-in solutions that reduce contact between patients and staff can significantly reduce the number of hours spent on administrative tasks at your practice.
Continuing with the implementation of telehealth solutions after the pandemic will allow you to be more efficient and increase patient satisfaction.
It also allows your neurology practice to incorporate more levels of personalization while integrating electronic self-check-in options. To find out how patient check-in software can activate your telehealth solution, click here.
Patient Rescheduling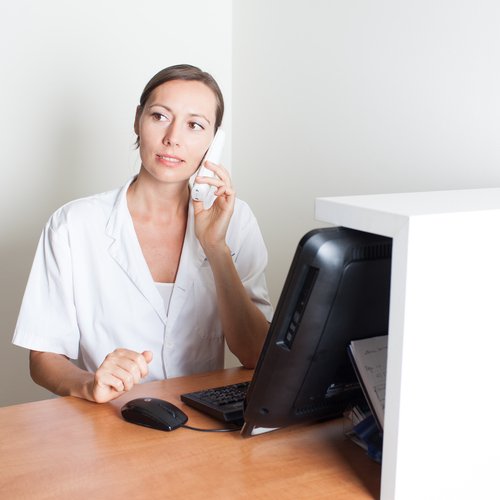 With the number of appointment cancellations and postponements happening during the outbreak, appointments will need to be rescheduled once your practice is able to open to the public once again. To make that easier to manage, keep a record of all postponed appointments.
This way, your practice will be able to reschedule patients once it's safe to do so. This is easy to do with software solutions, like Clearwave that track your appointments and allow you to communicate with patients.
By using electronic self-check-in technology, your practice can text patients who have upcoming appointments and move their appointments to telehealth when necessary.
Once patients can be rescheduled, it's important that practices are as proactive as possible when it comes to rescheduling and processing patients for appointments. Mobile Pre-Check™ can be used to update records, or even collect information about new patients before they ever step foot in your practice.
Patients will be more anxious than ever to see their doctors, so it's important to know how to reduce the workload for front desk staff at your practice.
Safety Reassurance for Patients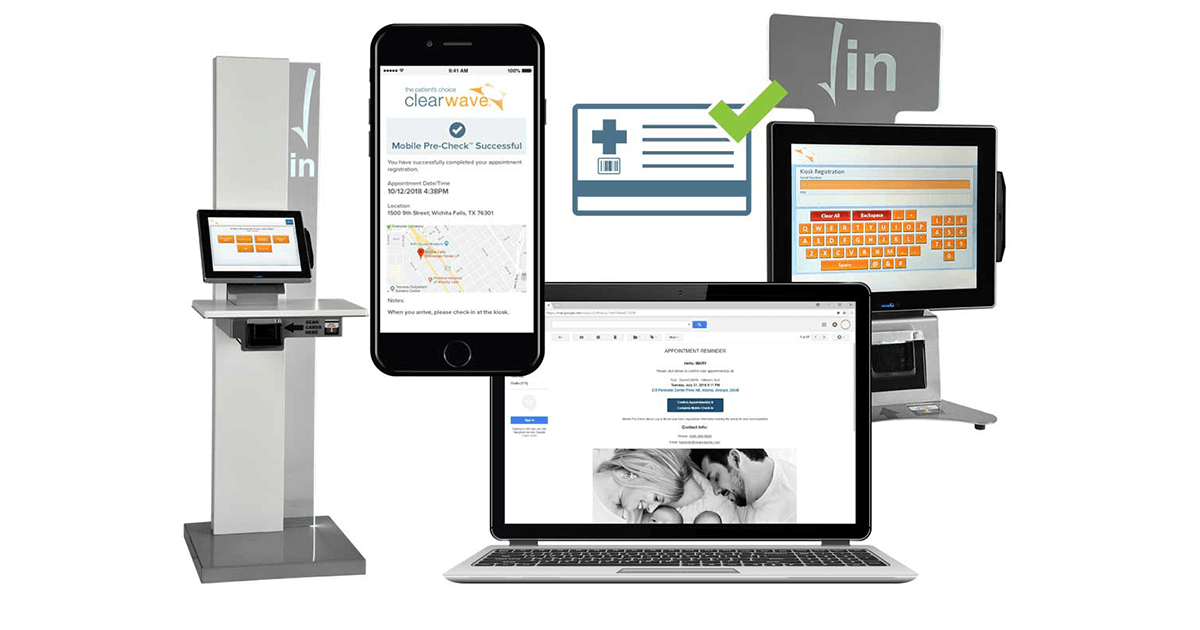 After spending so long at home, some people may still be reluctant to go out in public. How can you convince them that it's safe to come into your practice?
This is a valid reaction and is expected. As a practice, it will be up to you to reassure your patients that it's safe to attend appointments at your office.
Many patients may not be convinced through words alone. If you want to reassure your patients that safety is the first priority at your practice, eliminate the need for administrative paperwork.
Electronic self-check-in technology makes it possible to get rid of pens, papers and clipboards. Letting patients check themselves in without touching items that could transmit COVID-19 (such as credit cards, pens and paper) says more than your words ever could.
These solutions can also help your practice to maintain social distancing standards by allowing patients to spread out throughout your waiting room, instead of gathering in long lines while waiting to check-in.
Taking these steps shows your patients that you take their safety seriously and are taking every possible precaution. If you want to go the extra mile, consider implementing mobile pre-check technology to go along with the electronic self-check-in system.
Mobile Pre-Check™ lets patients check-in from the comfort of their own home, or even on their mobile phone. After arriving at your practice, the patient alerts the front desk staff that they are there for their appointment.
Your neurology practice can even use pre-check technology to establish Virtual Waiting Rooms, which allow your patients to notify your staff of their arrival from their vehicle and wait outside of the office, receiving a text message notification once it is time to enter for their appointment.
Once the neurologist is ready to see them, the patient is then notified. Mobile Pre-Check is one more way to cut down on interpersonal contact while reducing the amount of time it takes to check-in.
Neurology Practices in a Post-COVID Era
Many of the solutions being utilized right now can be helpful long after the pandemic is over. Take advantage of telehealth and other technologies you have adapted to improve services at your neurology practice long after the COVID-19 pandemic has passed.
Clearwave has many solutions that can help you navigate the post-COVID era better, starting with our check-in solutions. Looking for a safer way to check-in patients at your neurology practice? Schedule a 30-minute demo with Clearwave to learn more!
Reading Time: 4 minutes By Blakely Roth | November 30, 2023 Patients want the freedom to book appointments at their convenience, just like booking…
Reading Time: 4 minutes By Chloe From Clearwave | November 10, 2023 Missed appointments are an inconvenient but common occurrence in healthcare. Patient no-shows…
Reading Time: 5 minutes Increasing practice growth is not just a goal, but a necessity for specialty physicians in today's healthcare landscape.  According to…