How Clearwave Scheduling Benefits Providers
Reading Time:
3
minutes
Hospitals and health systems are looking for new ways to elevate the patient experience and optimize costs. In the meantime, digital patient access tools are becoming smarter and more comprehensive.
During the COVID-19 pandemic, digital patient access via websites and patient portals supported health and safety protocols. Now, as administrators look to stabilize finances and boost patient throughput, digital patient access solutions are also meeting those needs.
Online scheduling is often a first step in connecting a patient to healthcare providers, and the statistics of how patients choose healthcare providers are too strong to ignore:
80% of patients turn to the internet to begin their healthcare journey
68% of people prefer medical providers who offer online scheduling, and
86% of patients believe customer service is key to their experience.
Today's patients research symptoms as readily as they look at different providers and the reputations of healthcare organizations. They prefer and expect to engage with practitioners through digital means at their convenience. Hospitals and health systems know that a focus on delivering patient satisfaction can increase HCAHPS scores, reimbursement and reputation in a competitive healthcare market.
However, choosing technology solutions also requires adoption by patients, staff and physicians. In healthcare, it's near impossible to temporarily implement potential new tools to gauge performance and then select a crowd favorite. The infrastructure of hospitals and health systems rely on a balance of technical solutions and human resources to support operations, and the systems must always work.
Organizations must proactively meet the needs of resourceful healthcare consumers to be able to treat them as patients — and by creating a dynamic digital framework, can efficiently deliver care.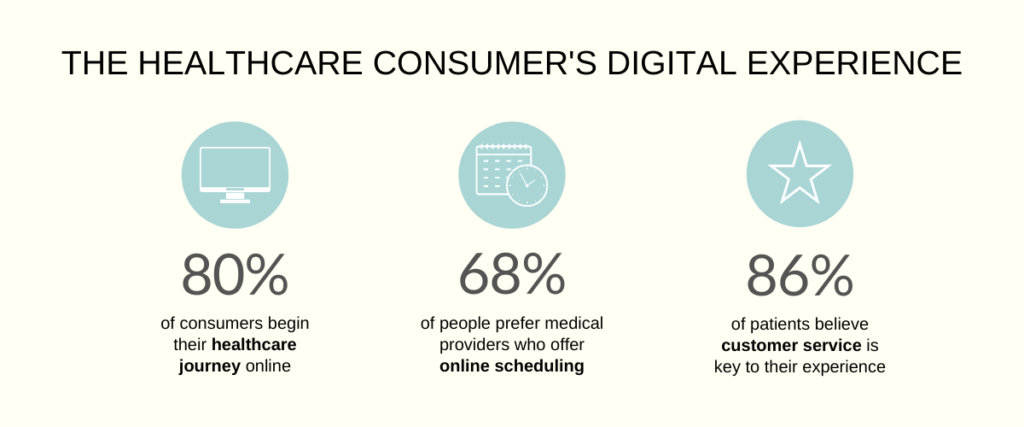 From a Physician's Perspective
Hospitals and health systems must always consider the demands on providers and staff to nurture and retain highly-skilled, hard-working professionals.
For physicians, the potential benefits of a patient scheduling platform are enormous. And at Clearwave, we've listened carefully to what providers need from patient access to work as effectively as possible.
✓ Ease-of-Use in Patients' Preferred Format
First and foremost, Clearwave's patient scheduling software is easy to implement. Patients expect access, and Clearwave Scheduling's ease-of-use offers convenience, meeting patients in their preferred format. Appointments can be self-scheduled through an organization's existing website 24/7.
✓ Supporting Call Centers
Clearwave makes the work of hospital and health systems' call centers more efficient. Using interactive scripts to collect information Clearwave Scheduling implements the organization and provider's criteria to schedule appointments, whether complex or straightforward. The call centers' guided workflow prompts for diagnostic and customized questions along the way with PMS/EMR integrations and insurance restrictions and reimbursement policies to support staff and facilitate smart scheduling.
✓ Smart Flexibility and Balanced Volume
Clearwave's patient scheduling software expertly upholds physicians' schedules and their patient volume. Clearwave allows patients to connect with the right provider based on their input. It can also balance the workload among a team of providers — or feature new providers to fill their schedules and take some of the traffic.
✓ Providers' Maximized Schedules
Clearwave's patient scheduling platform maximizes providers' schedules. It uses the provider's rules to book appointments and appointment types at any time of the day and releases unused time slots back into inventory. The reminder functionality of Clearwave Scheduling dramatically reduces a provider's percentage of no-shows, keeping patient volume moving at a steady pace. When patients have registered and checked in using Clearwave for kiosks, tablets or their own mobile devices, wait times drop and help front desks focus on quality interactions.
✓ Productivity and Financial Health
Beyond fostering greater patient loyalty, Clearwave Scheduling has a direct impact on productivity and profitability. Clearwave dramatically reduces the workloads of front desk staff to let them support more urgent patient needs. The automation reduces data entry errors and time-consuming paperwork and administrative tasks for cleaner claims and faster reimbursement. Clearwave's integrated real-time eligibility verification creates financial transparency, so patients aren't surprised with unexpected charges post-appointment. And with point-of-sale patient collections, patients are prompted to pay for co-pays and open balances, increasing cash flow.
There are countless points in the healthcare journey where empowering the patient will contribute to a more satisfying outcome. But fostering the connection between a patient and physician should start —for both — right at the very beginning.
For a first-hand view of what Clearwave's patient scheduling software can do, request a demo.
Reading Time: 5 minutes By Chloe From Clearwave | September 27, 2023 Earning the distinguished classification of a "high-growth" practice is no small feat,…
Reading Time: 4 minutes By Chloe From Clearwave | September 7, 2023 Self-scheduling has become an integral part of the winning patient acquisition formula…
Reading Time: 4 minutes By Chloe From Clearwave | September 5, 2023 One technological solution that has proven to be a game-changer for patient…