Clearwave and Modernizing Medicine®
Reading Time:
2
minutes
A Simple and Efficient Patient Registration Experience
We live in a world where patients expect convenience and speed. Now you can help your patients enjoy ease and efficiency during their appointment check in, too. With Modernizing Medicine® and Clearwave, you can offer your patients a convenient and efficient registration solution. Help meet consumer demands by offering a full suite of paperless registration options, including through the use of kiosks, tablets and personal mobile devices.
You can help:
Improve front-office processes
Eliminate lines 
Increase patient throughput
How Modernizing Medicine and Clearwave Work Together
Modernizing Medicine and Clearwave's interface can help improve your practice's patient intake experience and office workflow. We help you:
Eliminate wasted staff time on massive amounts of data entry as patient demographics are sent in near real-time from Clearwave's patient self-service registration solution to Modernizing Medicine's Practice Management (PM) system. This helps you keep information up to date.
Keep up with your patients in their registration process. Appointment statuses are updated within Modernizing Medicine's PM system as check in and tracking statuses are changed in Clearwave, giving your practice visibility into your patient flow.
Save time by stripping redundant tasks such as scanning and making copies, giving your staff more time to complete the tasks that matter, like spending more time with patients. Scanned drivers' licenses and insurance cards, as well as acknowledged consent forms, automatically save in a patient's health record making them easily accessible.
Easily collect copays or past due balances with Clearwave's point of service collection, so that you don't need to have awkward payment conversations with your patients.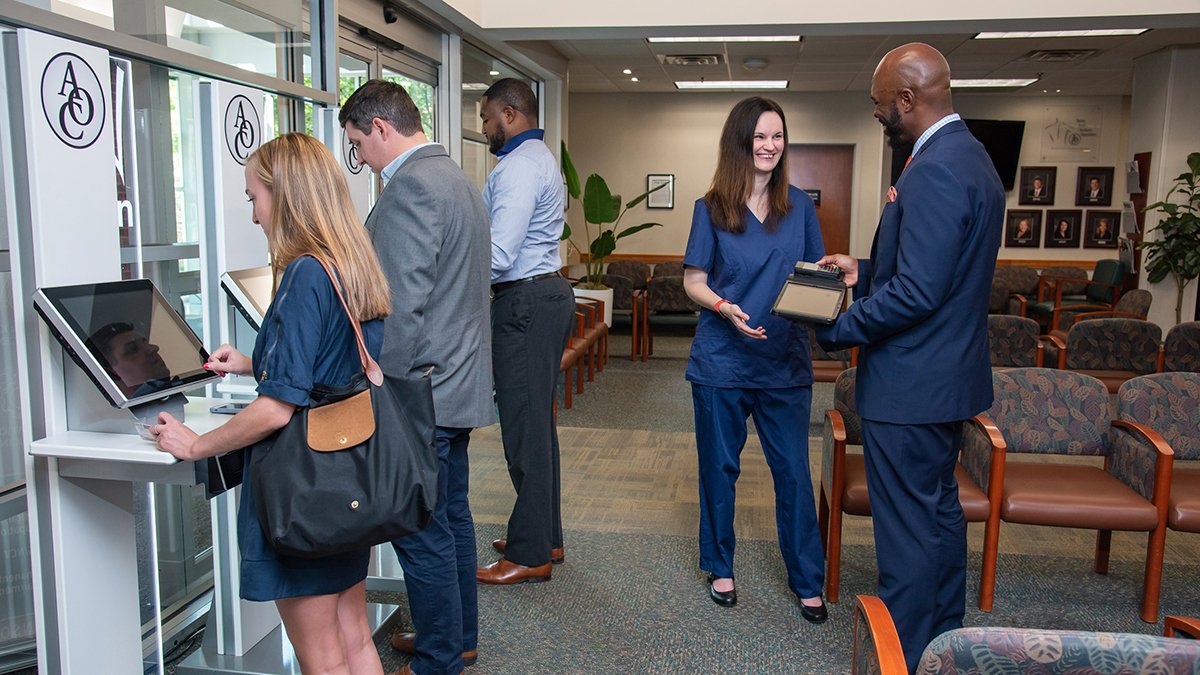 With Clearwave, you receive:
Interface with Modernizing Medicine's EHR system, EMA®, and PM system
Tablet
Kiosk
Mobile Pre-Check Capabilities
Card on File Enrollment and Payment
Feature Rich Dashboard
Highly Customizable Registration
Reading Time: 3 minutes New Integration Empowers Multispecialty Clinics to Automate Operations, Improve the Patient Experience and Drive Revenue Growth ATLANTA – August…
Reading Time: 2 minutes Annual List Recognizes the Best Companies in the Software Industry ATLANTA, Aug. 18, 2023  Clearwave announced it has been included in…
Reading Time: 3 minutes By Blakely Roth | July, 26, 2023 Across industries, consumer-facing organizations are embracing self-service solutions to solve staffing complications and…