Why Patient Communication is More Important Than Ever
Reading Time:
5
minutes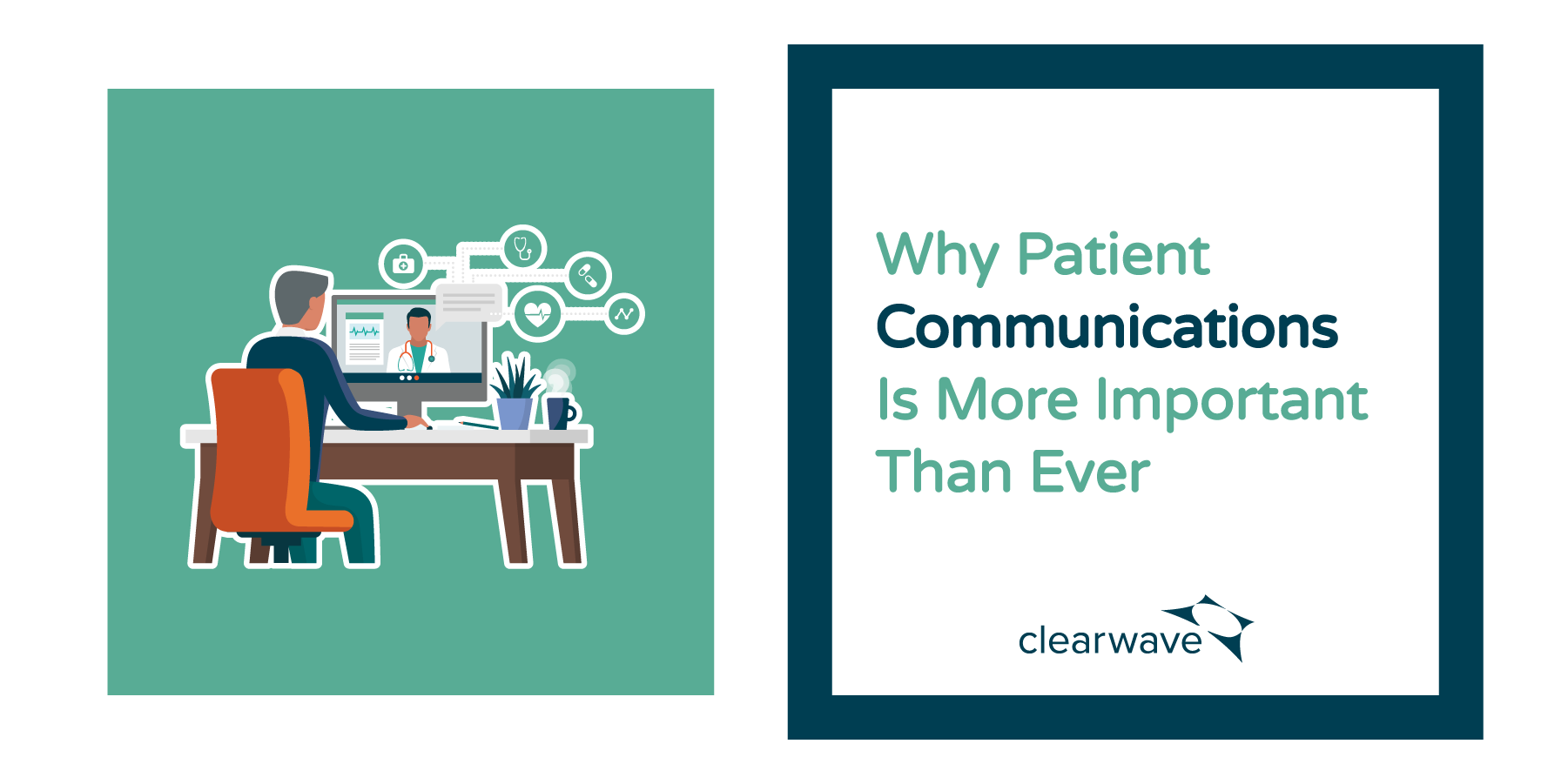 By Chloe From Clearwave | December 19, 2023
In this digital age, more and more patients are expecting faster communication, streamlined service and immediate answers. Patient engagement tools can allow you to communicate with your patients more efficiently and conveniently. Stay connected to your patients through appointment reminders, two-way texting, and appointment recalls. 
Efficient and productive communication is essential to the vitality of any practice. However, it is also essential to patient care. In addition to promoting patient satisfaction, patient communication software can reduce no-shows at your practice, minimize administrative burdens and increase internal efficiencies like schedules and data collection.
Increases Patient Satisfaction
Consumers today are used to digital communication from stores they frequent, to notifications on online shopping and even when it comes to interacting with their healthcare providers. Consumers have become accustomed and now expect the ease and convenience of digital communication tools. It's time that, as a patient, you can receive the same communication convenience that you can in all other aspects of your life as a consumer.
Choose patient communication tools that you can customize and tailor to your patient's preferences. For example, choose a reminders tool that provides email, text and voice notification options. With multiple notification options, you can ensure your patients receive a reminder in a way that best fits their preferences, meaning your patients will easily see and acknowledge that reminder. Customizing the text and look and feel of reminders is also important to help you make them look valid. With endless digital scams, consumers are always on alert, meaning if your communications look like a scam, they will likely just delete them. As a result, neither your patients nor your practice will realize the benefit of that communication tool.
Patient communication software help practices meet their patients where they are.  Providing reminders and pre-registration links are a great example of the types of communication consumers expect, and they add convenience to patients by helping them plan for their upcoming appointments and also reducing the time spent filling out forms in the office
For patients who are less familiar with online communication tools, such as two-way texting, learning how to use these tools is a matter of practice and only takes a few minutes. Even if this method of communication is not second-nature to some patients, they will still appreciate the increased availability of communication with your practice. Given the rapid digital-first shifts all consumer and healthcare organizations made to ensure safety during the COVID-19 pandemic, consumers of all ages are more comfortable with technology tools and systems. Learn more about how digital-first experiences are becoming not just the norm, but the standard that all patients have come to expect. 
Reduce No-Shows  
Automated and minimal-touch patient communication software tools help your practice facilitate more frequent, on-time appointments.
Patients are used to reminders, from prescription pick up to their haircut appointment. It's only natural for patients to want the same communication from healthcare providers, especially when appointments can be scheduled many months in advance.
 Automated patient tools can significantly help you reduce no-show rates and increase patient throughput.. Through these tools, you are able to get in contact with patients to notify them of an upcoming appointment efficiently. Once notified of an upcoming appointment they may have forgotten and cannot attend, they will be able to immediately contact your practice to notify your staff to cancel and reschedule as needed. Reminders help practices get ahead of no-shows so schedules take less of a hit and your practice can stay on track or even fill empty slots, rather than incur a gap.
Patient communication software can also reduce the amount of time that your staff has to communicate with missed appointment patients. Since these appointment reminders can be automated, it takes very little effort from your staff and can actually free up time for them to accomplish other necessary tasks. Appointment reminders are automated and can be customized based on rules set by the practice. See how one Ophthalmology practice tailored their reminders to their patients and reduced no-shows as a result.
Appointment reminders can also provide pre-check information to patients, meaning they can fill out clinical intake and registration information prior to arriving. Once they get to the practice for their appointment, these patients can essentially check in to notify that they're "here" and pay their copay, then get seen faster by their physician.  If patients are able to complete this information ahead of time, the provider will be able to spend more time with the patient and less time gathering previous medical history.
Practice Benefits of Effective Patient Communication Tools
Patient communication software can help your practice just as much as they will help your patients! Here are a few ways that patient communication tools can help your practice:
Minimize time-consuming takes
These tools can help your practice delegate time-consuming tasks like scheduling, reminders, facilitating clinical intake interviews, and data collection/input. With certain tools, much of the communication process is automated or minimal touch, meaning your team will no longer have to repeat these necessary tasks each and every day. Your staff will be happier, your patients will be more satisfied and your practice will be more productive.
Do more with less staff
Hands-off communication means you can do more with less staff, or take tasks away from your already burdened front-desk team. Patient communication tools can also allow your practice to reach more patients with fewer staff. Instead of manually calling on patients, communication can be automated and run in the background. Automation takes the burden off of your staff and allows your practice to be able to reach patients quickly and with less effort from your staff.
See more patients
Appointment reminders, appointment recalls and two-way texting are digital communication tools that can help your practice get more patients through the front door. In addition to avoiding no-shows for patients who have forgotten their appointment, appointment reminders can encourage more patients to reschedule if they know they can't make it, leaving a spot that your team can fill, versus an empty gap on the day off.
Keep schedules on track
Patient communication tools play a strong role in keeping schedules on track and minimizing staff and physician frustrations.  Instead of providers having to be interrupted periodically throughout the day to answer patient questions, from those calling the front desk, they will be able to schedule a time to respond digitally at their convenience. Patient communication tools can allow for greater efficiency in communication and an optimized provider schedule. 
Through Clearwave's patient communication software, you can meet patients where they are. Deliver an excellent patient experience, build upon the foundation of care that's set at every visit, reduce no-shows for your clinic and increase staff productivity.
Want to learn more about how Clearwave can help you implement digital patient communications in your practice? Request a demo!
Reading Time: 5 minutes By Chloe From Clearwave | September 27, 2023 Earning the distinguished classification of a "high-growth" practice is no small feat,…
Reading Time: 4 minutes By Chloe From Clearwave | September 7, 2023 Self-scheduling has become an integral part of the winning patient acquisition formula…
Reading Time: 4 minutes By Chloe From Clearwave | September 5, 2023 One technological solution that has proven to be a game-changer for patient…