Top 2 Trends for Ophthalmology Practices to Prepare for in 2023
Reading Time:
4
minutes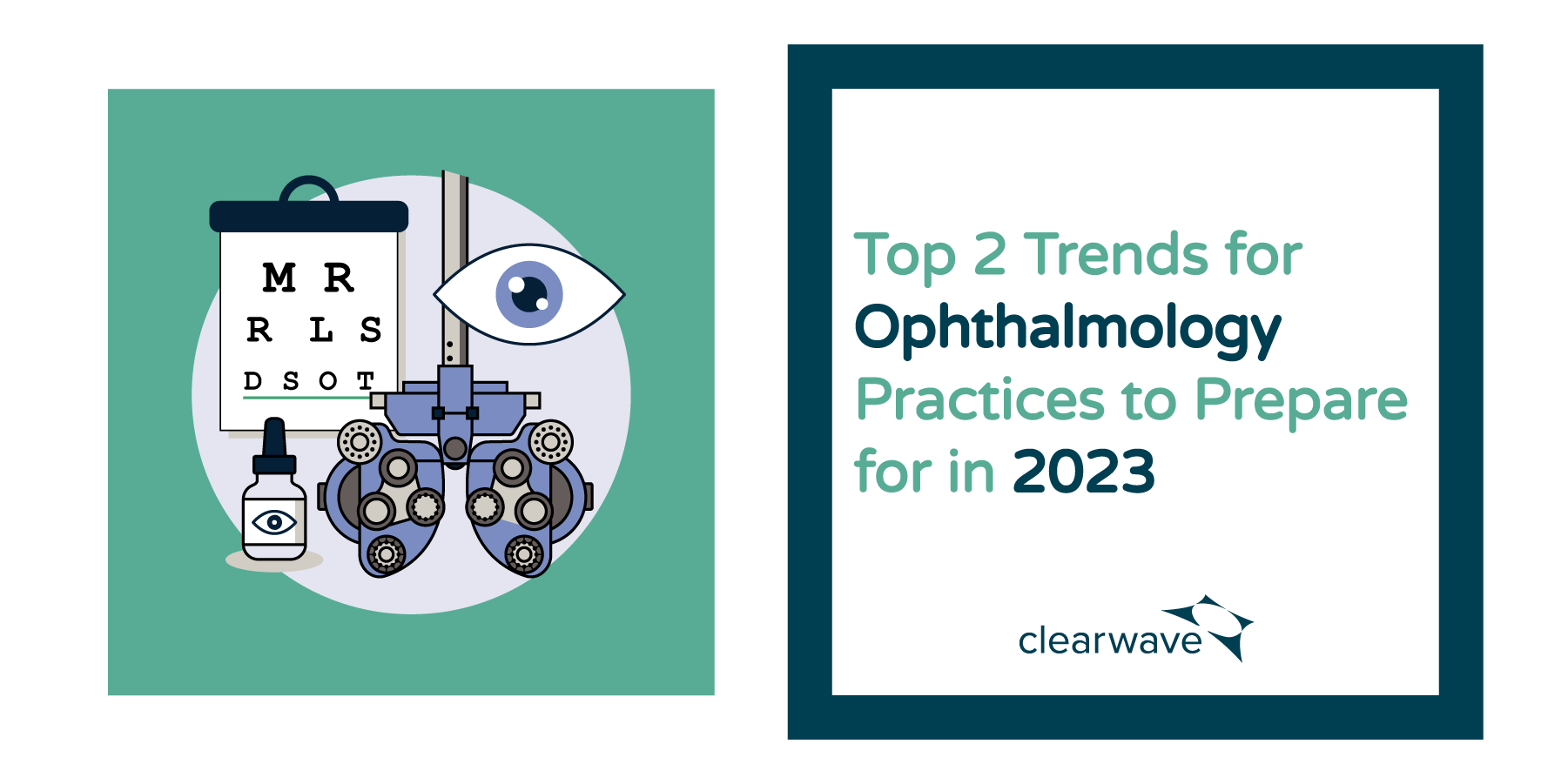 By Chloe From Clearwave | January 4, 2023
Now is an excellent time to take inventory of your practice's revenue-generating strategies. Determine what's working and opportunities to elevate your process or improve certain aspects of your practice, including cash flow and patient engagement. One of the best ways to start is by reviewing and researching top trends to help your practice be successful in 2023, like upcoming reimbursement shifts and the private equity revenue influx. 
1. The Reimbursement Challenge
Insurance companies are reviewing their reimbursement strategy as a result of new government regulations, economic instability and other changes to the healthcare sector. This shift means reimbursements will  become more challenging to collect.. Factors such as COVID 19 and the adoption of Telehealth have encouraged insurance companies to revisit their policies, leading to a decrease in timely reimbursements for both ophthalmology practices and patients.
One of the changes expected to have the greatest impact in this area is the 8.5% cut to Medicare reimbursements that most ophthalmology physicians and surgeons will see beginning January 1, 2023. With these changes, the responsibility for payment will be left to patients for payment and to practices for collection, resulting in serious impacts on cash flow. Furthermore, even if ophthalmology practices are paid for certain services or operations, it will become harder for them to get payments on time.
Recent changes to credit score reporting further complicates this issue. These changes come as a result of adjustments made to the way major credit reporting agencies are handling credit score calculations. Leading credit-score modeler VantageScore has declared that, beginning of October 2022, the company would no longer include medical-collection data when calculating a person's creditworthiness. 
This change will benefit patients who have insurmountable medical debt and enable them to apply for car loans or pay outstanding bills, it will only further the collections challenge for ophthalmology practices, leaving unreimbursed expenses.  
Best Way to Prepare Your Practice
To protect your ophthalmology practice's bottom line, consider automating your eligibility verification process. A real-time insurance verification tool can help you instantly verify a patient's VSP eligibility and calculate copays so you can increase point-of-service collections or fix insurance issues before patients arrive for their appointments.. Real-time, accurate eligibility verification can help your practice minimize the number of unpaid or rejected claims and protect against coverage shortfalls.
Automation also relieves strain from your practice's employees, who would normally have to manually verify insurance information, pursue patients for payment and pressure insurance companies for updates. 
In addition to increasing efficiency and reducing staff burden, eligibility verification can safeguard your practice against coverage gaps and reduce the amount of denied or underpaid claims. Automatic eligibility flags alert your staff at the first patient touchpoint, often when they schedule their appointment, giving your staff time to follow up and fix insurance issues..
Eligibility verification is mutually beneficial for both your practice and your patients. On one hand, your patients will feel assured that they will not receive any surprise bills. On the other, the staff at your practice will have less responsibility to determine if a patient is covered by their insurance provider for a test, procedure or visit. 
2. Private Equity Investment Fueling Consolidation
There is an astonishing amount of cash available for possible investments in the private equity sector. To quantify, there has been a 35% increase over the past few years. Analysts are keenly monitoring the healthcare sector due to this investment potential and looking for the best options. Potential investors are particularly drawn to the ophthalmology industry as well as organizations and health systems that have ophthalmology practices. This suggests that there may be significant consolidation in the works.
Now is the time to concentrate on supporting the health of the business and fostering new chances for income and development. For ophthalmology practices looking for an exit strategy, this investment is great news and reinforces the need to ensure you've got a sound operational strategy to maximize patient collections and improve internal inefficiencies. For practices looking to stay independent, prioritize opportunities to protect cash flow and identify areas for efficiency improvements.
Best Ways to Prepare Your Practice
Maintaining strong, consistent growth and sound, effective back-office operations is the best approach to avoid being included in a consolidation agreement. Automating your business and elevating your approach to revenue collections can help your achieve the growth and PE support you require.
Practices that digitalized portions of their workflow in response to the COVID 19 pandemic are now re-evaluating what they implemented. Thanks to this head start, leaders now have a clearer understanding of what an effective patient engagement system looks like. To satisfy the demands of today's patients and provide a scalable platform for practice expansion, these ophthalmology practices are improving what they deployed and digitized during the pandemic. 
Examine your current patient engagement systems for areas where improvement may be necessary. A successful patient engagement platform will streamline processes, increase cash flow and lessen the strain on internal resources. Acquisition and retention tactics will be driven by a proven patient engagement platform that addresses the whole patient experience. In addition, a comprehensive patient engagement platform will create a strong, viable practice and scalable foundation, turbocharging the practice for growth.
6 Trends forHigh-Growth Ophthalmology Practices
In 2023, ophthalmology practices will rapidly modernize as they face a fast-expanding competitive landscape and an influx of patients, with a dwindling supply of trained physicians. See how you can prepare to overcome these challenges and help your practice accelerate revenue growth and do more, with less staff, in 2023.
Learn about more trends your Ophthalmology practice should prepare for in 2023. Download the full guide to see all 6 trends and how to prepare!
Reading Time: 4 minutes By Blakely Roth | November 30, 2023 Patients want the freedom to book appointments at their convenience, just like booking…
Reading Time: 4 minutes By Chloe From Clearwave | November 10, 2023 Missed appointments are an inconvenient but common occurrence in healthcare. Patient no-shows…
Reading Time: 5 minutes Increasing practice growth is not just a goal, but a necessity for specialty physicians in today's healthcare landscape.  According to…