Will Specialty Practices Participate in Vaccine Distribution?
Reading Time:
2
minutes
Now that the COVID-19 vaccine is being released, one of the CDC's main goals is to vaccinate quickly. Healthcare workers, still managing coronavirus cases, are needed to administer the vaccine as well.
As a result, having enough staff on hand to give the vaccine will become an issue as distribution continues past the first phase, which includes front-line healthcare workers and residents in nursing homes, and on to the general public.
There is a need to tap into specialty practices to help in vaccine administration and distribution. Dentists in California have been given a waiver by the Department of Consumer Affairs to administer COVID vaccines authorized by the FDA.
The Role of Specialty Providers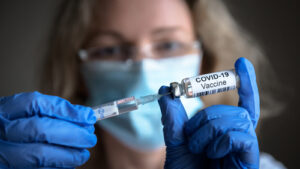 Every state is determining how to administer and distribute the vaccines based on local conditions.  When it's time to vaccinate the general public, getting enough providers and specialty practices on board will be essential to cover the population.
Practices will play a key role in administering coronavirus immunizations and assuring their patients that the vaccines are effective and safe.
In this period of uncertainty, when misinformation and myths spread like wildfire, people will need the reassurance of their healthcare providers to gain confidence in the process.
Operational Readiness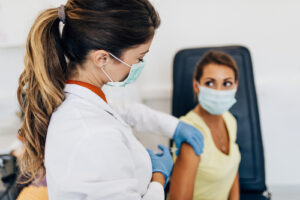 For practices hoping to aid with administering and distributing the vaccines, leveraging Clearwave will prepare them adequately for the anticipated rapid rollout. Clearwave can deliver COVID-19 vaccine management solutions that enable 2-stage scheduling for vaccinations, processing high volumes of vaccination patients, real-time eligibility verification, registration capabilities for patients and more.
These offerings can help healthcare providers deliver the coronavirus vaccine to people in an equitable, secure and efficient manner.
COVID surges have already seen many healthcare providers overwhelmed and dealing with staff shortages. To match the demand for vaccinations, Clearwave Registration via mobile, tablet and kiosk can significantly reduce your staff's workload, allowing them to focus more time delivering immunizations.
The vaccines also require two doses given at 21-day intervals. Clearwave can help providers create workflows that account for the multiple doses, screening, consent and more in non-conventional locations, such as parking lots and satellite locations.
Clearwave streamlines patient registration to considerably minimize the time it takes to identify required immunizations and complete registration at scale while observing necessary social distancing measures for everyone's safety. Many people coming for immunization can still enter your facility while maintaining proper physical distance and sufficient security measures.
Successful Coronavirus Vaccine Delivery with Clearwave
Clearwave's scalable, dependable and robust technologies enable phased scheduling and registration for vaccine distribution. Also, healthcare providers can track and report immunization progress with Clearwave. Meeting the masses' needs for equitable and fair vaccine administration, distribution and monitoring all demand the very best that Clearwave has to offer.
Looking for more information about how your practice can benefit from Clearwave's end-to-end vaccine management solutions?
Schedule your quick 30-minute demo with Clearwave today to find out more about the many helpful solutions available!
Reading Time: 2 minutes  The Company's Patient Revenue Platform™ Won Gold in the "Best Digital Front Door" Category  ATLANTA – November 8, 2023 –…
Reading Time: 2 minutes The Software Report's Annual List Honors the Top-Tier CEOs in the SaaS Industry  ATLANTA – November 7, 2023 – Clearwave…
Reading Time: 3 minutes New Integration Empowers Multispecialty Clinics to Automate Operations, Improve the Patient Experience and Drive Revenue Growth ATLANTA – August…