How to Improve Patient Collections
Reading Time:
3
minutes
The ever-expanding responsibility of patients' share of healthcare costs has made it harder for practices to get paid. Without the right collection or automated eligibility verification tools, practices can see a serious drop in their net collections. This shift has made it imperative for practices to adopt new technology and innovate their collection methods.  A simple, but robust solution can help them to thrive financially and still maintain a positive relationship with their patients.
One clear method is by establishing collections with transparency before a patient walks through the front door. With patients paying more for their healthcare, it has become vital to provide them with an easy and engaging payment experience.
By leveraging Clearwave, you can facilitate electronic payments to deliver a better patient experience that will increase retention and even generate referrals.
Here's how you can help improve payment collections in your practice.
Automatic Verification of Insurance Eligibility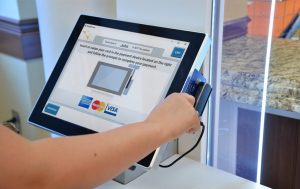 Confirming patient eligibility is essential to your bottom line. Your practice relies on revenue derived from patient care.
When your practice provides services to an ineligible patient, there's a good chance you won't get paid. Manual verification processes are often unreliable, not to mention time-consuming, and considerably affect co-pay collection.
Clearwave's real-time insurance eligibility verification engine makes both your staff's and patients' lives easier by delivering reliable benefits and eligibility verification at every interaction. It captures visit-specific deductible and copays, ultimately increasing cash flow by 65%.
Automated eligibility verification streamlines your billing process and increases patient payments. The system creates transparency in care costs right from the beginning of a visit.
Instead of being surprised by care costs, your patients are prepared. Transparency in your medical billing process gives your patients confidence and the ability to pay their bills on time. Should a patient realize the amount is more than they can afford, they can easily discuss their options with you. Whatever the case, Clearwave makes the patient experience seamless.
Patient Communications
Better communication also leads to more patient payments. With powerful automated reminders and simple two-way texting, Clearwave allows you to stay connected to your patients during every step of the collections process. The sooner the financial touchpoint starts, the more informed and prepared your patients will be when it comes to their payment responsibility and payment options.
Digital Patient Check-in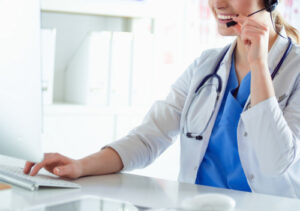 Whether you're using tablets or a mobile device, electronic check-in with Clearwave simplifies upfront payment collection for more extensive procedures. It also allows you to capture the most accurate information before patient appointments.
This allows your staff to see the financial responsibility of patients as soon as they schedule an appointment. Your team will be able to identify deductibles and copays in advance so that they can collect them or allow patients to self-pay at the point of service.
Changing the Narrative of Patient Collection
Self-check-in provides your patients with increased control over the financial position of their healthcare. Using Clearwave to manage payments dramatically increases collection and protects the financial health of your practice.
Wondering how Clearwave can help increase patient collections and grow the bottom line at your practice? Calculate what your return on investment would be if you used Clearwave using our ROI Calculator.
Reading Time: 5 minutes By Chloe from Clearwave | May 15, 2023 Patient portals have gained popularity as patients search for more efficient ways…
Reading Time: 6 minutes By Chloe from Clearwave | May 1, 2023 Medical billing can be a complicated process, and when it comes to…
Reading Time: 6 minutes By Chloe from Clearwave | April 3, 2023 A revenue-focused estimations strategy can help your dermatology practice increase collections by…