Platform or Point Solution? Why a Single-Vendor Strategy Sets Your Practice Up for Long-term Success
Reading Time:
3
minutes
The first image that comes to mind when we think about a medical practice is the people – physicians, nurses, therapists, staff members and, of course, the patients. That's because healthcare is first and foremost, about elevating the human condition and treating patients to ensure the best possible outcomes.
While people are an essential part of the equation, it's the underlying technology and infrastructure that power practice operations and keep things running smoothly, from record management and billing to appointment scheduling and telehealth. But choosing and managing the solutions and vendors that make up an effective healthcare technology stack can be daunting, especially for practices and health systems with limited resources. It's easy to implement a patchwork of point solutions, each one chosen to address a given need in the moment. Unfortunately, this unintended approach usually costs the practice more in the end, as they find themselves with systems they're not full leveraging and that likely don't talk to each other.
As more practices think about modernization and going digital, they also need to think about vendor strategy. Specifically, do they focus on short-term need and go with one-off applications or point solutions, or do they plan for optimization and growth, choosing a single technology partner that offers a platform that can scale with the needs of the business?
The fact is consolidating technology vendors into just one or two strategic partners is the best choice for any practice or health system looking to modernize operations. Here's why:
It lowers costs. The word "platform" may sound expensive and intimidating, but a technology platform, like the Clearwave Patient Engagement Platform, offers a much simpler and cost-effective way to digitize operations. While a practice may choose just to deploy patient check-in today, they can quickly and easily add modules like scheduling or eligibility verification when they're ready. And they can rest assured those modules will integrate seamlessly with the rest of the platform, minus the need for extensive IT support.
It saves time. With one partner, practices have fewer vendors to manage and fewer contracts and invoices to process. More importantly, it minimizes the time needed for training, since application interfaces, workflows and user experience are familiar across a single platform.
It improves reporting. Managing patient engagement and other aspects of the business via a unified platform allows practices to get a 360-degree view of the practice. The platform can integrate data across multiple modules and applications for deeper, richer insights into the state of the business so practices can identify opportunities for efficiency and improvement.
It builds a partnership. Systems like patient engagement software help drive the practice, so it's important that both sides, the practice and the technology vendor, view the relationship as a partnership versus just a transaction between two companies. Working together as partners, they ensure the platform is delivering the ultimate value and having a measurable impact on the practice – for example, cutting down wait time and boosting patient retention, while the practice can provide real-time feedback on features or services that the vendor can factor into future solution plans.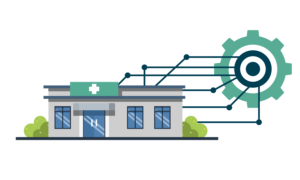 A sound approach to modernization and technology infrastructure starts with forming the right partnerships. Choosing a smaller set of strategic partners empowers the practice and its staff to get the greatest value from its investment while keeping costs down and laying the groundwork for growth. Point solutions simply can't deliver the same return – they may seem like the easiest route in the moment, but before long, practices find themselves in the frustrating and expensive position of having to replace them and start over.
To see the benefits of an integrated solution in action, schedule a demo of the Clearwave Patient Engagement Platform.
Reading Time: 3 minutes By Blakely Roth | July, 26, 2023 Across industries, consumer-facing organizations are embracing self-service solutions to solve staffing complications and…
Reading Time: 6 minutes By Chloe From Clearwave | June 5, 2023 Effective communication is a critical component of successful healthcare practices. In today's…
Reading Time: 6 minutes By Chloe from Clearwave | May 24, 2023 Facing a low booking rate for Botox, laser hair removal, anti-aging and…