Automated Patient Waitlist: Management & For Benefits Your Practice
Reading Time:
4
minutes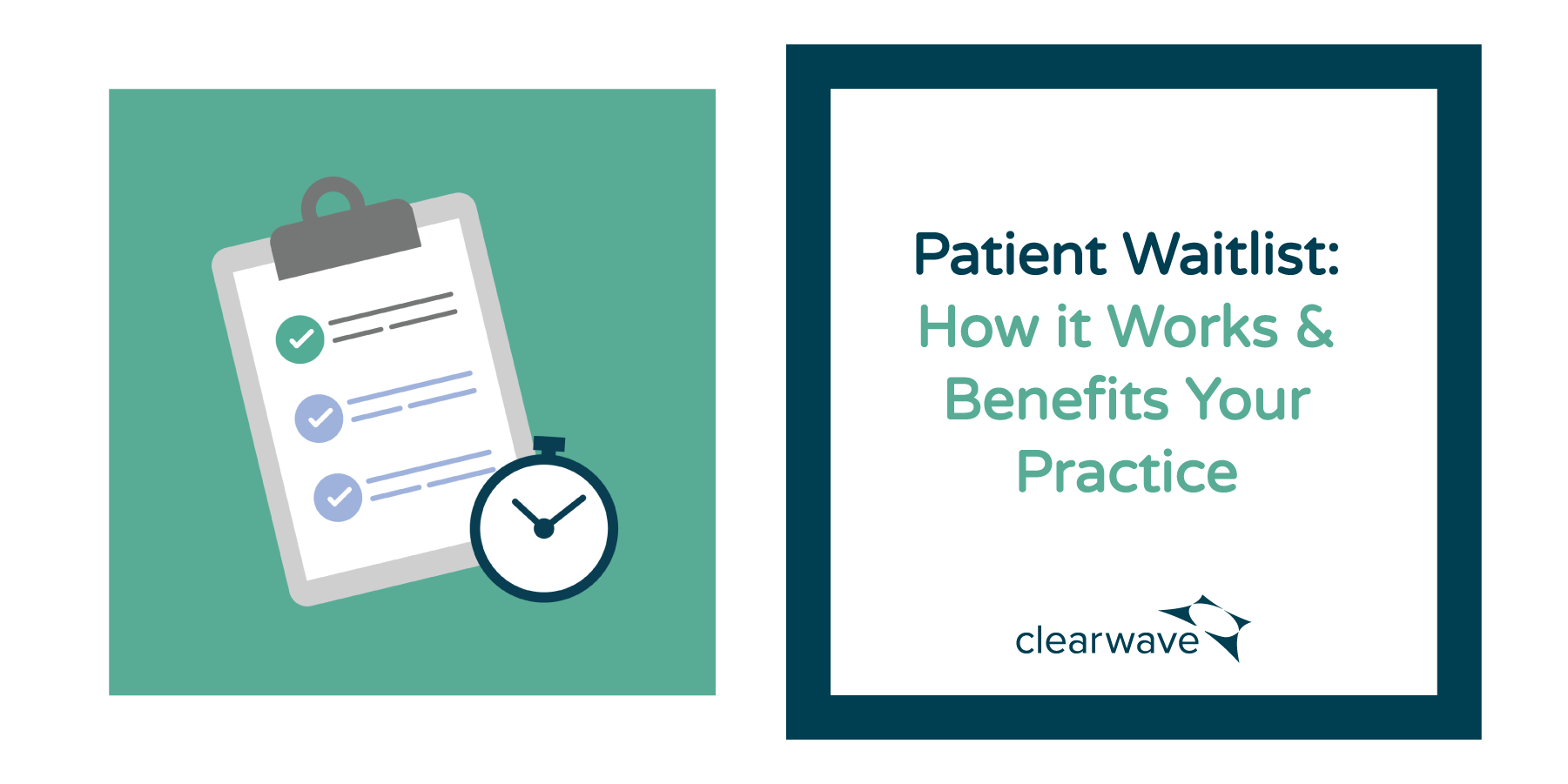 By Chloe From Clearwave | January 23, 2023
High-growth practices are adding an automated waitlist to their scheduling strategy to increase patients and make appointment gaps a thing of the past. As a busy practice, one of the most frequent challenges you may face is filling appointments due to cancellations or rescheduling. While you can't control when your patients reschedule or cancel, you can automatically fill those open slots. Implementing a patient waitlist tool, can reduce last-minute appointment gaps , allowing you to drive efficiency, reduce 3 unfilled appointments and increase realized revenue. An automated waitlist tool can help you optimize schedules, without burdening your staff. 
Automated Patient Waitlist Management: How Does it Work?
When used in conjunction with a comprehensive and smart patient scheduling software, this tool can automatically build a patient waitlist and reach out to those patients to fill last-minute openings. Using a smart waitlist, you can create, maintain and expedite your appointment waitlist, send appointment openings and enable other patients to book new appointments to replace canceled or rescheduled times. Automating this entire approach is the best way to fill these gaps and allows staff to reallocate their valuable time to other tasks that cannot be automated.
In cases where patients are unable to find an appropriate appointment, they can join your practice's waitlist based on their appointment type, provider and desired times. A smart patient waitlist will allow your practice to customize the waitlist options, so patients are better able to find slots that work best for them.
When a patient joins a queue, it will let them choose the kind of appointment and doctor they want, as well as their desired time/time frames. A queue that is linked to your intelligent scheduling technology will activate when slots become available as a result of cancellations and rescheduled appointments. The patient who is NextUp on the waitlist for that specific appointment type, will get an automated text message at this time. Then, the patient will be prompted to confirm their appointment after being informed that their requested time slot is available. Finally, the platform will book the patient's appointment.
This entire process happens all without staff intervention! If the notified patient does not choose to schedule the appointment, the intelligent waitlist platform will then continue down the waitlist to the next patient until the gap is filled.
What Are the Benefits of Having a Patient Waitlist at my Practice?
A smart waitlist tool can serve your patients, staff and physicians. It can also help you navigate high patient volumes or gaps in your schedule to increase practice efficiency and revenue.
Staff
An automated patient waitlist tool reduces staff burdens by removing the need to call patients to fill empty appointment slots. Once implemented, the waitlist tool can free staff and other practice resources to focus on high-value activities. Instead of taking valuable time during the day in an attempt to contact patients on a waitlist, a patient waitlist tool makes this automatic and easy. Staff will then be able to shift their focus to more high-value, non automated tasks.
Patients
When patients are searching for appointment slots and are unable to find one that fits their needs, it can cause frustration and disappointment, especially if you're dealing with an influx of patients and the next open time is months away. 
Implementing a patient waitlist tool increases patient satisfaction. Patients feel satisfied when placed on a waitlist.  Knowing they are being placed on a waitlist allows them to feel cared for by their doctors and their practice, instead of being forgotten.
An automated patient waitlist also helps your practice to get more patients seen faster. Rather than leaving an empty slot due to unfilled cancelations or rescheduled appointments, the automated waitlist fills the slots in moments and helps you see more patients.
Physicians
Adding a waitlist tool helps your practice keep  physician schedules at max capacity.Through this, they are able to maximize their time and ensure as many patients as possible are receiving the care they need. A patient waitlist tool willminimize physician frustrations around unfilled slots by creating less appointment gaps.
Clearwave's NextUp: A Smart & Automated Patient Waitlist
Clearwave's NextUp is a patient waitlist tool that can provide your business a method to automatically fill open time slots through a process that your patients are already accustomed to using. A waitlist can mean the difference between a full  schedule and last-minute gaps of wasted time during the day. NextUp combined with Clearwave's patient scheduling software provides an excellent way to improve patient satisfaction, reduce burden on your staff and increase revenue.
Clearwave's next up can help accomplish many things for your practice:
Maximize Physician Schedules

Minimize Revenue Losses

Provide Flexible Waitlist Options

Realize Staff Cost Savings

Improve Patient Satisfaction
NextUp serves the same goal for high-growth practices as a comprehensive patient engagement solution  to improve the patient experience and drive revenue. Relying on a consistent and automated waiting list creates clinic transparency and gives patients a sense of importance. Having a waitlist also lowers the likelihood that patients will look elsewhere in search of earlier appointments. NextUp allows you to take advantage of a customizable waitlist, so it can match the needs of your patients and practice. Clearwave's NextUp can make your patient's and staff happier and allow you to provide the most patient care, every day.
Do you want to learn more about how Clearwave's NextUp can enhance your practice's patient self-scheduling? Download our data sheet!
Reading Time: 5 minutes By Chloe From Clearwave | September 27, 2023 Earning the distinguished classification of a "high-growth" practice is no small feat,…
Reading Time: 4 minutes By Chloe From Clearwave | September 7, 2023 Self-scheduling has become an integral part of the winning patient acquisition formula…
Reading Time: 4 minutes By Chloe From Clearwave | September 5, 2023 One technological solution that has proven to be a game-changer for patient…