Promoting Patient Self-Service in Ophthalmology
Reading Time:
4
minutes
It's no secret the coronavirus pandemic led patients to cancel or postpone unrelated non-essential medical care, primarily out of concern for contracting the virus – 52% of patients put off everything from office visits to specialty procedures. One specialty hit particularly hard was ophthalmology, as patients felt more comfortable postponing eye exams, contact-lens fittings, LASIK surgery and other treatments – especially given they were largely housebound during quarantine – than risk exposure to the virus.
Fast forward a year later, as restrictions have been lifted and we resume some sense of normalcy, and the appointment drought is being replaced with a massive influx of requests, as more of us look to reschedule those long-overdue visits and procedures as soon as possible. Of course, if practices aren't careful, they run the risk of stretching their staff too thin and, ultimately, frustrating their patients, who may then look for another provider.
But conditions created by the pandemic aren't the only challenges facing ophthalmology practices. Digital transformation and eCommerce have completely altered the industry and the way patients think about eyecare – they no longer have to compromise quality of care for speed, cost and convenience. Patients can go online or visit a mall store, and without delay, consult a physician, get a prescription, choose from a wide assortment of frames and lenses and then get their contacts or glasses shipped to them directly.
It's this "consumerization" of eyecare and eyewear solutions that's led to increased pressure on ophthalmology practices. Patients expect the same ease and simplicity from their local provider that they see when they walk by an attractive storefront or open an email offering overnight contact-lens delivery with the click of a mouse. And they're willing to shop around to get it.
Both factors – the after-effects of the pandemic and a dynamic, digitally-charged competitive landscape – are helping to power the rising popularity of self-service models in ophthalmology practices.
Practices are taking steps and making the necessary investment to modernize their patient-facing operations and increase patient access throughout the wellness journey, from appointment scheduling to claim reimbursement. In doing so, practices are increasing patient satisfaction – and thus, fending off competitive threats – while at the same time, boosting internal efficiencies, cash flow and profitability.
But a successful self-service model requires more than just a portal where patients can log in to request an appointment or see a history of their past visits. Self-service means empowering the patient to fully engage with the practice on their own terms, via the method that's most convenient to the individual – but with the same level of 1:1 personalization they'd receive from front desk staff. Streamlining and modernizing the patient experience shows great positive impact for ophthalmology practices.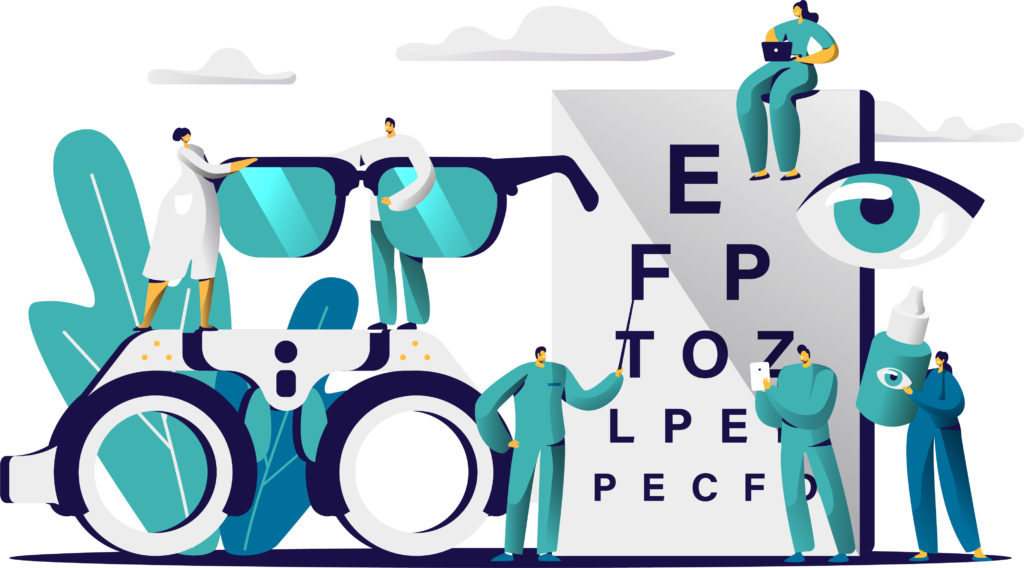 Optimize with a Digital Solution
For example, through a solution like Clearwave, patients can schedule a visit or book a procedure using a variety of modalities, including their smartphone, with the assurance that the system is matching them with the correct provider and under optimal conditions. They can use that same device to enter or update their profile records and provide additional information that will be help prepare the physician in advance of the visit. And they can discreetly add their own insurance information, get a preview of anticipated costs or pay an outstanding balance, all online – either prior to the appointment or on arrival via mobile phone or on-site kiosks. No line queues at the front desk or uncomfortable conversations with staff in front of a patient-filled waiting room. And it gives patients 24×7 on-demand access to the practice, so they can engage when they want, how they want, rather than confine them to phone calls during business hours only, when they're likely busy and unable to break away. Perhaps, most importantly, it helps practices limit human interaction and gives comfort to safety-conscious patients concerned about exposure to COVID-19.
For the practice, the benefits of self-service go even deeper. Giving patients the ability to accurately schedule their appointments and update their information takes enormous pressure off front desk staff, who are typically balancing those responsibilities with other administrative tasks, as well as tending to patients on-site. An automated, personalized digital-engagement model also bolsters the practice's reputation as a modernized provider, helping to elevate patient perception and confidence in the overall quality of care.
Of course, then there is the financial impact. By automating the collection and updating of insurance information – plus vision eligibility verification (VSP) – processing delays, data entry errors and other contributors to claim denials are far less likely. In fact, Clearwave ophthalmology customers have experience up to a 90% reduction in denied claims and 65% improvement in point-of-service collections as a result of their deployment. At the same time, the ability to collect outstanding balances or procedure pre-payments via smartphone, kiosk or other electronic means immediately increases cash flow without having to burden staff with time-consuming and less-effective efforts like making calls and sending invoices to retrieve payment.
For more information on how Clearwave is helping ophthalmology practices modernize their operations through self-service, read the overview or a case study on how Clearwave customer Marietta Eye Clinic used the technology to enable patient self-registration – and saw a staggering 82% decrease in waiting room time – and other efficiency benefits.
Reading Time: 4 minutes By Blakely Roth | November 30, 2023 Patients want the freedom to book appointments at their convenience, just like booking…
Reading Time: 4 minutes By Chloe From Clearwave | November 10, 2023 Missed appointments are an inconvenient but common occurrence in healthcare. Patient no-shows…
Reading Time: 4 minutes By Chloe From Clearwave | October 23, 2023 When payments are slow it's frustrating for healthcare providers, meanwhile patients may…