How To Make Check In Easier On Your Neurology Patients
Reading Time:
5
minutes
Updated, February 23, 2023, by Blakely Roth
Neurology patients rely on treatments, tests, exams, and evaluations on the brain and nervous system, which like many other health conditions, requires frequent visits to the office. 
Did you know 2 out of every 5 patients are frustrated with their doctor before their visit, due to long in-office wait times? On average, checking in at a medical practice can take up to 20 minutes or more. Important tasks like patient check-in, setting up appointments, collecting payments, updating patient information and filling out paperwork and consent forms can take a lot of time, both for your staff and for your patients.   
Make check-in easier for your neurology patients so their next trip provides a great patient experience, and ensures your practice gets paid.
Improving the neurology patient experience 
The customer experience is the center of patient care. All patients, especially in neurology are expecting a positive experience each time they go to the office.  
Patient check-in is very important because it is always the patient's first face-to-face contact with your office. It's also your best opportunity to collect payment, considering the probability of collecting once a patient leaves the office is 30%.
Front desk staff has the primary responsibility to check the identity of patients and make sure all information is up-to-date upon check in. A few additional check-in duties include: 
Alerting office staff that the patient has arrived

Verifying or changing their personal, financial, or insurance information or other demographics

Verifying the patient's prescriptions, if any 

Having the patient sign consent forms

Collecting co-pays, past due balances and patient estimations
Each of these tasks takes time, and they are important during patient check-in, but what if it could be made easier? You don't want your patients to expect long wait times or your staff to be overwhelmed, not to mention the chaos if any registration errors occur or you keep having no-shows. Consider how to provide your neurology patients the experience they require, while also helping your staff streamline collections and data capture.

Evaluate Your Neurology Check-in Systems & Processes
Most patients who come through your neurology office are likely referred by another doctor, meaning you may see a lot of first-time patients. Providing the right experince will be key, and could impact reviews and retention.
Due to the nature of neurological conditions on the brain and nervous system, answering 3-5 basic questions on background and demographics can be difficult for neurology patients. You want your neurology patients to be welcomed and understood when it comes to their health, especially when it involves their mind and regular functions. Find a neurology check-in system that lets you fully customize your registration workflows, tailoring them to your patient and provider preferences.      

It may also already be difficult for your patients to hear, remember, balance, see, etc., As a result, allowing your patients or their guardians to pre-check-in online not only improves their experience, but it also allows you to get all of the information you need prior to the appointment. Use pre-check to obtain patient's medical history, demographics, background information, medical records from the referring doctor, or any other clinical intake or patient information before they arrive, including payment. This approach allows for a quicker and easier check-in, reduced wait times and improved data capture.   
In fact, according to an Intuit Health survey, 78% of patients say they would use a secure online method to access their medical histories and share information with their doctor.  
When neurology patients or their caregivers are able to manage their check-in and care experience, your staff is able to spend more time with patients to ensure treatment regimens and communication is clear. The only question is, how can you do that? With Clearwave's check-in systems, built for high-growth neurology practices!   
Making check in easier for neurology patients 
Clearwave's self-service platform helps make check in easier. We know the challenges your physician specialty faces — the number of patients you treat is increasing, their health issues are often more complex, and payments need to be collected.         
Clearwave provides solutions to improve the patient check-in experience and workflows to give your staff more time for one-on-one interactions with patients, which leads to better-informed care and builds trust with your office.  
In an effort to transform healthcare and better serve the needs of patients and physicians, Clearwave built a digital patient self-service engagement platform that allows patients to check in for appointments, remit payments and verify insurance eligibility in real-time.  
The self-check-in software for neurology practics improves forms management and it has proven to decrease patient check-in times by 85% on average while increasing point-of-service collections by 112%. The cost of compliance with healthcare quality measures is at an all-time high, and managing patient expectations has never been more difficult.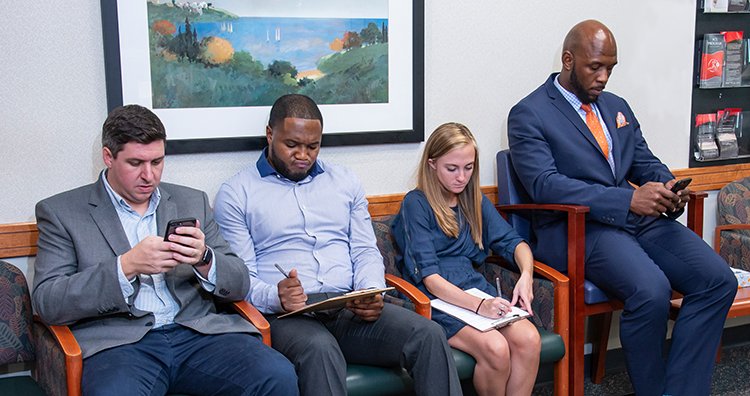 We understand that neurology patient care is unique, so we made Clearwave's platform customizable, so we can treat every patient individually. Based on our knowledge of the patient, we create an expedited check-in process for that patient and eliminate any unnecessary forms, duplicated work, or steps in the process so your patient can focus on what really matters: treating their brain and nervous system.
Other benefits of Clearwave self-check-in service:
Reduce insurance rejections in verification in medical practices

Increase point-of-service collections 

Reduce patient wait times 

Decrease patient complaints 

Ability to process payments 

Ability for patients to pre-register for their appointments
How does Clearwave improve check in for neurology patients?
With check-in processes that are tailored to each individual patient to eliminate redundancy, most patients will be able to complete the majority of their paperwork prior to arriving at the office. 
This ensures that your office will be getting all of the information you need from your neurology patients prior to their appointment because with damage to the brain or nervous system, they could easily forget vital information you may need to proceed with their treatment.

Some of your neurology patients may not have the capacity to check in and fill out forms online, perhaps they have a caregiver that can help them. Regardless, as long as some of your patients are using Clearwave's self check in software, it will ultimately give your office staff more time to help those that didn't pre-register or check in online when they do arrive.     
Due to reduced patient check in times, your office is able to focus on the patient and their treatment, rather than obtaining and verifying all of their information for each visit. Long check in times with tedious paperwork also leads to patients wasting time and complaining. Make patients happier with an all-in-one self check in solution. 
Clearwave. The patient revenue platform for high-growth neurology practices.    
Reading Time: 6 minutes By Chloe from Clearwave | May 24, 2023 Facing a low booking rate for Botox, laser hair removal, anti-aging and…
Reading Time: 4 minutes By Chloe from Clearwave | May 18, 2023 With so much to accomplish each day—meetings, deadlines, dropping kids to and…
Reading Time: 4 minutes By Blakely Roth | May 8, 2023 To combat economic uncertainty, specialty healthcare practices are taking steps to increase patient…