Use Self-Service Check In to Improve Collections at Neurology Practice
Reading Time:
4
minutes
Next to serving patients, payment collections should always be a priority at your neurology practice, because when patients don't pay you, your practice is at risk. Collecting on medical bills upfront may be necessary, and with the right processes, technology, and patient advocacy, you can improve collections and office efficiency.   
The bottom line is, you should always be working to improve your patient payment collections at your neurology practice. This is because if you don't collect upfront, it could be more difficult to collect later. In fact, did you know that patient copays alone make up about 20% of a doctor's office revenue? And most physician practices only collect about 60% of patient copays.    
How can you improve collections at your neurology practice? With self-service patient check in software.


Before we dive into how a digital patient check in system can improve collections at your practice, let's discuss the common ways patients pay. 
There are four common ways patients pay their bills at practices.   
Kiosk payments

are made through a kiosk machine and are great for self-service check ins and self-pay collections.

Mobile payments

are made through an app on the patient's phone and are also a great option for self-service check ins and self-pay collections, as patients are able to manage their portal whenever, wherever.

Walk-in payments

are typically made at the front desk, but they can also be made through a self-serve machine.

Payment plans

are also available for patients who want to pay off their bill in increments within an extended time frame.        
Self-Service chec
k in at your neurology practice 
As healthcare costs rise, more patients have more self-pay responsibility, including higher deductibles, premiums, and copays.  
Become a patient-centered neurology practice with self-service check in. Self-service check in gives your patients the power to control their own experience at your practice. They can not only check in for appointments, but also send payments and verify their insurance right there in real-time.       
Did you know that 80% of patients want their doctors to help them manage financial responsibilities by clearly communicating what insurance covers versus what they owe? Meanwhile, 45% say their doctors do not do this or they do a poor job. Improve your patients' ability to manage their own financial responsibilities with your practice by offering them self-service, digital check in. Make it a part of your check in process to let your neurology patients know what they owe upfront. 
Improve payment collections with self-service check in 
Self-service check in allows you to become a more patient-centered neurology practice. For some people who owe money, life just gets in the way. Giving your patients payment options makes it easier for those who have unusual work schedules, family and work obligations, or other stressors that could take priority over paying their medical bills.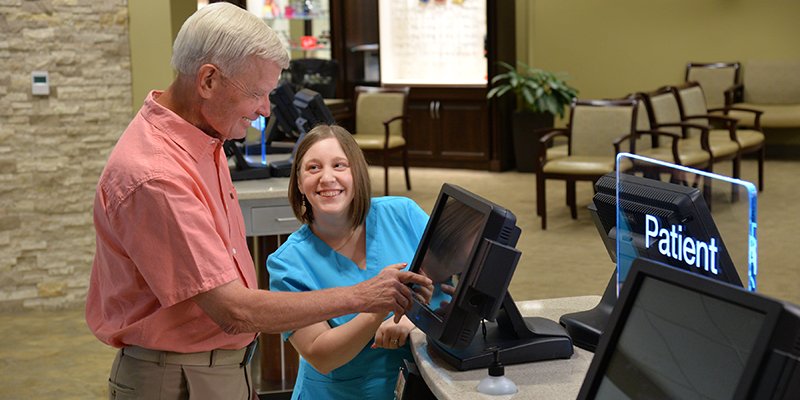 The thing is, just like your patients might not have the time, many of them don't like having to have uncomfortable financial conversations at the front desk. Clearwave's self-service check in technology automatically generates estimates of patient responsibility, as well as requests co-pays and past-due balances upfront so you can improve collections.

According to an InstaMed report, nine in ten consumers want to know payment responsibility upfront. Medical costs can often surprise patients, especially because insurance eligibility fluctuates and the cost of patient care varies. Patient check in software allows your practice to offer the patient a payment schedule with an estimate upfront. 
When patients know what they owe and when they owe it, they can plan ahead and make sure they have the proper funds available when their bill is due. 
Clearwave's patient check-in software offers a method that increases transparency while changing the psychology of patient payment and driving double-digit increases in point-of-service collections. With 'swipe and hold', patients are able to automate future payments too. This is especially helpful at your neurology practice, as your patients can be forgetful or in the care of others.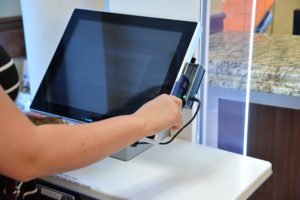 Handling self-pay issues has its own challenges, however, the use of electronic patient communication, self-service check in, and self-pay reminder services can improve patient collections, save your patients and your staff time, and improve your bottom line. 
In fact, implementing Clearwave's self-service check in software makes it easy to accelerate front end revenue by dramatically increasing point of service collections by over 20% and decreasing patient check in time by 85% on average.   
5 tips for using self-service check in to improve collections 
How can you use self-service check in to improve collections at your neurology practice? Here are 5 tips. 
Develop and communicate a self-pay policy to your patients 

Make sure your patients are aware of self-pay collection balances 

Use automated appointment reminders to prompt payment 

Follow up on self-pay obligations early and often

After you've done everything you can, employ a collection agency 
In addition to these 5 tips, remember that you should always be collecting payments via your patient portal to make it easy for your staff and your patients. Offering payment plans and keeping communication consistent are also important factors in improving patient collections.   
Managing your self-service check in and self-pay payments relies on better communication and more proactive engagement with your patients. But remember, they want to know what they owe upfront no matter what. So let them know! 
Let your patients handle their check in and let them handle their payments. The easier you can make the payment and collection process and the clearer you can be when notifying patients of your care services and costs, it will no doubt improve collections and increase the likelihood of on-time repayments.        
After all, patient satisfaction comes from honest upfront communication on payment estimates and when they are due.                   
Reading Time: 6 minutes By Chloe from Clearwave | May 24, 2023 Facing a low booking rate for Botox, laser hair removal, anti-aging and…
Reading Time: 4 minutes By Chloe from Clearwave | May 18, 2023 With so much to accomplish each day—meetings, deadlines, dropping kids to and…
Reading Time: 5 minutes By Chloe from Clearwave | May 15, 2023 Patient portals have gained popularity as patients search for more efficient ways…