How to Be Time-Rich – What Time Wealth Can Mean in Healthcare in 2022
Reading Time:
3
minutes
Extra time in your day can mean more time to spend on self-care, or spending more time with the people you care about. It can leave more space to pursue your interests, or it can just relieve the pressure you may be feeling when extra time is scarce.
For many professionals in healthcare, being conscious and deliberate about your time right now can help to regain some control and stave off future burnout. We can help, with digital and automation tools, to create some time wealth in your practice and your staff's individual workday. But first:
Start Your Day on the Right Foot
Researchers say that light therapy can help to fight Seasonal Affective Disorder, with 30 minutes of light therapy at 8 am. In addition, a 30-minute walk at the same time each day during sunlight hours can also help to improve mood and support sleep. Using a meditation app, even if you are one of the many people who think they "can't meditate properly," can help to set aside focused time for yourself every day.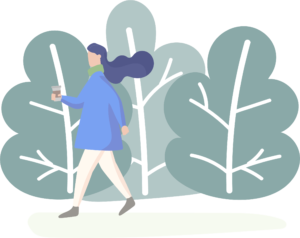 Bring Time Wealth to Your Practice
These days, many of us seem to have a fuse that's a little bit shorter, or are experiencing having less patience than usual. Whether it's yourself, your staff, your patients or all of the above, many of us seem to be preferring actions and interactions that have the lowest barrier to entry (and exit).
Gain some hours back and make interactions smoother in these areas:
Healthcare Staffing Challenges – It can be tough to fill positions at your front desk or call center or hang on to the staff you have. Making many of your front desk tasks digital and automated relieves the workload pressure on your current staff and frees up their day to make their work more easily managed. Patient engagement tools help your practice to get more done with fewer hands needed, meeting patients' expectations and creating more streamlined operations in the process. Having tools like these in place that your patients are happy about boosts your reputation as a great workplace to help you attract staff and retain them.
Early-Access Intake and Scheduling – Opening your digital access to allow patients to self-schedule appointments at their convenience saves staffing hours and lowers that entry point to getting a visit booked. Offering early-access opportunities to complete digital patient intake means that patients can complete updates and registration from home and spend less time waiting in the office. Staff no longer have to hand out clipboards, enter information, make photocopies of insurance cards and IDs or make the patient wait longer when the phone starts to ring. Intake becomes more efficient, and you'll be ready for the day's visits ahead of time.
Seamless Payments – Digital patient collections embedded into check-in is a paradigm shift in two major ways:
Patients complete payment at the point of service for their co-pay or financial responsibility as they check in. This contributes to the practice cash flow and removes the need to spend time chasing payments.
Staff save time on interruptions and collections conversations, and can instead greet patients, or thank them for coming in as they leave with peace of mind.
De-Frustrate the Front Desk – Smoother interactions and seamless activities bring a better workday to your front desk. You can make an impact with digital intake and check-in, robust patient self-scheduling and automated eligibility verification that transform your front desk into a happier, productive environment. Staff appreciates it, and your patients will, too.
Visit our Resource Hub for more ideas on improving practice operations, or sign up for a demo to learn how Clearwave can bring time wealth to you and your practice.
Reading Time: 3 minutes By Blakely Roth | July, 26, 2023 Across industries, consumer-facing organizations are embracing self-service solutions to solve staffing complications and…
Reading Time: 6 minutes By Chloe From Clearwave | June 5, 2023 Effective communication is a critical component of successful healthcare practices. In today's…
Reading Time: 6 minutes By Chloe from Clearwave | May 24, 2023 Facing a low booking rate for Botox, laser hair removal, anti-aging and…