How Specialty Practices Minimize Training Time & Increase Cash Flow 
Reading Time:
5
minutes
By Blakely Roth | June 27, 2023
Reduce staff training time while increasing revenue and creating happier patients and staff. In a recent Medical Group Management Association (MGMA) poll, over 50% of medical groups reported scheduling or customer services as their top front-desk training challenge. Close behind, nearly 23% of practices reported that payments were their staff's top challenge. You may be facing similar complexities, leading to a low collections rate, schedule gaps and a drop in patient loyalty.  
While you could invest in more experienced staff or provide additional training — each could leave your practice to incur higher operating costs with minimal return or improvements to cash flow and patient satisfaction. Understand why your administrative staff may struggle in these key areas and how you can use a digital solution to minimize their burdens while bringing in more patients (and revenue!) 
See where staff struggle with key patient touchpoints, and how their actions can lead you to lose patients.   
1. Reduce schedule management and training for staff
Healthcare practice leaders are looking to reduce staff training challenges and costs while stabilizing cash flow. A self-scheduling platform, complete with an automated waitlist can help you make it happen.  
When it comes to schedule management, the MGMA poll shares, "Staff need to know how to schedule appointments efficiently while also managing the provider's schedule. This should include knowledge of different appointment types, appointment length and booking guidelines." 

Every practice has complex scheduling workflows, which require significant staff training to ensure booked appointments follow provider and practice guidelines. All of the rules and provider preferences can make the process challenging for new and inexperienced staff, leading to scheduling errors, overbooking and angry physicians and patients. Additionally, when you're short on staff, the administrative personnel you do have may feel bombarded with scheduling responsibilities, causing staff to make simple mistakes or leave patients on the phone line for too long.  
Front-desk staff are also restricted to office hours to manage the schedule, meaning patients have to find time in their day to call and book appointments, versus booking on the weekends or after their work hours. 
Take the task of schedule management off your administrative team and give patients the option to book on their free time. A smart self-scheduling platform can enable your patients to book appointments without error or staff intervention. Provide your practice with a 24/7 platform that matches the right patients to the right providers and appointment types. Smart solutions will also automatically verify patient insurance, removing another step from staff's to-do list. 
If you have a call center or back-office team to help manage your health system's schedule, you can also use a hybrid scheduling solution to reduce staff training time and challenges with booking patients.  
Staff Training Improvements in Action: 
North Idaho Dermatology was able to drop new employee training time by 107% after implementing a smart call-center scheduling platform, dropping training from two weeks to just two-to-five days.  
One centralized call center was able to drop new agent onboarding by 30% and reduce average call time by 70% by implementing a smart scheduling solution. Their Executive Vice President of Revenue Cycle and Patient Access shared, "We were looking for efficiency. We wanted to streamline call center agent training and at the same time, simplify the scheduling process. Clearwave Scheduling has made us more efficient, it's a huge gain." Read their story here. 
2. Reduce customer experience complications for staff
Navigating patient conversations can be challenging for new and experienced staff.  The MGMA report shares, "Front office staff are the first point of contact for patients, so it's crucial that they have excellent customer service skills. This should include how to greet patients, handle complaints and communicate effectively." 
Remove unnecessary front-office burdens from your administrative staff's workload—from chart prep to check-in—so they can focus solely on genuine patient interactions and high-priority tasks like discussing payment plans or navigating patient questions and complaints.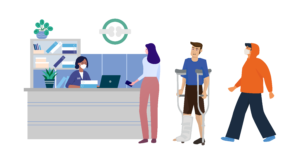 Reduce your staff's customer experience challenges by using automated solutions for patient pre-registration, clinical intake, check-in and payments. Taking payment collection and registration tasks off of your staff's plate gives them more time to focus on important patient conversations and reduces onboarding time for new hires. 
With self-registration solutions, your patients can complete registration quickly and make payments privately, without awkward interactions or a line of people behind them, overhearing sensitive discussions. With self-registration solutions to handle check-in and point-of-service payments, your patient's interaction with your staff will remain focused on their healthcare needs. Self-check-in also drops wait times, helping patients see their doctor faster, keeping patients happier and calmer.
Additionally, by enabling your patients to complete pre-check and clinical on their own, your patients can provide all of the important information your practice needs ahead of time, reducing staff workloads and menial check-in responsibilities. This reduction in staff workloads helps improve their work-life balance, creating happier staff and shortening training times for new hires.
Ironwood Cancer and Research Centers, with 15 locations and 100 providers, found that by using patient self-registration they could reduce their number of Benefit Coordinators per site, due to fewer patient questions and interactions. Their approach eliminated all queuing at the front desk, which allows the staff to make a one-on-one connection with patients walking through the front door, an important factor in patients coming in for complex oncology care. 
With increased registration efficiency and digital solutions, Ironwood reduced paperwork and staff actions, which dropped training time for staff and reduced chart prep times overall. Today, the practice has significantly reduced full-time employee costs and training across locations, hear their story to see how you can achieve similar outcomes. 
3. Reduce payment collection challenges while saving staff time
Your staff are not bill collectors. No matter the amount of training, your staff may still feel too rushed or too uncomfortable to collect payment from your patients. If you only collect point-of-service payments via your administrative staff, consider how many co-pays a day go uncollected. That number adds up every month.

With a drop in point-of-service collections, your providers will look to you for a guaranteed fix. Self-registration solutions provide that guarantee because the process removes all barriers to collecting payment at check-in.  
One multi-specialty health group saw immediate increases in point-of-service payments and reduced wait times by providing self-registration kiosks and pre-check links to their patients. Southview Medical Group reduced check-in time to under two minutes and the group now collects 91% of co-pays at check-in. Their Clinical Systems Manager shares, "We were reaching our goals nearly immediately. We don't have people lined up out the door. We don't have loud or packed waiting rooms. To me, the most astounding and surprising fact of it all was that we saw an even quicker increase in past-due and co-pay collections before we saw waiting room times drop." 
Increase Collections, While Dropping Staff Workloads & Churn
With one, centralized solution you can automate administrative challenges that plague your staff, and your cash flow. Reduce scheduling, collections and patient experience challenges with one cost-efficient and centralized solution. See how Clearwave can reduce staff actions by 87% while accelerating practice growth and revenue. 
Clearwave Core can help you better leverage your existing staff, without putting them through more training or taking more time out of their day. Schedule a demo and let's get you paid! 
Reading Time: 3 minutes New Integration Empowers Multispecialty Clinics to Automate Operations, Improve the Patient Experience and Drive Revenue Growth ATLANTA – August…
Reading Time: 3 minutes By Blakely Roth | July, 26, 2023 Across industries, consumer-facing organizations are embracing self-service solutions to solve staffing complications and…
Reading Time: 2 minutes By Blakely Roth | July 12, 2023 With a competitive healthcare market and economic uncertainty, practices are finding cost-effective ways…