Clearing the Path to an Improved Patient Experience
Reading Time:
2
minutes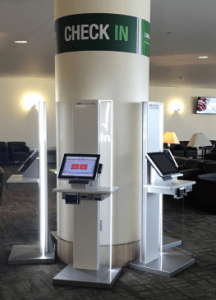 Visiting the doctor's office can be a frustrating experience, especially having to fill out forms and sit in the waiting room, tolerantly anticipating your turn to be seen.  UAB Highlands in Birmingham, Alabama knows this situation all too well. The clinic averages over 250 patients per day. And, with that many patients, there are bound to be longer wait times and greater potential for error in the registration process as well.
The UAB team wanted to find a solution to shorten the waiting room time for patients, to provide a more efficient way of collecting co-payments, and to streamline the overall registration process. Ultimately, the UAB team wanted to create a better overall patient experience at their hospital.
They looked at a potential solution in self-service patient kiosks. Although self-service kiosks have been used for many years by industries such as airline, banking, and grocery stores, there has been limited use in the healthcare industry. A study completed in 2009 by the California Healthcare Foundation noted that less than 10% of healthcare entities had self-service patient kiosks in use at that time. But, that number has grown due to strong consumer interest in their providers having self-service kiosks.
So, how did everything turn out? Upon adoption of new self service check in solutions, UAB drastically reduced check in times, increased patient satisfaction, and dramatically increased the collection of patient co-pays. All the while, staff processes were streamlined and overall operations improved. Learn more about how UAB made improvements to their patient check in process by checking out the case study for UAB Highlands Orthopaedic Clinic,  or check out the innovation award they won for implementing digital patient intake systems!
Want to learn more about how self service patient check in can help to grow, optimize, and modernize your medical office, practice, or hospital? Learn more about our patient check in solutions.
Reading Time: 3 minutes New Integration Empowers Multispecialty Clinics to Automate Operations, Improve the Patient Experience and Drive Revenue Growth ATLANTA – August…
Reading Time: 4 minutes The ability to pre-register for appointments, ahead of their office visits, has become a top requirement that patients are looking for…
Reading Time: 4 minutes By Blakely Roth | August 17, 2023 Age is just a number for your older patients, as they continue to…