Predicting the Unpredictable – Staying Prepared in Uncertain Times
Reading Time:
3
minutes
COVID-19 has fast-tracked the patient journey, making it almost entirely digital. COVID-19 accelerated the adoption of new technology, from digital check-in to virtual waiting rooms and telehealth, and traditional registration processes using paper forms and data entry are no longer sufficient.
Technology can be an integral part of how your practice stays prepared even in uncertain times.
Safe and Efficient Care
Patient engagement technology is part of a good safety protocol for in-person patient care.
When patients check in electronically, it reduces wait times and makes updating patient information easier. Self-driven patient intake can also manage registration and collections. Centralizing patient data makes care more efficient and increases patients' expectations for streamlined service when visiting your practice. This is an excellent example of how technology benefits health care.
You can provide your patients with the same level of quality care of an in-patient visit or a telehealth appointment. All patients need is a computer or smart device with an internet connection to communicate with you. Telehealth can be infinitely safer for patients that are still nervous about coming into your practice but require continued care.
Patient Experience and Technology
Many practices struggle with patient retention. Patients have more options to conduct research and recommendations than ever before. That means your practice has to remain ahead of the curve and win patients over to maintain patient volume during the course of a public health crisis.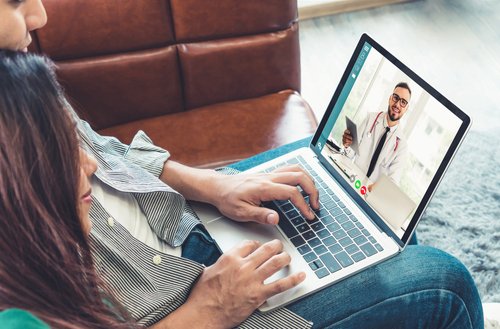 Patients care about seeing their doctors use state-of-the-art technology and techniques. This makes them more confident about the quality of care provided. New technology such as online patient scheduling, telehealth, digital check-in and virtual waiting rooms add value to your practice. They also improve the patient experience, leading to higher patient retention rates and referrals.
According to a 2016 report from West Monroe technology consultants, patients notice when their doctors aren't taking advantage of new technology, saying: "In an age when many providers struggle with customer satisfaction ratings, there's a clear link between consumer satisfaction and the availability of digital communication channels."
Now is the time to invest in these technologies, which come with multiple benefits.
For instance, digital check-in helps engage patients from anywhere, helping to reduce the number of patients that forget about appointments thanks to built-in reminders. Keeping it easy to keep track of appointments reschedule makes your patients happier and more likely to see you again. And the more patients you see, the better it is for your bottom line.
Technology increases engagement and retention through simple communication. It also saves patients effort and time, making healthcare as convenient as possible.
Scalable Solutions for Better Agility
COVID-19 has provided a glimpse into what could be the future for medical practices, where technology assists practices in providing safer and more efficient care.
The key to successful implementation is to choose scalable technology like patient scheduling software and virtual waiting rooms from Clearwave that fit into your existing processes.
Wondering which solutions will best fit your practice? Explore Clearwave's Resource Hub for case studies, data sheets and webinars!
Reading Time: 4 minutes By Chloe From Clearwave | October 23, 2023 When payments are slow it's frustrating for healthcare providers, meanwhile patients may…
Reading Time: 4 minutes By Blakely Roth | October 18, 2023 Patients are seeking quicker access to care and streamlined check-in options, while healthcare…
Reading Time: 3 minutes New Integration Empowers Multispecialty Clinics to Automate Operations, Improve the Patient Experience and Drive Revenue Growth ATLANTA – August…