Leveraging Patient Registration Systems in Your Cardiology Practice
Reading Time:
3
minutes
Health and time are precious commodities. Electronic patient registration systems can help improve both for your cardiology practice. From patient check-in and seeing the doctor to checking out, your practice can leverage Clearwave solutions to streamline operations.
Paying attention to patient registration systems and processes comes with many benefits for your practice. This includes speeding up administrative tasks and communications. Your staff will have more time and attention to give to patients while reducing time spent on appointment reminder calls, data entry and record keeping.
Here are a few of the ways Clearwave can help your cardiology practice leverage patient registration systems:
Increased Efficiency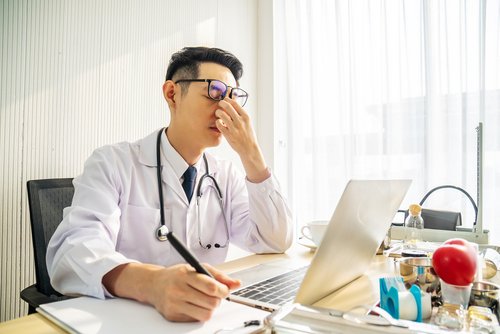 If your practice is still using forms when patients sign in, you can streamline the admittance process while reducing some repetitive tasks.
Moving to a digital check-in creates a less-cluttered office and simplifies the registration process. This encourages your patients to voluntarily use Clearwave's mobile, tablet or kiosk options and check-in faster.
Another advantage of moving to digital check-in is that it eliminates the possibility of misinterpreting poor handwriting. Tiny mistakes like these can pile up and make your cardiology practice look less professional.
In a Medical Group Management Association survey taken in 2019, results show that automated appointment reminders reduce no-shows. In fact, many of today's patients even expect appointment reminders before their appointment. If your cardiology practice wants to be more efficient, use text message reminders (something that Clearwave can help you set up as well).
Your staff won't have as many distractions while they deal with patients. Thanks to Clearwave, patients experience a professional, one-on-one experience when they interact with your staff.
Automated check-in also increases patient convenience. With Clearwave, your patients can check and confirm insurance information and record data, sign consent forms electronically, and complete payments.
A More Profitable Cardiology Practice

Say goodbye to your staff asking uncomfortable questions when trying to collect overdue patient balances. With Clearwave, patients can see and pay outstanding balances. Unrivaled payment convenience means displaying a patients' outstanding balances at the point of check-in.
Collect correct demographic information to allow real-time eligibility verification. Using a digital workflow gets rid of transcription errors, enabling you to get reimbursed faster.
Without the appropriate tools, benefits verification and eligibility can be time-consuming and affect how quickly you receive copay collections. Avoid denials, minimize the risk of rejected claims, save time, and get paid.
Clearwave allows you to confirm patient insurance eligibility 7 times before an appointment automatically. On-demand checks can be requested with the click of a button to capture deductibles, copays and coinsurance.
Upfront payment collection is possible using Clearwave's automated patient in-take system. With self-service payment, your patients will be able to complete payment through a digital interface. This simplifies the process for your patients and cuts down the risk of non-payment at your practice.
Finesse Your Patient Registration Systems

Clearwave's simple, efficient, and time-saving solutions allow you to focus your attention on patient care while increasing your cardiology practice's profitability. Pick what you need and want.
Schedule your demo with Clearwave today and find the solution for patient registration tailored to fit your cardiology practice!
Reading Time: 4 minutes By Chloe From Clearwave | October 23, 2023 When payments are slow it's frustrating for healthcare providers, meanwhile patients may…
Reading Time: 4 minutes By Blakely Roth | October 18, 2023 Patients are seeking quicker access to care and streamlined check-in options, while healthcare…
Reading Time: 5 minutes Increasing practice growth is not just a goal, but a necessity for specialty physicians in today's healthcare landscape.  According to…