How Patient Engagement Software Can Boost Your Practice's Bottom Line
Reading Time:
5
minutes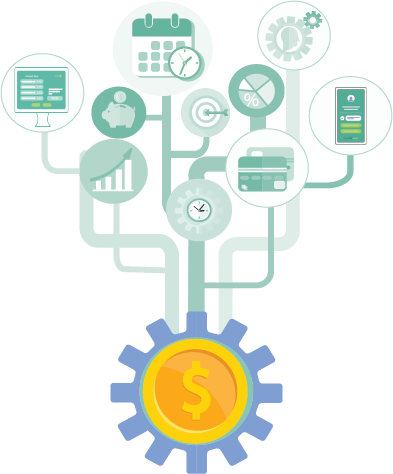 "Patient engagement software" can function in several areas of healthcare operations. Generally speaking, practices use it to draw patients collaboratively into their health management.
When a practice implements a patient engagement platform, their patient experience scores naturally rise. Simply having the structure in place creates a more efficient framework.
A patient engagement platform:
centralizes interactions
automates and digitizes many administrative tasks.
How to Engage Patients
Patient engagement software can include digital self-scheduling that allows patients to book appointments. There are no busy phone lines or waiting for office hours, just access. It may offer digital intake that patients can complete from home, ahead of time. This takes the stress away from a patient, instead of arriving 20 minutes early to fill out paperwork. An eligibility verification tool checks coverage early, in seconds, removing any friction. Patients arrive, confident their information is up-to-date, and pay their co-pay or balance before they're called in.
Translate into Revenue
The myriad benefits of patient engagement software translate into a healthier bottom line – in several ways.
Are you looking for a solution that delivers a return on investment? A patient engagement platform can move the needle with performance that's clear. Once you find the solution that best integrates with your PMS/EHR or HIS and offers great support, KPIs should be easy to determine.
Even if you're concerned that the size or structure of your organization will slow the impact, don't be. An expert solution lifts the workload for you and supports your staff and patients with results you can see. If you happen to be a lean methodology ninja that springboards off a platform to slice through inefficiency, great! You'll be able to turn the dial up even further, exactly where you want to.
Whether you're letting it do the work for you or riding it into battle, good patient engagement software effects positive change.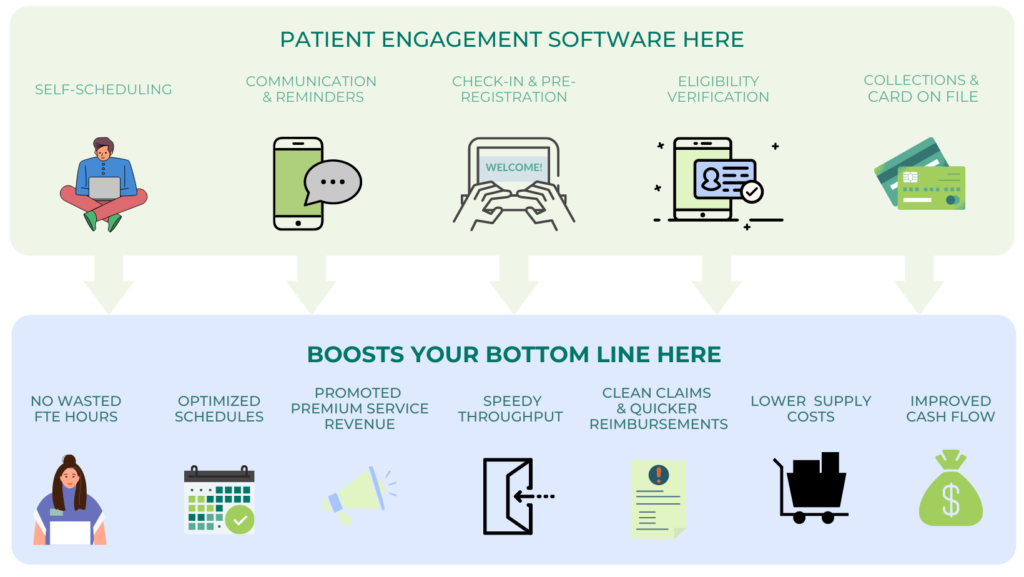 Show Me the Money
$ – Savings
Look for savings in a patient engagement platform.
Example: When every position is filled, your front desk has a rotating staff of four. Staff welcome patients, check patients in, copy insurance and ID cards and process intake paperwork.
✓ A zero-staff digital solution provides the same excellent service. Staff can be re-deployed to support other areas or serve as a concierge while patients check in more efficiently. Even with staffing/hiring challenges, you'll have all the help you need.
Example: You print out intake forms, 1,000 copies at a time and add them to clipboards. You make a copy of patients' insurance and ID cards and add them to the chart. You send follow-up invoices to patients who forgot to pay their co-pay. You write the time and date of a patient's next appointment on a pre-printed card.
✓ With patient engagement software, that monthly paper delivery drops from your budget – as well as all the staff hours spent.
$ – Broader Revenue Channels
Patient engagement platforms can widen your revenue-capturing processes.
Example: Patients enter the office, check in and meet with their physician or provider. On the way out, they see a long line of people scheduling their next appointment. They make a mental note to send in their co-pay. They do not send in their co-pay.
Example: Or, a patient checks in and a front desk employee notes an outstanding balance of $300. They relay this to the patient and request payment. The patient asks what the charge was for, why it wasn't covered by insurance and if their last check was received. The front desk employee refers them to the billing office, and the balance remains open.
✓ Patient engagement tools automatically embed patient collections into pre-registration and check-in. Point-of-service collections end lengthy efforts of follow-up and invoicing. They allow patients to keep a card on file, rolling payments into a frictionless transaction. Practices using patient engagement solutions boost same-day collections for co-pays and open balances.
Note: Limited platforms even support same-day ophthalmology collections. Look for a solution that works with VSP and allows for a medical or vision claim.
$ – Smarter Data Drives Profitability
Using patient engagement tools means straightforward data collection with insight you can leverage.
Example: Patients arrive at a practice close to their scheduled appointment time. They're handed a clipboard and fill out the forms by hand, as quickly as possible. They hand the clipboard back to a team member, who manually enters the scribbled data into the practice management system.
Example: The same practice decided that offering anti-aging injectables will help increase profits. A part-time marketing consultant helps them develop campaigns for search and social media. They are able to increase their following and gain some interest. But, in the first quarter, their marketing spend and profit break even.
✓ Apply data relevancy to premium services offerings to drive revenue without ad spend. Use patient engagement tools to feature treatments to target audiences only, based on patient data. You can use a robust solution to tailor interactions and gauge interest, with no added expense – just profit!
$ – Work That Schedule
Empowering your patients with self-scheduling options gives them control and access. The same technology also streamlines the work of call centers.
Example: Currently, patients schedule appointments by calling the office, which is open on weekdays from 8 am – 6 pm and closed for 90 minutes at lunch. On Monday mornings at 7:58, the phone lines are already slammed. With patients not leaving enough time for paperwork, and urgent visits and no-shows, the schedule is chaos.
Example: Your call center schedules appointments for 30 physicians. Each physician wants their schedule impeccably maintained, with specific instructions and scheduling rules. For every two physicians, one dedicated call center agent exclusively manages their appointments. New agent onboarding takes seven business days, and turnover is a major disruption.
✓ When part of a patient engagement platform, digital scheduling funnels all events into optimized time slots. Appointments are booked in real-time, 24/7, with highly-customized scheduling rules. Even complex appointment types can be managed independently. Practices can set up guidelines to leave room for urgent visits and allow same-day appointments.
✓ Call centers can use the same platform to book appointments. Agents don't have to flip through binders and can rely on rules to schedule across physicians. The scripted logic can shorten onboarding times and get new agents on calls, faster.
✓ Automatic reminders drastically reduce no-shows to use all available appointments. When coupled with digital pre-registration and check-in, practices won't suffer from domino-effect delays. New patients don't have to wait for weeks to be seen.
And a well-organized schedule increases patient throughput and balances appointment types. Patient engagement maximizes scheduling resources for better profitability.
Learn how Clearwave can put your practice ahead of the competition and position your practice for even greater growth.
Reading Time: 3 minutes New Integration Empowers Multispecialty Clinics to Automate Operations, Improve the Patient Experience and Drive Revenue Growth ATLANTA – August…
Reading Time: 3 minutes By Blakely Roth | July, 26, 2023 Across industries, consumer-facing organizations are embracing self-service solutions to solve staffing complications and…
Reading Time: 2 minutes By Blakely Roth | July 12, 2023 With a competitive healthcare market and economic uncertainty, practices are finding cost-effective ways…