Why You Need Mobile Pre-Check at Your Practice
Reading Time:
4
minutes
Look around your practice waiting room. How many of your patients are on their smartphones, right now?
The answer is most likely almost all of them! Smartphones have become an integral part of peoples' day-to-day lives and are often their main source of information. In fact, in 2018, over 77% of Americans had smartphones. In 2019, this number is only growing, and it affects every demographic and age group.
If your medical practice struggles with:
● long wait times
● slow patient check-in
● overwhelmed front-desk staff
● patient registration errors
● or frequent no-shows
Clearwave has a solution for you. Mobile Pre-Check is a fast and convenient way to simplify patient check-in, increase patient satisfaction, and nearly eliminate frustrating registration errors. Allowing patients to pre-register for their appointments makes your office run more smoothly and dramatically reduces front-desk workload. Why wouldn't you have Mobile Pre-Check available to patients?

Complete Patient Check-In in 3 Minutes
On average, checking in at a medical practice can take 20 minutes or more. Important tasks like setting up appointments, updating information, and filling in paperwork can take a lot of time, both for your staff and for patients.
What if instead of wasting their allotted appointment time filling in forms, patients can complete the check-in process the day before their appointment on their phone?
According to Becker's Hospital Review in 2016, one of the most common patient complaints is a long wait time. By reducing the questions repeated between pre-check and check-in, you can save patients time and increase satisfaction.
With Mobile Pre-Check from Clearwave, your patients can complete the check-in process in as little as 3 minutes! Patients are happier with the quick check-in, and your staff sees a 50-70% reduction in front-desk workload from streamlining the process.
Alert Staff of Cancellations and Reschedule Requests
Tired of your patients not showing up for their scheduled appointments? Clearwave's Mobile Pre-Check solution for medical practices can help!
Here's how Mobile Pre-Check with Clearwave works:
● Patients receive a text or email reminder pre-check their appointment, with a link to confirm check-in.
● Once confirmed, patients verify contact and insurance information, making updates as needed. Your staff is alerted of any updates made to patient information.
● When arriving for their appointment, patients simply verify at a patient check-in kiosk, which alerts staff they have arrived.
● Patients are able to cancel or request to reschedule appointments

Your practice can reduce no-shows by putting the power in the patient's hands. With reminders and confirmation emails, their appointment with you becomes top of mind. When patients are unable to make their appointment, Mobile Pre-Check can act as an excellent reminder to notify the practice and reschedule.
If they do need to change their appointment or cancel it, your staff is made aware of the cancellation in a timely manner. Appointment cancellation and reschedule requests can be reviewed in your Clearwave dashboard, helping your staff to coordinate outreach and fill open appointment slots as needed.
Reduce Patient Registration Errors
When using Mobile Pre-Check, patients can review their insurance information. If it's outdated, they can update it with their insurance card photo, member ID number, and more!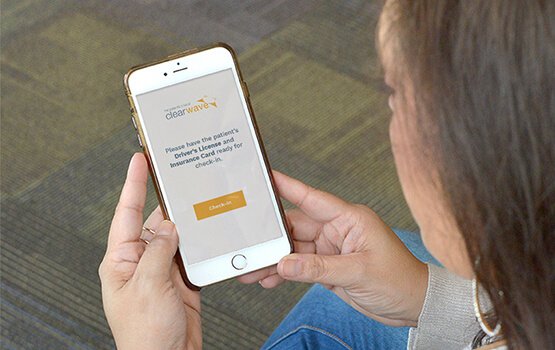 The patient has full control, meaning you can reduce staff errors. With Clearwave's Mobile Pre-Check solution, practices see a 90% reduction in registration errors. This saves you time and money.
Mobile Pre-Check can also integrate with some EMRs. This means that if the integration is set up, your staff doesn't have to enter the information again. Patients can then answer the questions that are only asked during mobile check-in.
Join the Mobile Revolution
Picture your front-office at its best. Your patients are contentedly passing through the waiting room with little to no wait time, your staff has time to perform new, value-adding tasks, and you have virtually eliminated registration errors for your patients. Appointments are timely, and you are able to see more patients throughout the day.
This is the benefit of implementing Mobile Pre-Check at your practice.
Want to find out more about Clearwave and our Mobile Pre-Check solution for your practice? Contact us to schedule a demo today! If you are a current Clearwave client, you can learn more about implementing Mobile Pre-Check by contacting your Clearwave account manager or by attending one of our weekly events.
Mobile pre-check is one of the many ways that Clearwave can help your practice save time, money, and increase patient retention! Contact us today and see how we can help!
Reading Time: 3 minutes With all of the healthcare technology options available, patients expect to be able to reach a practice, hospital or health…
Reading Time: 3 minutes Medical practices' infamously long wait times are primarily the result of multi-step, manual processes for patient check-in that involve a…
Reading Time: 3 minutes Want to know how to drive patient engagement and help your patients get the most use out of your digital…