How Patients Want to Engage With Their Medical Providers
Reading Time:
5
minutes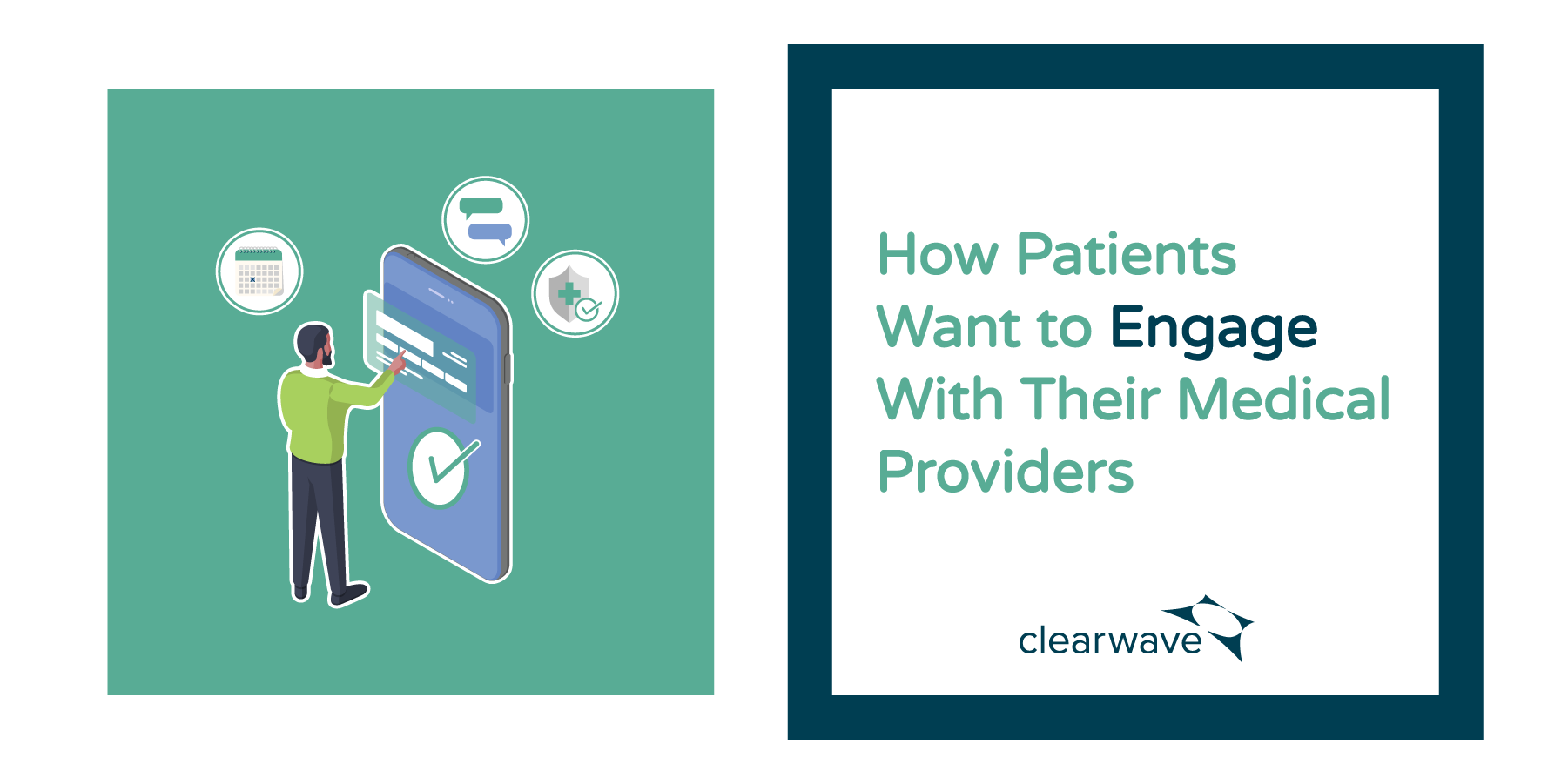 As a patient-centered practice, you want to exceed patients' expectations at every step in the process. In order to accomplish this, it's important to first meet patients where they are in terms of technological expectations. In this day in age, many patients expect to engage with their providers faster and easier, thanks to the many luxuries afforded to them by technology. By investing in a comprehensive patient engagement platform, you can accomplish this mission and match the expectation your patient's have for engagement with their providers. 
There are many ways that patient engagement platforms can better your patient experience, increase patient retention and meet patients' expectations. A comprehensive patient engagement platform will allow you to use automation to create smart, lean and agile practice operations, while at the same time personalizing patient care through data.
Online Self-Scheduling
Today, 90% of patients would consider abandoning a provider that doesn't offer digital access. Self-scheduling technology can allow you to meet these patients where they are, so that they can schedule their medical appointments whether they're at home, at the office, at a restaurant or shopping at the mall. Smart patient self-scheduling tools give your patients a way to access to select a time and date that work for their schedules.
An online self-scheduling tool allows patients or clients to make an appointment online without contacting the office, making the process more convenient and reducing the amount of time needed for a patient to cancel, schedule or reschedule an appointment.
Beyond matching patient expectations for engagement, online self-scheduling helps fill in appointment gaps, so your schedule can stay full. A patient engagement platform that offers a waitlist option can enhance patient self-scheduling, reduce unfilled appointment slots and increase revenue. A waitlist tool can accelerate, build and manage your appointment waitlist, send appointment requests and book new appointments to fill canceled or rescheduled slots. One of the best benefits of this tool besides the fact that a waitlist can optimize the patient scheduling process, is that it can do all of these things without placing additional burden on your staff.
Streamlined Check-In Process
One of the most common complaints medical practices receive revolves around patient wait time. Patients would rather spend the majority of their time at their doctor's office engaging with their doctor, not waiting in the waiting room. Although waiting is always going to be part of the process, smart patient engagement platforms can help reduce in-office wait times. Streamline wait times with a self-service patient check-in system, via kiosks, tablet or mobile phone, and realize other practice benefits as well.
A streamlined check-in process can boost your bottom line by speeding up cash flow with increased point of service collections. A comprehensive patient engagement platform that offers a streamlined check in process can also encourage your patients to pay their copay at point-of-service when checking in. Give your patients a safe, secure and simple way to check in and pay copays and take the onus off of your staff. Self-service patient check-in is just one of many digital-first approaches that will help you meet the needs of today's patients and put your practice on the path to profitability.
Appointment Reminders
In today's digital-first environment, patients expect reminders from their healthcare providers, just like they do for nearly all of their routine appointments. 
Patients in this digital want processes that are fast and require minimal effort. With appointment reminders, patients won't have to rely on their own memory or search for a business card with a date and time on it to remind themselves of when their next appointment is. Beyond patient expectations, there's not a specialty practice out there that has room for no shows.
Appointment reminders can help make your patients' busy lives easier, and at the same time reduce reduce no-shows and improve patient retention. Tailor your reminders in a way that best fits your patients' preferences, and choose a patient reminders tool that enables you to send automatically via text, email or voice. By sending your reminders in a way that increases the likelihood your patients will see them, you can help your patients' reduce missed appointments and the disruptions that follow, like impacting your physicians' busy schedule. 
Appointment reminders also streamline the cancellation and rescheduling process, so there are less hurdles patients need to jump through in order to accomplish these goals. Making it easier for patients to cancel or reschedule their appointments also makes it more likely that you will have a more accurate and full schedule. As patients occasionally cancel or reschedule after getting a reminder you can lower the amount of no shows and allow slots to open up for those on the waitlist.
We recently talked with Brooke Dover, who is the administrator at Alabama Ophthalmology Associates (AOA) about appointment reminders. See how AOA reduced no shows and tailored their reminders to their specific patient needs among other things, by using appointment reminders.
Patient Communication Methods
Patient engagement platforms can also offer improved methods of communication and meet the expectations of patients. When a medical question comes up, patients want efficient and rapid communication with their provider. Using a patient engagement platform that offers improved patient communication methods can streamline the communication process and provide a better experience for patients that expect quick and personalized answers from their medical providers
Consider a two-way texting tool that allows your practice to send and receive focused and efficient messaging to and from patients. Your staff are able to give directions, send notifications, or inform the patient's family members or friends when an operation is finished. No cumbersome downloads or portals are required; simply a straightforward method of patient contact. 
Two-way texting meets your patients where they are, and like most other digital-first patient engagement tools, patients are used to the immediate convenience and instant communication between with your practice.  
Pre-Registration Options
A pre-registration tool is another way to improve patient wait times and provide a streamlined patient experience. Send pre-registration links through patient communication software and reminders ahead of their appointment. Customize your patient pre-registration workflows and allow patients to provide medical history, clinical intake, demographic information, and even update insurance or pay copays. 
Smart pre-registration tools will integrate with your critical practice management systems, ensuring you capture critical patient data. By capturing this data, digitally, right from your patients you can also improve data accuracy and remove manual efforts transferring data and interviewing patients for clinical intake. 
With critical patient information gathered ahead of time, when patients arrive at the office they'll have far less information to provide, reducing wait times and improving the patient experience. 
Improving the Patient Experience & Practice Efficiency Go Hand in Hand
Match patients expectations and improve the patient experience by using tools that will allow them to engage with their medical providers the way that they want. 
Furthermore, advanced patient communication software and strategies incentivize patients to choose your practice over another that may use more antiquated means of patient engagement.
Learn more about what patients expect from medical practices in 2023 and other top-of-mind trends practice leaders are focused on ahead of next year? Download our guide on Top 6 Trends for Healthcare Practices in 2023.
Reading Time: 4 minutes By Blakely Roth | November 30, 2023 Patients want the freedom to book appointments at their convenience, just like booking…
Reading Time: 4 minutes By Chloe From Clearwave | November 10, 2023 Missed appointments are an inconvenient but common occurrence in healthcare. Patient no-shows…
Reading Time: 5 minutes Increasing practice growth is not just a goal, but a necessity for specialty physicians in today's healthcare landscape.  According to…