From 6 Contact Touchpoints to Zero-Contact Check-In
Reading Time:
4
minutes
The COVID-19 pandemic has forged a new normal in the delivery of healthcare, affecting the operations of medical practices and demanding safer patient care than ever before. Reducing contact points between individuals is critical, as this has been identified as a way that viruses and harmful bacteria can be spread from person-to-person.
What are the common touchpoints in medical offices that spread bacteria and viruses? And, are your patients and staff still coming into contact with them?
There are new methods available to reduce patient and staff contact for the safety of those who visit your practice – keep reading to learn more!
Contact Touchpoints in Medical Waiting Rooms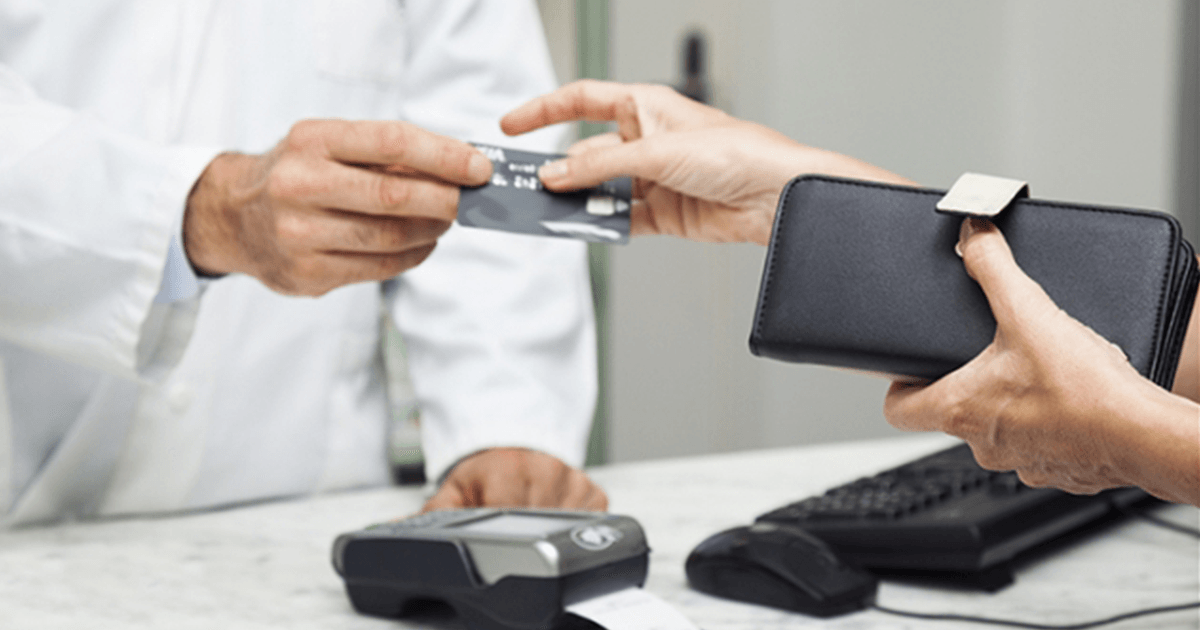 Did you know that there are an average of six patient touch points in a waiting room? These common surfaces include:
1. Insurance cards
2. Credit cards
3. Pens
4. Paper forms
5. Clipboards
6. Driver's licenses
Traditional check-in increases the number of these surfaces that patients and staff are exposed to. Electronic check-in solutions can be used to streamline processes and provide a safe approach to patient intake and payments. Zero physical contact during patient check-in means reduced risk for both patients and staff at your practice.
The electronic check-in process not only minimizes the possibility of exposure to the COVID-19 virus during check-in, but it also offers a better experience for patients by:
● Asking COVID screening questions using the patient's mobile device before entering the facility
● Automating appointment reminders and patient intake for increased efficiency
● Facilitating the use of virtual waiting rooms
● Accepting contact-less payment
Zero-Contact Patient Intake
The benefits of zero-contact patient intake go beyond safety for patients and staff. In fact, contact free check-in has the potential to overtake traditional patient intake methods far into the future, particularly with the current global focus on staying socially distant.
How can zero-contact patient intake methods benefit practices, hospitals, and FQHCs? Some of the main benefits include:
Going Paperless
Patients and staff face the risk of transmitting viruses and bacteria when using traditional paper intake forms. A zero-contact workflow gets rid of paper and instead collects patient information digitally; the workflow requires minimal, if any, physical contact between patients and front-office staff.
Going paperless isn't just a critical way to reduce patient touch points – it's also great for the environment and reducing cumulative spend on ink and paper! Beyond patient safety precautions, your patient base will appreciate the reduced impact on the environment.
Observing Social Distancing

Using a zero-contact workflow, patients can complete the check-in process remotely. This can be done from their mobile phones at home or in their car once they arrive at the facility. Patients don't even have to produce their insurance card or driver's license to the front office staff; they can take a picture of their cards and upload them using their smartphones. This reduces multiple touch points and further decreases chances of exposure.
On the day of their appointment, patients are able to wait in their car once they arrive at the facility. They then receive a real-time text informing them to go inside the practice for their doctor's visit.
Digitizing Patient Payment Collection
If your practice or medical facility struggles with patient collections, you are not alone. Conversations surrounding past-due balances can be uncomfortable, and paper invoices are often neglected by patients. As a safety measure that can also increase your bottom-line, automated collections top the list!
With digital patient check-in and online payment options, you can automatically generate estimates of patient responsibility, request co-pays and request past-due balances upfront!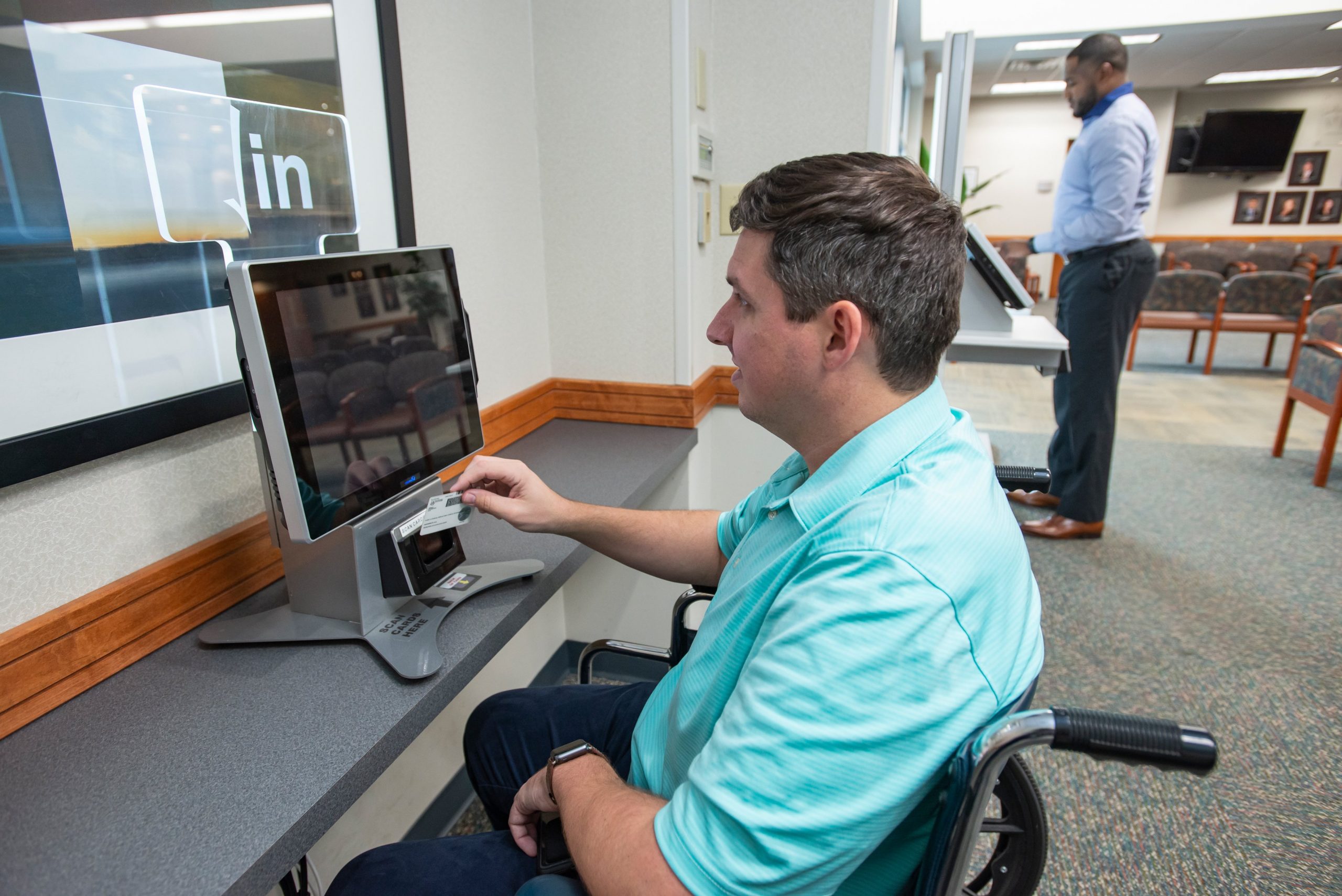 Patients can choose an existing card on file to pay outstanding balances, or enter their debit or credit card details to make a payment.
This payment option improves collections and, most importantly, minimizes the risk of exposure. Practices with options for digital payments can see up to a 60% increase in point-of-service collections, and dramatic reductions in outstanding patient balances!
Reducing Patient and Staff Anxiety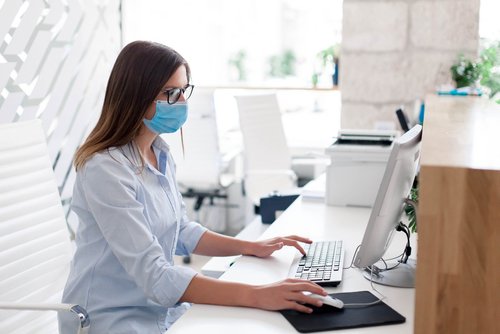 Many patients, including those with pre-existing conditions, are postponing visits to their doctors due to fear of sitting in crowded waiting rooms. Zero-contact solutions lessen these anxieties, helping patients receive medical care without worrying about exposure.
Staff, too, are likely to have concerns regarding their exposure to potential illnesses. As essential employees, your team needs support and to feel heard during uncertain times. Implementing zero-contact patient check-in options can help your staff feel more protected and reduce additional stressors at the workplace.
To communicate these updates, practices implementing zero-contact patient check-in can utilize a web badge to let patients know that procedures are in place to keep everyone safe. Patient texting options can also be used to communicate in-office procedures and updates.
Safer, Seamless Check-In Solutions
Clearwave's end-to-end patient check-in solutions will ensure your practice adapts to the new normal, delivers services to your patients while observing CDC guidelines, and keeps everyone as safe as possible from infections. Mitigating staff and patient exposure to COVID-19 is crucial to making sure anyone that comes into your practice feels at ease.
Schedule a quick demo with Clearwave today to find a solution that best fits your needs.
Reading Time: 4 minutes By Chloe From Clearwave | October 23, 2023 When payments are slow it's frustrating for healthcare providers, meanwhile patients may…
Reading Time: 4 minutes By Blakely Roth | October 18, 2023 Patients are seeking quicker access to care and streamlined check-in options, while healthcare…
Reading Time: 3 minutes New Integration Empowers Multispecialty Clinics to Automate Operations, Improve the Patient Experience and Drive Revenue Growth ATLANTA – August…