Clearwave: More than Patient Check-in
Reading Time:
3
minutes
Because of the mobile and digital capabilities available today, Americans have a stronger consumer mindset towards many of their daily interactions. This also includes how they feel about healthcare. People now expect a convenient, patient-centric experience when it comes to their healthcare providers.
Digital patient check-in kicks off an improved patient experience, but with Clearwave, your practice will deliver an optimized patient journey from start to finish.
Clearwave's patient check-in begins on mobile, kiosk or tablet, in a contact-free and fast approach that patients appreciate.
Check-in is then enhanced with integrated, workflow-boosting functionality, including:
Real-Time Eligibility Verification, Simplified Collections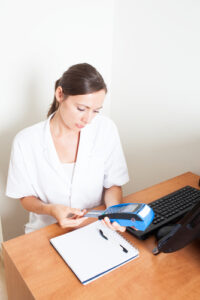 Clearwave's Eligibility-as-a-Service begins as an appointment is scheduled. It flags any inconsistencies in insurance verification or necessary data updates to prepare staff for the day(s) ahead and confirm that coverage has not lapsed or changed. Clearwave's eligibility verification checks primary, secondary, and tertiary coverage to provide valuable financial transparency.
As patients check in, Clearwave displays estimated co-payments and any open balances. Patients are able to make payments and clear balances directly – and can even use a card on file for payment. This clear and simple transaction helps your practice to:
Significantly improve cash flow
Free up staff workload
Eliminate awkward requests for payments
Decrease insurance claim denials with accurate data
Minimize the cost of paper resources
Reduce collection fees
Decrease write-offs.
Eligibility-as-a-Service can be configured to the unique workflows and billing requirements of your specialty practice.
Two-Way Text Messaging
Clearwave's two-way texting lets your practice easily communicate with patients on their mobile device with manual or templated responses. A patient might respond to an appointment reminder when running late, rescheduling or requesting directions.
With two-way texting, you can automate workflows for reminders and online patient intake. Two-way texting also reduces friction, allowing patients to comfortably communicate with your practice. Two-way texting is an easy way to increase patient satisfaction without adding extra tasks for your staff to manage.
Appointment Reminders
These days, it's hard to get anyone to answer their phone – your patients included. This might mean a higher likelihood of your patients missing or forgetting appointments. When you're unable to get in touch with patients, it can result in no-shows and lost revenue. With Clearwave's automated appointment reminders, you'll reach your patients on time and have a more effective daily schedule with less wasted gaps.
For every scheduled appointment, Clearwave sends strategically-timed appointment reminders by text or email. This is what patients expect in modern medical practices, and you'll also see the results in a more effective front office.
Provide a Superior Patient Experience with Clearwave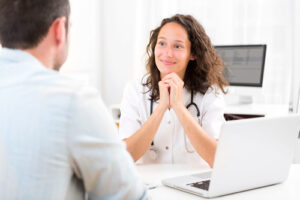 Too many things are keeping patients out of medical offices at the moment, from COVID worries to unmanageable schedules. The last thing your patients need is calling your practice to book an appointment and being put on hold.
Clearwave gives your patients an easy incentive to return to your practice by letting them self-schedule, wherever they are.
Using digital, intuitive and patient-centric tools allows you to support social distancing, enhance patient experience and satisfaction and build long-term loyalty. It's a better solution for today's patient-consumer demands.
Clearwave offers your patients added convenience and allows your practice to deliver a seamless care experience. It's not just a better check-in – use Clearwave to increase patient access while improving acquisition and retention.
See for yourself how Clearwave can help your practice succeed. Thanks to Clearwave, Baptist Health improved its check-in time by an average of 74% – click here to download the case study.
Reading Time: 4 minutes By Chloe From Clearwave | October 23, 2023 When payments are slow it's frustrating for healthcare providers, meanwhile patients may…
Reading Time: 4 minutes By Blakely Roth | October 18, 2023 Patients are seeking quicker access to care and streamlined check-in options, while healthcare…
Reading Time: 3 minutes New Integration Empowers Multispecialty Clinics to Automate Operations, Improve the Patient Experience and Drive Revenue Growth ATLANTA – August…