Clearwave to Exhibit at the 2017 Allscripts Client Experience (ACE)
Reading Time:
2
minutes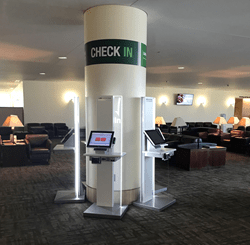 ATLANTA, GEORGIA (PRWEB) AUGUST 03, 2017
Clearwave Corporation, the healthcare industry's only data authentication and patient registration platform, announced today it will be exhibiting at ACE in Chicago, IL from August 8, – August 10, 2017. The Allscripts Client Experience (ACE) is an annual user conference attended by thousands of Allscripts clients and industry leaders.
ACE 2017 is focusing the conference content on the future of the healthcare industry and providing thought leadership on important trends such as precision medicine, using analytics to improve population health, and how the right technology can enable interoperability and create connectivity to a growing healthcare community.
"Clearwave is a natural partner for Allscripts clients because we seamlessly integrate with Allscripts allowing for greater patient throughput, improved net revenue and increased patient satisfaction," stated Brian Stone, CFO Clearwave Corporation.
"Clearwave has helped us improve our clinic flow dramatically. We no longer have lines out the door and we are able to our patients back more quickly. Clearwave is accurate and we can trust what's on the encounter form. The integration with Allscripts is really good," stated Shelley Gerads, Business Office Supervisor for St Cloud Orthopedics located in Sartell, Minnesota.
On average, patients spend approximately 20 minutes in waiting rooms of healthcare organizations that do not use self-service check-in software. However, for organizations using these systems, patient check-in registration times can be reduced to just two to three minutes.
Clearwave will be providing real-time demonstrations on its platform in booth #713 from August 8 – 10, 2017 at the Gaylord Texan Resort Hotel & Convention Center to learn more about Clearwave's technologies and solutions to streamline the patient registration process creating a better patient experience and improved net revenue.
About Clearwave
Clearwave's registration platform allows authenticated patient data to flow from a patient to any healthcare provider. Clearwave's platform includes full integration to any Electronic Medical Record (EMR), Practice Management (PM) or Hospital Information System (HIS) product. Clearwave's platform provides the patient with multiple self-service options including Clearwave's Mobile Pre-Check solution. Clearwave's solution is intuitive and easy to use and the only self-service registration solution that can link HIS vendors with disparate PM vendors allowing for one registration process across the enterprise.
Reading Time: 3 minutes New Integration Empowers Multispecialty Clinics to Automate Operations, Improve the Patient Experience and Drive Revenue Growth ATLANTA – August…
Reading Time: 4 minutes The ability to pre-register for appointments, ahead of their office visits, has become a top requirement that patients are looking for…
Reading Time: 4 minutes By Blakely Roth | August 17, 2023 Age is just a number for your older patients, as they continue to…