Top Questions to Speed Up Patient Registration & Collections
Reading Time:
4
minutes
By Blakely Roth | April 12, 2023
Long check-in times and busy waiting rooms can unknowingly impact patient collections and loyalty. Staff may feel awkward asking for payment, especially past-due balances in a busy waiting room, or they may neglect to ask for a payment, just to speed up check-in. Patients may also get increasingly frustrated when they know a trip to their provider's office will take hours out of their day. 
When practice's cant speed up registration they incur immense patient and revenue challenges: 
Patient Concerns: 
Revenue Concerns: 
 Take action now to speed up check-in times and improve patient satisfaction and collections. Use these questions to determine the right solution for your practice. 
Are long lines hindering patient throughput & experiences?
With long lines and busing waiting rooms, it may be easy to consider hiring more reception staff to handle patients checking in, however, there may be a separate underlying problem. No matter how many administrative staff you may have at the reception desk, high and growing patient volumes can lead to a continually backed-up office.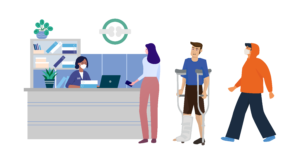 Pre-registration and in-office digital check-in solutions, (like mobile pre-check links or kiosks) have been shown to significantly drop wait times, sometimes up to 90%. You may be able to see similar success in your office, without having to hire more full-time employees (FTEs). Implement a digital patient registration platform to significantly reduce administrative burdens and reallocate staffing resources to higher-value responsibilities. 
Are you asking for payment at every patient interaction?
Put the responsibility of collecting payment on the patient, rather than on your staff. When patients are prompted to pay their co-pays, past-due balances, and even estimates through self-service registration – they pay.

Time-and-again practices can drive nearly immediate increases in point-of-service profits simply by offering patients private, self-service check-in. Take the guesswork out of collections and put revenue back into your practice, with one simple switch – from staff-only check-in to digital patient-led registration. 
How quickly can staff determine patient responsibility or verify insurance?
Staff may be overburdened with a busy front desk and other in-office responsibilities, like verifying insurance and determining deductibles. Again, hiring additional FTEs may be your first solution, however, it would be a costly one, especially with labor costs increasing by 30% year-over-year.  
Take away the manual burden of verifying patient insurance altogether. High-growth practices invest in fast and reliable insurance verification tools, meaning with the push of a button their staff can determine co-pays or insurance issues, prior to patients arriving at the office.

With this forward-thinking approach, administrative staff can solve insurance challenges ahead of time and your practice can collect accurate co-pays when the patient arrives. To achieve similar success, find a tool that determines eligibility in real-time and won't charge transaction fees, so you can be sure you have the latest patient benefit information, at no added cost. 
What is your average no-show rate & how are you shrinking it?
No-shows can have just as big of an impact on in-office efficiency and patient collections as a busy wait room. A patient that's late or has missed an appointment can disrupt an entire day's schedule, leading to increased provider frustration and profit leakage, due to schedule gaps. When high-growth practices take action to streamline patient registration, they put an effort into minimizing no-shows as well. 
Look at your patient reminders strategy for opportunities to reduce no-shows. Here are a few tactics worth trying, even when no-shows seem inevitable. 

Go From Long Lines to Short Wait Times & Increased Collections
Digital patient-led registration solutions can help your practice speed up check-in times and reduce patient and provider frustrations. The right solution will also lead to nearly immediate increases in point-of-service collections. Implement a revenue-driving patient registration solution and see the results for yourself.
Hear from Daniel Chattom, Clinical Systems Manager at Southview Medical Group, as he shares a strategy that resulted in shorter wait times and nearly immediate revenue results. Watch the conversation now.
Clearwave Core is the patient revenue platform™ for high-growth practices. See why practice leaders trust Clearwave to help them increase collections by 112%, reduce claims rejections and accelerate patient acquisition. 
Reading Time: 4 minutes By Blakely Roth | November 30, 2023 Patients want the freedom to book appointments at their convenience, just like booking…
Reading Time: 4 minutes By Chloe From Clearwave | November 10, 2023 Missed appointments are an inconvenient but common occurrence in healthcare. Patient no-shows…
Reading Time: 4 minutes By Chloe From Clearwave | October 23, 2023 When payments are slow it's frustrating for healthcare providers, meanwhile patients may…