Increasing Front Desk Efficiency – How to Overcome Staffing and Recruiting Challenges
Reading Time:
4
minutes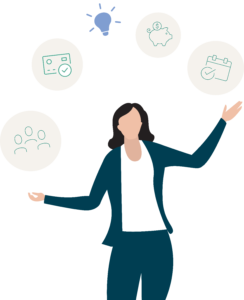 It seems like everywhere we turn these days, there are signs of a staffing shortage. From restaurants to retailers and so many others in between, service-oriented businesses are working overtime to serve their patrons while scrambling to find and hire qualified personnel and retain their current staff members. Unfortunately, many of them face burnout, stretching themselves too thin to help employers keep up with demand.
Nowhere is this more evident than in healthcare, where burnout and turnover have reached record levels. The healthcare sector is hovering at a turnover rate of 20.6% – and this turnover permeates both function and seniority.
Of course, with burnout and turnover comes the need to hire. It's a vicious cycle that the pandemic has exacerbated. Many healthcare professionals are choosing to take a break from work life, leaving fewer candidates in the market. This makes it more difficult for practices to recruit staff, leading to more burnout, and so on. In a recent poll, 88% of healthcare executives reported difficulty hiring medical staff.
This trend, unfortunately, applies to front desk staff, which can be paralyzing for a practice. Front desk staff are the first and last impression that a practice leaves on their patients, and for many practices, their traditional tasks keep operations moving.
Work Smarter, Not Harder
How can your practice fight back and safeguard itself against staffing shortages – and maybe even prevent them?
The answer lies in increasing front desk productivity and efficiency. With good digital tools in place, you can stay focused on the patient experience and your profitability. Below, we explore how to work efficiently even when you can't hire front desk staff fast enough.
Pre-Check
Practices can encourage patients to pre-register ahead of their appointments, sending a link by text or email. At home or on a mobile device, patients can enter or update their profile data, benefit and payment information and scan ID and insurance cards.
By pre-registering, patients complete data entry electronically with better accuracy and real-time updates to the practice and integrated EHR/PMS. There are no more early pre-visit arrival times, clipboards or staff members needing to make copies and crowding the front desk.
Patients arrive for their appointment and can check in in under three minutes and without staff interaction, ready to be seen.
Automated Eligibility Verification
Automated eligibility verification eliminates 10-40 staff hours per week of verifying patient coverage and following up on specific issues.
Run in real-time, eligibility verification can confirm benefits ahead of the day's appointments and flag any issues that need attention.
The cost of resubmitting claims or accruing penalties add up, and on top of that, are an inefficient use of staff hours. Using an automated verification tool like Clearwave can reduce denied claims by up to 90% — saving dollars and cents as well as staff hours — every day.
Clearwave's eligibility verification will also provide patients' estimated co-payments to maximize same-day patient collections, making it a cost-effective, integrated process.
Digital Check-In
Patients are ready to check in electronically, and this can whittle down staff involvement at check-in to almost zero.
Much more efficient than waiting in line at a front desk, patients enter the practice and use a kiosk, tablet, or even their own smartphone to signal they've arrived. With one staff member positioned at the desk to direct patients or answer questions, check-in becomes simple.
An average manual check-in time can be 20 minutes long, spent filling out paperwork and waiting for staff to scan or copy IDs and match a sign-in sheet to an appointment. With a digital check-in solution like Clearwave, check-in is self-led and takes an average of three minutes or less.
This not only saves staff time on data entry and interactions, but it saves patient time as well. Patients can arrive close to their appointment time, allowing practices to increase daily patient volume and accelerate throughput with greater efficiency. The fraction of patients that need more assistance can be met by a staff member who has time to deliver an excellent patient experience.
Patient Collections
Digital patient engagement solutions can save you hours by automating payment collections.
Digital tools can discreetly display a patient's co-pay for the visit and any open balance, prompting the patient to pay while checking in. When this is an automated process for each patient, same-day collections no longer require staff to look up amounts, request payments, explain balances or follow up with patients afterwards for however long it takes to obtain a payment.
Automated patient collections are a no-brainer, saving hours and hours of traditional staff workload — and increasing cash flow up to 60% from the start.
Your bottom line can see an immediate impact, with even less hands on deck.
Creating More Productive Workloads
While staffing challenges in healthcare are not likely to ease anytime soon, practices need to consider alternative solutions. The good news is that technology like Clearwave automates administrative tasks, saving your staff hours per day and creates better, more productive workloads, which is crucial in times where hiring staff is challenging.
Protect your practice against staffing gaps or fluctuations and enable your existing staff to redirect their time to support patients with more fulfilling, higher-value interactions.
See the Recorded Webinar
In our live webinar, Denise Martin, Administrator at Georgia Vision Institute discussed the current landscape and their workarounds for staffing and recruiting challenges – watch the recording.
Reading Time: 6 minutes By Chloe From Clearwave | June 5, 2023 Effective communication is a critical component of successful healthcare practices. In today's…
Reading Time: 5 minutes By Chloe from Clearwave | June 1, 2023 It's no secret that many healthcare practices are having trouble meeting their…
Reading Time: 6 minutes By Chloe from Clearwave | May 24, 2023 Facing a low booking rate for Botox, laser hair removal, anti-aging and…