Good Customer Service=Happy Patients
Reading Time:
2
minutes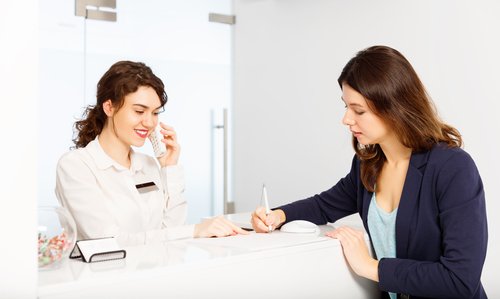 When it comes to customer service, it's key that you're friendly, helpful, and patient.
Good customer service leads to happy patients. Keep reading to learn how Clearwave can help your practice!
Self-Service Check in Means Less Time Wasted
As a practice, it's up to you whether your patients are satisfied. After all, nobody wants to have a doctor's appointment where it feels like their time is wasted!
With Clearwave, we're eliminating the endless minutes wasted at appointments. Our digital self-service check-in is available on multiple platforms.
These include healthcare kiosks and mobile solutions. So how can self-service check in options lead to happier patients?
Don't people want to interact with a front desk staff member when they check in? What about the personal aspect of patient care?
Self-Service Check in Means More Time with Patients
One of the things that our customers love most about Clearwave is it means more time with patients. When you're not busy looking for forms or updating address changes, you have more time for meaningful conversations with patients.
More time leads to more face to face interaction with patients! It may seem contradictory, but our clients tell us time and time again they finally have more time.
Clearwave is taking the burden off practices and allowing them to do what they do best: care for patients.
Self-Service Check in Puts the Patient in Control
Imagine this scenario. A single mother walks into your practice for an appointment with their child's eye doctor. The child is unhappy and making a scene.
The mom stands in line, waiting to speak to the front desk to check in. At best, she could be waiting only a few minutes. At worst, she may not be able to check in for at least fifteen minutes!
With Clearwave, we can put the patient in control. Self-service check-in kiosks can cut down waiting times to less than three minutes!
And during the check in process, the patient can update all their information. Did they move recently? Did they change health insurance providers?
Clearwave helps the patient update their information so the insurance gets billed properly. Does the patient have a past due bill that they've been meaning to pay?
They can pay their outstanding balances too! By putting patients in control, practices can focus on what really matters most. Clearwave gets rid of bottlenecks holding your practice back from its full potential.
If you're tired of bad reviews about your practice's waiting times, it's time to do something about it! Schedule a demo with Clearwave today and see how we can help transform your practice. You and your patients deserve it!
Reading Time: 5 minutes By Chloe From Clearwave | August 7, 2023 In today's dynamic healthcare landscape, effective communication is crucial for getting patients…
Reading Time: 3 minutes By Blakely Roth | July, 26, 2023 Across industries, consumer-facing organizations are embracing self-service solutions to solve staffing complications and…
Reading Time: 6 minutes By Chloe From Clearwave | June 5, 2023 Effective communication is a critical component of successful healthcare practices. In today's…