Client Spotlight: Rob Crabtree
Reading Time:
2
minutes
Rob Crabtree
Administrative Director of Orthopedics
UAB Medicine, Birmingham, Ala.
As a high school basketball player with no plans to play college ball, Rob Crabtree could not have predicted that someday, his interest in sports would lead to a career in sports medicine.
He's managed two sports medicine programs since graduating from Auburn University with a bachelor's degree in health services administration and from Georgia State University with a master's degree in sports administration.
Today, as Administrative Director of Orthopedics for UAB Medicine in Birmingham, Alabama, Crabtree still assists athletes recovering from injury—not as a practitioner, but as a business manager. He oversees the orthopedics clinic at UAB Hospital-Highlands, which treats 200 patients a day, from athletes of all ages to those recovering from bone ailments and all types of injuries.
"I've always had a passion for sports," Crabtree says, "and I've been very lucky to be able to combine that passion with the medicine side of the industry. I can confidently say that I enjoy going to work and helping those in need of healing."
The orthopedics division at UAB Hospital-Highlands comprises 25 orthopedic surgeons and physicians, including four of the eight pediatric orthopedic surgeons in the state of Alabama, with plans to add two satellite locations.
In March 2015, Crabtree worked with Clearwave to introduce self-service check-in to UAB Hospital-Highlands' orthopedics division. It's a decision that not only has had a profound effect on physician and patient satisfaction, but also the financial health of the organization. Now, he speaks about the benefits of digital check-in with members of the American Alliance of Orthopedic Executives (AAOE).
"It's pretty neat that our colleagues have been able to see the tremendous improvements Clearwave's self-service check-in platform brings to both an academic medicine and private practice environment," Crabtree says. "Quite frankly, there are few innovations that work well in both environments."
Read Rob's article in Health Management Technology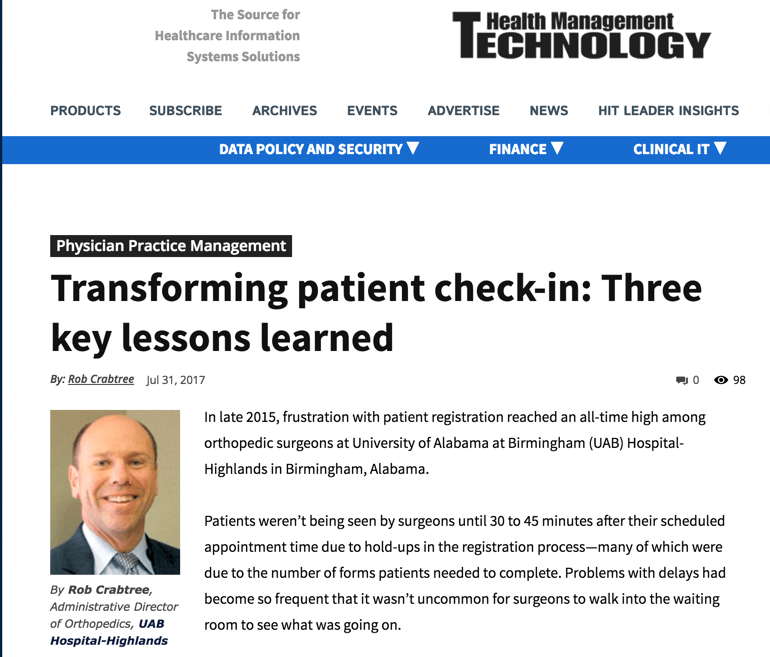 Reading Time: 4 minutes In this digital age, more and more patients are expecting faster communication, streamlined service and immediate answers. Patient engagement tools…
Reading Time: 4 minutes In addition to utilizing traditional marketing techniques, it's important to expand your efforts to include new technology in order to…
Reading Time: 5 minutes When looking ahead to 2023, it's important to consider ways to improve the function and success of your practice in…