5 Reasons Why Digital Patient Check-In Systems are the Wave of the Future for Specialty Practices
Reading Time:
4
minutes
Updated, October 18, 2023, by Blakely Roth
Many medical practices have leveraged digital patient check-in solutions as an effective way of establishing safe healthcare.
For cardiology practices, COVID-19 impacted elective procedures, clinic consults, cardiac rehab and structural interventions. As practices and hospitals across the country take tentative measures to return to a new normal, specialty practices are considering both the short and long-term implications of COVID-19 — and how automation can propel their practice to scale revenue in the coming years.
To support the restoration of patient volume and operations of your specialty clinic, here are several check-in solutions for specialty practices designed to meet the emerging needs of patients.
Digital Patient Check-In Systems

Patient check-in protocols have changed significantly to reduce the risk of exposure for patients and staff. Integrating digital patient check-in software will be crucial in rebuilding patient confidence. Providing self-service patient registration solutions is a simple way of reminding patients that practices are safe and reliable places for care. A digital patient check-in system can also help your practice unlock revenue potential while providing the experience your patients require.
Patient-check in systems offer new and more convenient ways of operating, like
Automatically confirming appointments ahead of time to optimize your scheduling
Proactively verifying eligibility to streamline claims and reimbursement
Increasing point-of-service collections, including estimations and past-due balances
Implementing the ability to offer a digital waiting room
Reducing contact and wait time while supporting social distancing
Eliminating repetitive contact with pens, clipboards, paperwork, ID and credit cards
Alleviating your staff's administrative workload, or allowing you to manage a reduced staff
Reducing interactions and protecting staff and patients from the risk of exposure has become a vital point of practice safety. Today's patients also want the ability to check-in themselves as they are used to this self-service interaction in their everyday life, from grocery store check-out to ordering food at a restaurant and much more. See how self-service registration can help your practice enable faster time-to-revenue, drive cleaner claims and increase patient throughput.
Utilizing Mobile Pre-Check Systems
Using a digital check-in solution transforms the patient experience while saving staff time, increasing collections and ensuring a zero-contact process. Mobile pre-check gives patients a convenient check-in solution that increases self-service while developing patient engagement. Many patients may not be comfortable with the idea of sitting in a waiting room or may not wait to spend additional time out of their day coming in early for an appointment to fil out paperwork. With mobile patient check-in systems, patients can register before their appointment from their own devices, organizing the process for both patients and staff.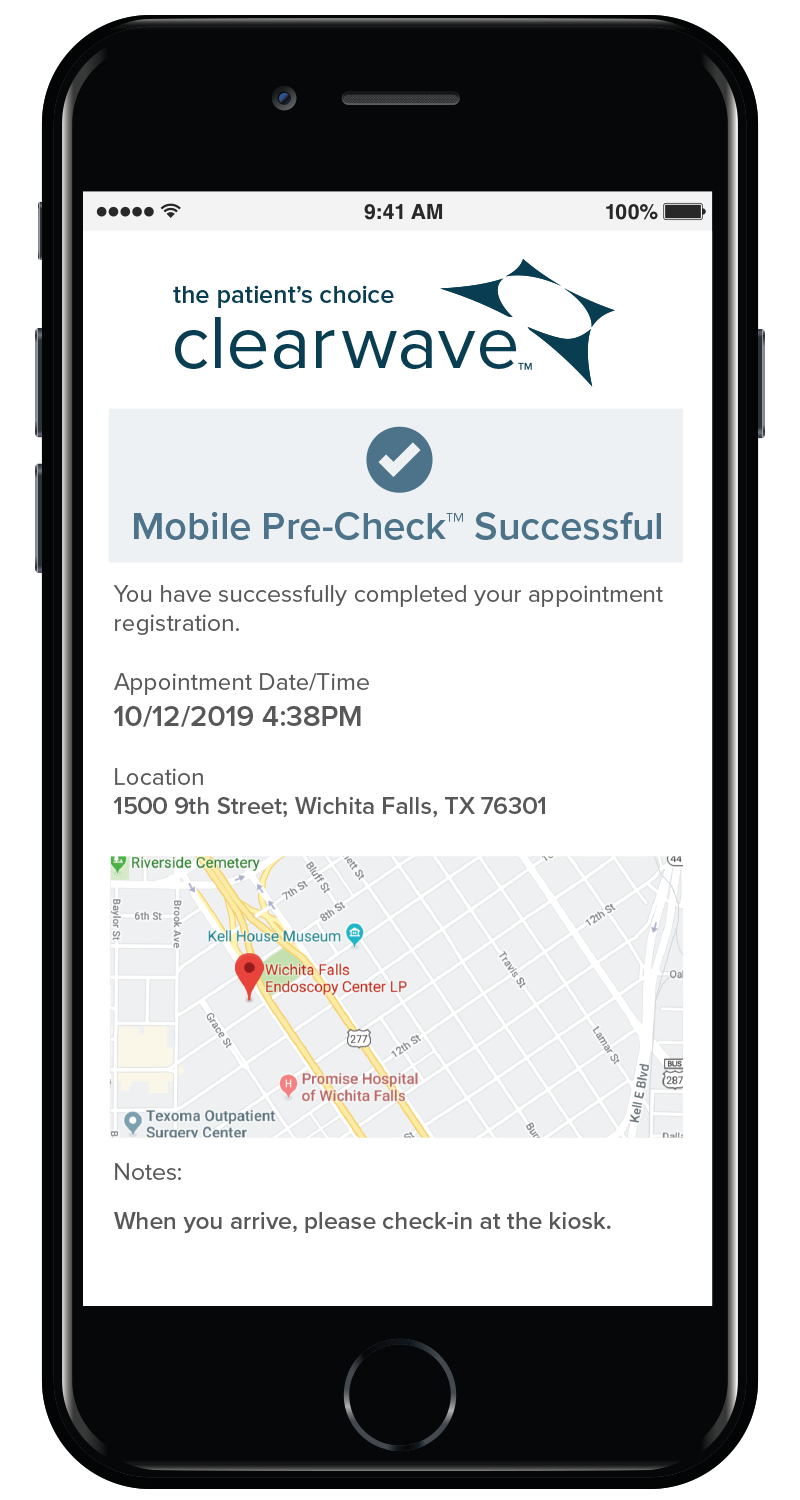 Introducing a digital check-in solution like mobile pre-check puts these patients' minds at ease while reducing wait times and staff workloads. For patients that require in-person care, mobile pre-check now allows practices to collect all necessary information and minimize contact while facilitating that direct, personal care.
With a proven mobile patient check-in solution your patients can sign consent forms, update their medical history, take photos for their patient records and even make payments with zero contact occurring between patients and staff. See how you can reduce wait times, by up to 90%, while providing patients the option to check in from the comfort of their own homes.
Clearwave Patient Check-in Systems for Mobile, Kiosk & Tablet

For specialty practices looking for a flexible way to expand the number of patient check-in options available, Clearwave self-registration is a great solution. Clearwave is perfect for practices of any size, regardless of budget, and can be stand-alone for self-service, or guided by staff.
Clearwave offers multiple digital patient check-in systems, including kiosks, tablets, mobile, and pre-register links. Each option allows patients to capture photos for patient records, input demographic information, fill in clinical questionnaires and pay securely and privately anywhere.
Clearwave patient check-in solutions help practices streamline point-of-service collections, including estimations, co-pays and past-due balances. On average, patients pay 50-60% more when using Clearwave's automated patient check-in system to request payment for past-due balances and copays. Consider how self-registration could help your practice increase revenue collections.
Montgomery Cardiovascular Associates (MCA) was an early adopter of self-service patient check-in systems. Today their practice has doubled point-of-service collections. Stefanie Prestage, Business Office Director at Montgomery Cardiovascular Associates, P.C., shares, "The amount of manual effort at the front desk has been greatly reduced. Patients are checked in automatically into Centricity, insurance, and driver's license images are imported, patient demographic updates and payments are processed without staff intervention."
Read MCA's full story here and see how your practice can drive similar revenue growth while providing a patient check-in system and experience that your patients have come to require from their healthcare providers.
Your Partner in Innovative Patient Check-In Systems
Clearwave is committed to supporting high-growth practices and giving them effective tools to provide the experience patients require, and one that will drive acquisition, retention and collections to the next level.
To find which digital patient check-in system will be best for your practice, schedule a demo with Clearwave today!
Reading Time: 4 minutes The ability to pre-register for appointments, ahead of their office visits, has become a top requirement that patients are looking for…
Reading Time: 4 minutes By Blakely Roth | May 8, 2023 To combat economic uncertainty, specialty healthcare practices are taking steps to increase patient…
Reading Time: 4 minutes By Blakely Roth | February 23, 2023 It's undeniable that eating a well-balanced diet can create long-term health benefits for…