We're Stronger When We Support Each Other
Reading Time:
4
minutes
By Blakely Roth | January 10, 2023
The Missing Link in Vendor Relationships
High-growth specialty practices and health systems leverage a number of technology platforms to improve patient experiences and provide premier care. As you consider automated patient engagement solutions for scheduling, intake, eligibility verification and communications, make your ongoing success part of your decision. Achieve adoption and exceed your return on investment, by choosing a partner that makes client success a priority.

What's Missing is CARE
Simply managing a practice is a full-time job. When you add on a host of technology and vendors, these solutions should simplify your workload, not increase it. When you invest in a new digital solution, the focus soon turns to implementation, training, technical support and the value you can drive. Every step after the contract signature is made simpler with a vendor partner who cares. Get more from your patient engagement solution, with a partner who can help your practice drive success, faster.
Today, companies across all industries are prioritizing customer-success initiatives. According to a study by McKinsey & Company, a top priority for organizations over the next 1-2 years is to, "drive a simplified customer experience (CX), while reducing call volumes and costs," all with the goal of increasing retention and improving customer outcomes.
While positive, this shift highlights the current reality of the disconnect between technology vendors and their customers. Know how to spot this missing link in a vendor's approach, and you'll minimize the risk in your investment.
High-growth practices choose a vendor that thinks and acts like a strategic partner, one that understands the urgency of their operations and that you're stronger when you support each other.
A Vice President of Revenue Cycle at East Alabama Health (EAH), a multi-specialty health system, spoke about the importance of building solid partnerships with technology vendors. She shares, "I've always worked closely with vendors, providing feedback, and what I have found is that when they take it constructively, we are both better for it." You may find value in their story as you assess patient engagement solutions and how well they support their customers.
There are four core roles a customer-focused technology vendor provides to help practices scale, and most importantly, improve patient experiences.
At Clearwave, We Believe in 4 Core Aspects of Customer Success

Your patient engagement tools should help you put revenue back into your practice. At the same time, your solution should make your staff's lives easier while providing the digital access to healthcare that your patients require. To have this success with your solution (and your investment!), your experience should go beyond technology, encompassing a well-thought-out approach to implementation, training, support and ongoing success. Here's what you can look for in each area as you assess vendors.
1. Implementation
For high-growth practices, manual implementation is not an option. See efficiency gains right away, with a vendor who provides strategic implementation support.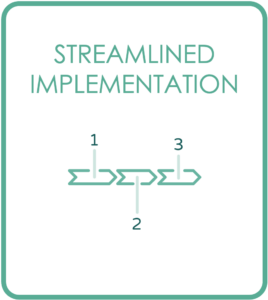 Vendors that CARE provide:
A dedicated implementation consultant
A timeline and transition plan
Workflow customization and configuration
Integration set up and testing
2. Training
With administrative responsibilities and a potentially understaffed team, make the training process seamless. Choose a vendor who prioritizes your staff's time and makes training simple, yet effective.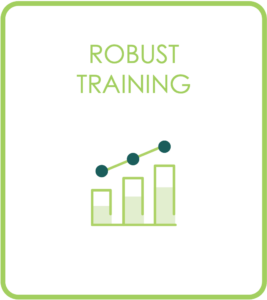 Vendors that CARE provide:
Instructor-led training, creating opportunities for staff to ask questions and learn from experts
24/7 access to on-demand training videos, best practice collateral, helpful hints and more
Future training and reviews to help staff drive an ongoing understanding of the solution
3. Support
In our digital world, vendors that provide quick resolutions and responses should be the baseline, however, that's not always the case. Choose a vendor who sets the standard.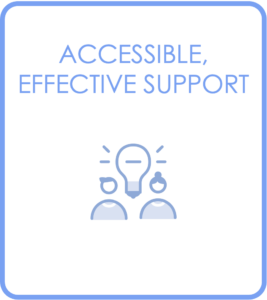 Vendors that CARE provide:
Expert support staff who can respond and solve issues quickly
Easy-to-reach support, via phone, email or dashboard
Access to support tickets and their status
4. Strategic Success
Regular interaction with a client success manager (CSM) can be powerful when they solely focus on helping your practice minimize risk and achieve key objectives.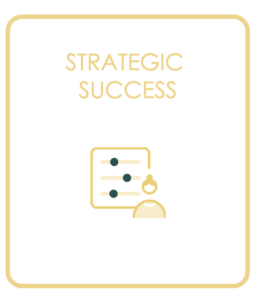 Vendors that CARE provide:
A dedicated CSM to provide strategic guidance and recommendations
Metrics-driven discussions to drive ongoing best practices for patient engagement
Targeted goals and direction to maximize practice performance
Strategic insight on customers with similar practice goals or challenges
Your Goals, Your Outcomes, Your Patients – Prioritized.
Choose the right solution for your practice by evaluating, price, fit and partnership. Your practice will grow further and faster with a vendor partner who CAREs about your outcomes, your challenges and your patients.
At Clearwave, our years of experience working with medical practices of all sizes and across specialties have shaped our belief that we're stronger when we support each other – that's why we provide clearwaveCARE. With a focus on building lifelong partnerships, your experience will go beyond technology to ensure you maximize the value of Clearwave and achieve practice goals. Learn more about clearwaveCARE.
Reading Time: 3 minutes By Blakely Roth | July, 26, 2023 Across industries, consumer-facing organizations are embracing self-service solutions to solve staffing complications and…
Reading Time: 6 minutes By Chloe From Clearwave | June 5, 2023 Effective communication is a critical component of successful healthcare practices. In today's…
Reading Time: 6 minutes By Chloe from Clearwave | May 24, 2023 Facing a low booking rate for Botox, laser hair removal, anti-aging and…