How Clearwave Customers Streamline Patient Intake
Reading Time:
4
minutes
How can your practice reduce check-in time by up to 85%? How do customers like UAB Medicine, VisionFirst Eye Center, or Montgomery Cardiovascular Associates use Clearwave to get measurable results at their practice?
Read on for just a few examples of how Clearwave can help you enhance patient care and streamline patient intake for your business.
Streamline Patient Check-In with Customized Patient Solutions
Every practice wants to make patients happy. Long wait times, over-scheduling, and staffing issues can make this easier said than done.
With Clearwave, UAB Medicine's orthopedics clinic reduced patient wait times by over thirty minutes, allowing their surgeons more time to interact with patients and increase overall patient satisfaction.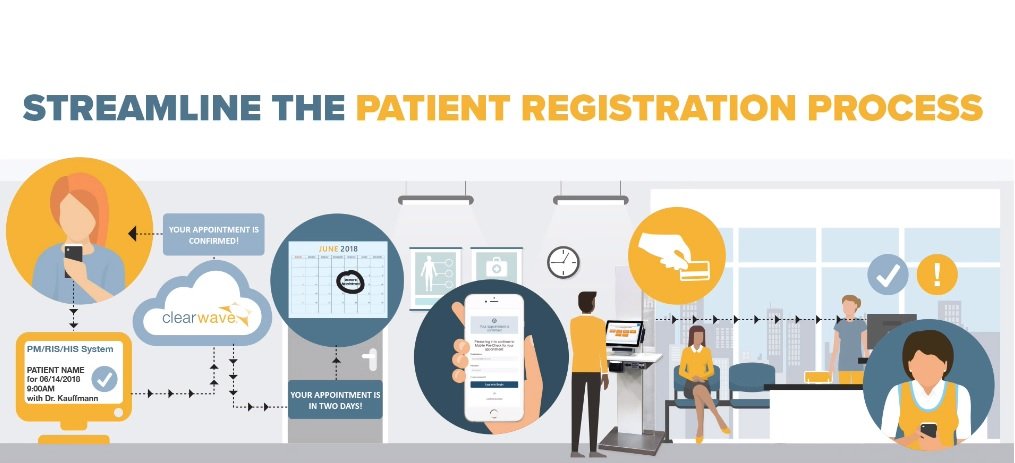 With Clearwave, your patients will spend up to 50% less time filling in practice forms. This isn't the only way Clearwave improves efficiency – Clearwave makes patient check in more accessible, simple, and streamlined for patients and staff alike. Through Clearwave's patient check-in kiosks, your patients can:
● Utilize Mobile Pre-Check to pre-register for their appointments

● Notify staff that they have arrived for their appointment

● Verify information, such as address, phone number, insurance, and prescriptions

● Sign and review patient forms

● Notify staff of communication preferences and receive multilingual patient intake support

● Process payments quickly and privately
By allowing patients to privately address the above tasks, your staff could reduce front-desk workload by 50-70% using Clearwave's patient intake system.
According to UAB Medicine's Rob Crabtree, "In just one month, UAB Medicine's orthopedics department captured 3,000 driver's license updates, 515 new email addresses, 1,000 primary insurance updates and 475 secondary phone numbers through Clearwave's healthcare kiosks."
By automating and streamlining administrative updates like these, Clearwave has provided demonstrable value by giving time back to UAB's employees for more value-adding work. Patients also love the convenience of quickly and privately managing their information.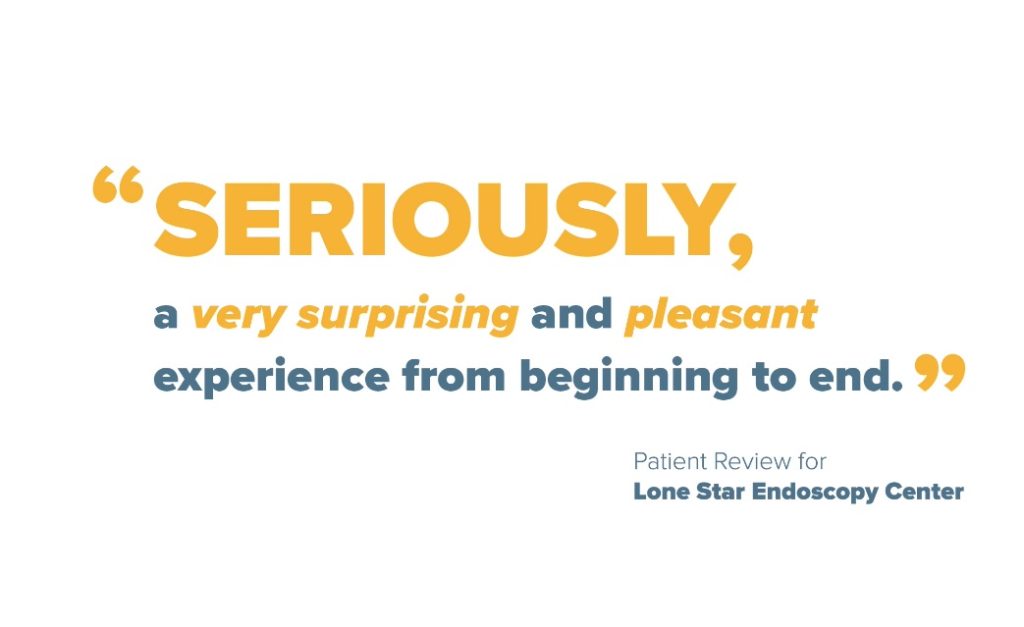 Real-Time Updates
Another feature that makes Clearwave so easy for patients is our real-time updates. Features like Enterprise Eligibility, and real-time EHR updates reduce redundancy and error on the practice level – a win-win for both patients and practices!
Our eligibility platform, Enterprise Eligibility, is a great example of this. Enterprise Eligibility puts verifying insurance eligibility and benefits in the practice's hands.
Clearwave can check a patient's insurance eligibility in only a few seconds, with customized data based on the provider, service, and location. Utilizing Clearwave's real-time patient eligibility check, medical practices see a 70-90% decrease in rejected claims due to improved patient data.
Knowing a patient's insurance eligibility allows for better care by helping to manage patient cost expectations and reducing time spent by staff to research and diagnose coverage issues.
Collections Becomes Private and More Secure
Automating patient collections is a core feature of Clearwave's patient check-in kiosks. Ask any staff member who works at the front desk of a practice what they like least, and it's likely collections. It's an uncomfortable job, and up until now, someone had to do it.
With Clearwave, our kiosks are eliminating awkward conversations that take place in public. Instead, past due payments and copays can be paid right at the kiosk.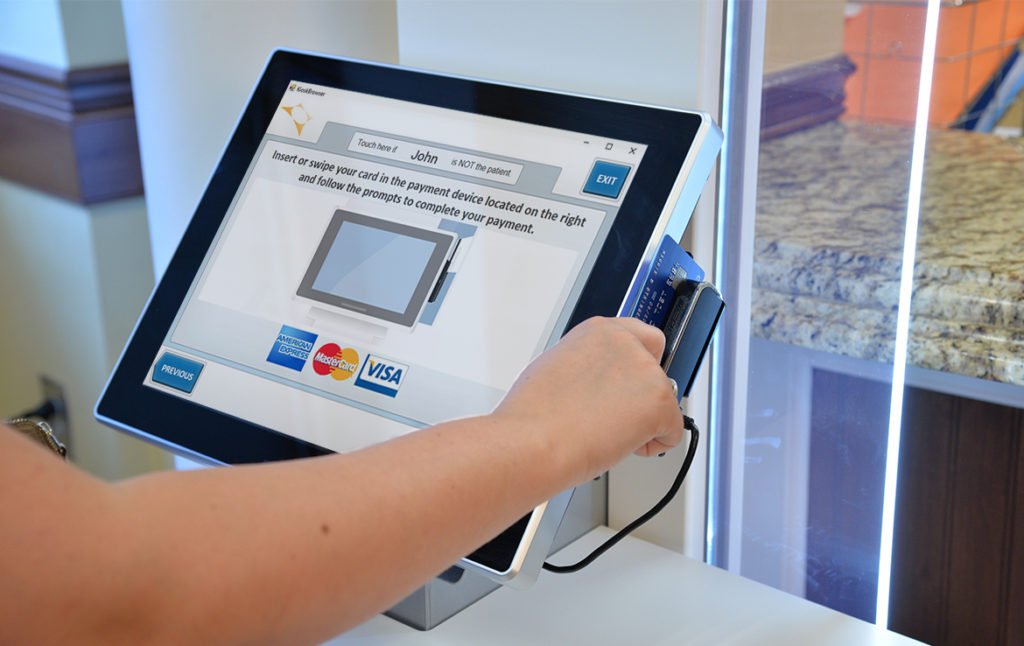 Credit card payments can be processed with Clearwave's Swipe and Hold feature. Using Swipe and Hold allows patients to automate future payments if they wish, which cuts down on overdue payments. Clearwave clients see a 25-60% increase in point-of-service collections using our payment system!
Patients are happier because they can take care of financial matters in private. Your staff are happier because they don't have to spend as much time on collections. And, with patients paying their bills more efficiently, your revenue cycle is happier, too.
Mobile Pre-Check From Anywhere
Clearwave's Mobile Pre-Check solutions enable patients to pre-register for their appointments on the go, providing more convenience for your consumers. Patients that use Mobile Pre-Check receive appointment reminders, and spend less time checking in. Mobile pre-check can also help practices to reduce registration errors by up to 90%.
Patients are able to:
● Receive appointment reminders via text and email that can help reduce no-shows

● Verify insurance and contact information and make updates as needed

● Electronically review and sign any necessary forms for their appointment
Gerard White, the president and CEO of Clearwave, knows that mobile pre-check simply makes sense for healthcare, stating, "In healthcare, mobile solutions for capturing and storing patient data are just beginning to take hold—and their potential to change the industry is quickly becoming evident. At Clearwave, we're proud to offer Mobile Pre-CheckTM the most advanced mobile check-in solution on the market."
Patient satisfaction improves when you put time back in their hands, increase convenience and efficiency, and free up staff time for a more personalized patient experience.
For this, Clearwave is an excellent tool that betters patient experiences and enhances workflow for hospital systems and medical practices alike.
Are you ready to learn how Clearwave can help save your practice time and money? Schedule your demo with Clearwave today to learn how we can help you grow.
Reading Time: 3 minutes New Integration Empowers Multispecialty Clinics to Automate Operations, Improve the Patient Experience and Drive Revenue Growth ATLANTA – August…
Reading Time: 4 minutes The ability to pre-register for appointments, ahead of their office visits, has become a top requirement that patients are looking for…
Reading Time: 4 minutes By Blakely Roth | August 17, 2023 Age is just a number for your older patients, as they continue to…