Cut Through the Noise: Easy Ways to Offer Patient Financial Transparency
Reading Time:
3
minutes
The 2022 No Surprises Act (NSA)
If you've looked at the NSA's provider requirements for patient financial transparency and fallen into a few rabbit holes in the process, you're not alone. Many facilities and administrators are struggling to gain a comprehensive understanding of what is needed – and develop implementation plans with their existing staff and workflows.
Two recent surveys posted dramatic numbers on compliance on pricing transparency and Good Faith Estimates (GFEs): 
National professional association MGMA polled its members in January 2022, weeks after the federal legislation's execution. 90% of the survey's responders noted that the GFE requirement increased the administrative burden on their practices. Trailing the taxing healthcare staffing challenges that began in 2020, it's not hard to imagine that the new federal requirements can feel like an extra blow to managers. 
The Patient Rights Advocate group published a price transparency compliance report for hospitals on February 7th, "reviewing 1,000 US hospitals out of the over 6,000 accredited hospitals in the country." Their report states that just 14.3% of reviewed hospitals are currently in compliance with transparency regulations.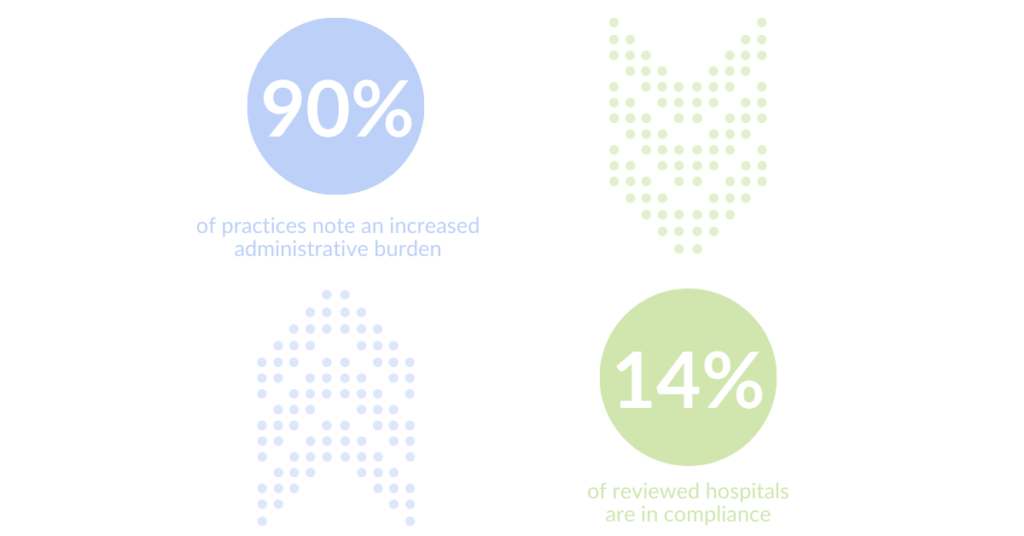 The healthcare pricing transparency discussion is complex from any angle. It's a restructuring of several volatile areas that we've regarded like a picturesque, dormant volcano for many years, just hoping it didn't explode while we were nearby.
The expected primary result of comparable pricing data is that patients will gain empowerment as healthcare consumers and comparison-shop for services. 
But the fear of many healthcare professionals has been the initial resources they would need to meet compliance. The business of medical billing for hospitals and practices has functioned out of the spotlight for decades. Providing pricing transparency to either list cost comparisons in a machine-readable format or equip patients with GFEs requires new resources and workflows on top of existing operations. There's also the issue of the time needed to collect and publish pricing data from various sources and formats and transform them into a clear set of information that patients can understand.
How practices can get organized
There's no question that pricing transparency will transform healthcare. As we've seen with the rapid patient adoption of digital healthcare solutions during the COVID-19 pandemic, major change can happen quickly.  
The organizations that want to remain at the forefront will take the time and resources to make pricing transparency as clear and easy to decipher as possible, as early as possible. Instead of finding additional budgeting to tackle the first hurdle of aggregating data by staff members, organizations can look at an overview of operations and hours and optimize that structure to afford pricing transparency workflows.
Preparation is key
To gain traction on requirements and the operational changes needed, staff's time is critical. Many healthcare organizations swap out tasks with tools like automated eligibility verification to reduce the initial administrative burden proactively.
For example, where eligibility checks can take 3-5 minutes per patient, digital verification automatically pings payors and receives a clear response in seconds. This eliminates that task time from staff workload. Digital eligibility verification removes the uncertainty from the day's visits and claims submissions and is the first step in establishing transparency with patients. Instead of discovering an issue with coverage at the front desk, patients come to expect that eligibility is verified at the point of scheduling.
At this point, many patients will have shopped for service pricing and request confirmation or a GFE, or with a high-deductible plan or loss of coverage, ask for a cash price, anticipating a lower out-of-pocket cost.
Creating better cash flow
Because many appointments are booked within the 3–10-day window of when a GFE would be required, consistently anticipating the request should be part of the staff's routine.
At the same time, knowing the patients' financial responsibility will better equip facilities and practices to incorporate collection channels at the point of service. It's estimated that up to 60% of medical practices in the US do not ask for patient payment upfront. Not only does this compound overhead costs, but post-visit, the likelihood of collection dwindles to cents on the dollar. The benefit of knowing a patient's visit cost in advance also conditions organizations to streamline patient collection, automating patient collections during intake and check-in.
Hear from an expert
On Thursday, February 24th at 2 pm EST, we'll speak with Larry Van Horn, the economist and healthcare management expert who contributed to the executive order on pricing transparency in 2019.
Webinar registrants will hear about the background and intent of the legislation and provider impact and automatically receive a link afterward to the webinar's recording.
Access the recording of "Don't Get Surprised by the No Surprises Act – Prepping Your Practice for Compliance."
Reading Time: 4 minutes By Blakely Roth | November 30, 2023 Patients want the freedom to book appointments at their convenience, just like booking…
Reading Time: 4 minutes By Chloe From Clearwave | November 10, 2023 Missed appointments are an inconvenient but common occurrence in healthcare. Patient no-shows…
Reading Time: 5 minutes Increasing practice growth is not just a goal, but a necessity for specialty physicians in today's healthcare landscape.  According to…