Does Digital Patient Check-In Risk Job Security?
Reading Time:
4
minutes
Sheena Harrison, the Front Office Coordinator at Vascular Surgical Associates, was not a fan of Clearwave when the idea to implement self-service digital patient check-in at the practice was first brought to the table.
Her apprehension? Taking the personal aspect out of patient care by removing people from the check-in process.
Medical staff can benefit from digital patient check-in
What Sheena and other staff members at Vascular Surgical Associates found was a completely different result – they were able to place more focus on patient care and enhance their personal communication with patients visiting the practice.
It may seem that adopting patient check-in solutions runs the risk of putting your front desk staff out of a job, but it's just not true. There's a lot more that goes into being a medical receptionist than checking in patients for appointments.
Keep reading to learn how patient check-in systems from Clearwave can improve your front-office workflow while enhancing day-to-day workflows for your staff.
Patients and front desk staff want to be valued
The role of front desk staff at any practice or health system requires agility, multitasking and the ability to stay cool under pressure. Every day is different, and each has its own challenges.
Job responsibilities vary, but often include a wide range of tasks, such as:
Answering phone lines
Greeting patients and collecting data
Processing payments for co-pays
Collecting past-due payments
Calling patients to remind them of upcoming appointments
Providing patient support and guidance
Educating patients on available patient services
Verifying patient insurance and payment information
Maintaining office inventory and taking stock of needs
Fielding inbound requests from the practice website
At a busy medical practice, anything management can do to alleviate the stress of balancing all these time-sensitive tasks can improve efficiency, reduce errors, and give your staff the ability to confidently manage their workload and provide excellent patient support.
Front desk team members don't want to spend time on manually entering written data. There are better uses of their time and energy! When your front desk staff doesn't have to check in every patient, they can spend more time helping patients.
The Journal of Primary Health Care found that, "The way receptionists identified with a caring role strongly challenged the pejorative view of them in public discourse. Receptionists provide care in two key ways: for the practice and for patients. The juggling they do between the demands of the practice and of patients creates considerable work tensions that are often invisible to other staff members."
Whether you realize it or not, your medical reception staff is performing the ultimate juggling act. They care for your patients while keeping your practice running smoothly. Why wouldn't you want to provide them with a resource that will make them work more efficiently and better manage other tasks?
Even without manually entering check-in data or verifying insurance information, your staff will still have plenty to do throughout the day.
Reduce stress and errors for a better experience
Nobody likes the feeling that comes with realizing that a mistake has been made, especially when it concerns a patient under your care. Digital patient check-in solutions from Clearwave can reduce stress and internal errors, helping everyone to breathe a little easier.
What if patients could check-in at home and enter all of their patient information in advance? They can with Clearwave Pre-Check! It simplifies the patient check-in process by allowing patients to check in before their scheduled appointment, from the comfort of… wherever!
By utilizing Clearwave's Pre-Check, patients bypass the front desk altogether. Instead, they spend a few short minutes signing in at a convenient healthcare kiosk located in your waiting room to confirm they have arrived for their appointment.
Patients and front desk staff are happier because there's less time spent in the waiting room. Your staff is also happier because any patient updates entered automatically integrate with the patient's medical record. Say goodbye to avoidable errors – Pre-Check decreases registration errors by 90%!
According to Sheena, Vascular Surgical Associates was able to give their patients more face-to-face time and improve patient care, thanks to the reduction in registration errors and reduced time spent on the phone to correct them. Patients are happier when their patient care is going smoothly, and staff get to spend more time making connections and accomplishing other important, value-adding office tasks.
Prevent uncomfortable payment conversations
Your staff also no longer needs to have awkward conversations about collections or bills that are past due. Beyond giving patients the ability to update their information, Pre-Check requests co-payments. In fact, Clearwave clients see a 25-60% increase in point-of-service collections using our payment system!
Clearwave reviews eligibility during Pre-Check, as well as again when the patient confirms arrival.
Not only does this make patients more comfortable because their payment information remains private and secure, this leaves your medical receptionist and other staff with more time to help patients, answer questions, and keep your practice running smoothly.
Keep your staff from being overwhelmed by long lines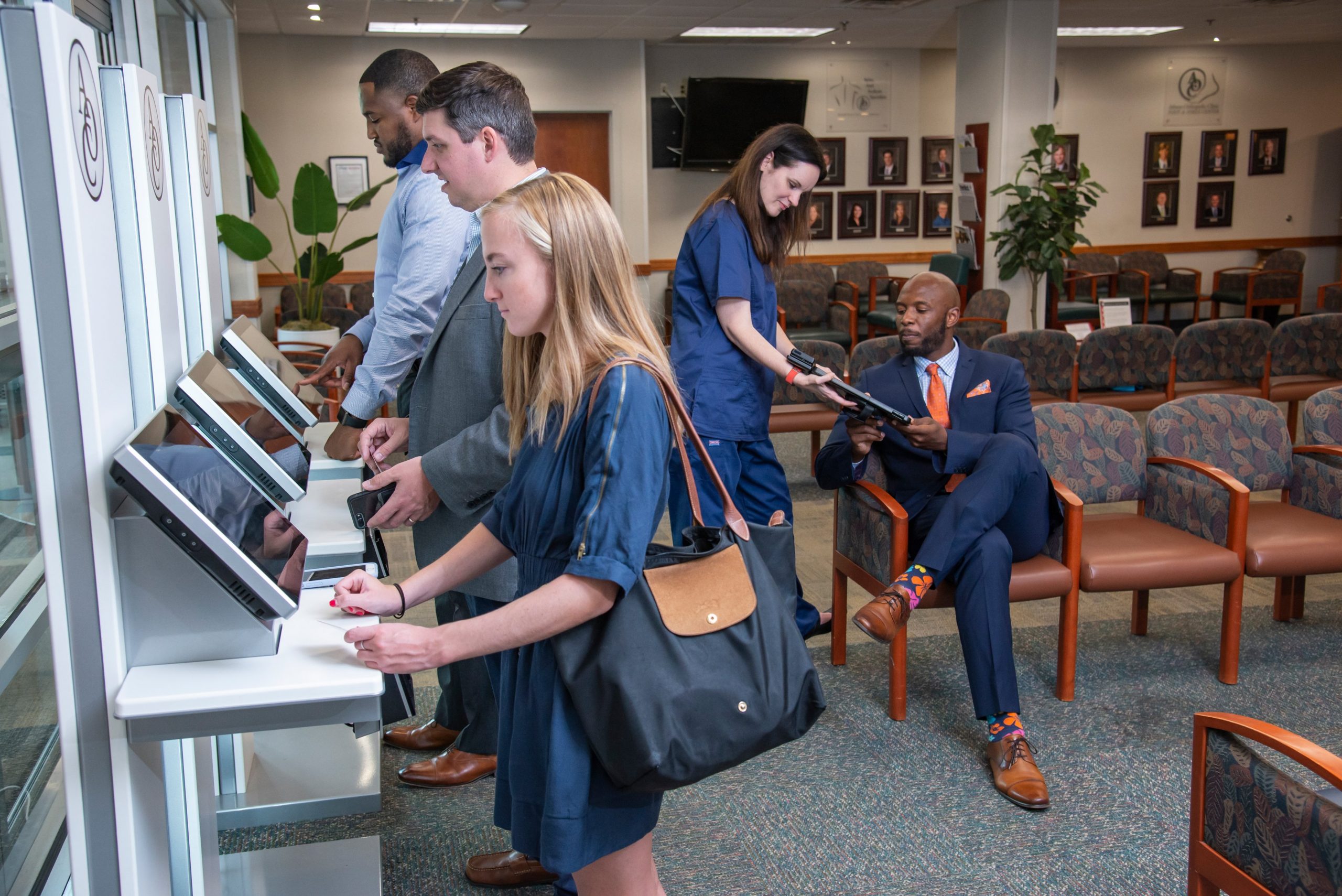 If you've ever been short-staffed at the front desk of your medical office or had a rush of patients waiting to check in for their appointments, you recognize the stress and overall hectic feeling this can place on your staff.
Helen Lowenwirth, Administrator at East Side Endoscopy, knows this feeling. Once their practice adopted Clearwave Connect for Tablet for patient check-in, they were able to negate this stress for their staff. She said, "If we have a rush of patients or are short staffed, Clearwave Connect is able to help alleviate lines and wait times."
By reducing the buildup of lines, which can lead to unhappy, impatient visitors, you can keep everyone in the office calm and at ease by providing alternate check-in options.
Empower your staff to do more with Clearwave
Instead of replacing staff, Clearwave's products have consistently helped to make day-to-day tasks easier and prevent stress for our clients. Situations where staff could be overwhelmed are alleviated with patient check-in systems like tablets, kiosks, and mobile patient check-in. Instead of becoming nervous about a growing line of patients, staff can instead focus on the individual in front of them and provide optimal care.
Digital check-in solutions from Clearwave can help keep your staff engaged and providing top-level patient care. By reducing time spent inputting patient data, verifying insurance information, collecting patient payments, or simply getting through lines of patients, they can focus on building relationships with patients and focusing on their care.
Are you ready to reduce stress for your staff and enhance patient care? Schedule a quick 30-minute demo with Clearwave today!
Reading Time: 4 minutes By Blakely Roth | November 30, 2023 Patients want the freedom to book appointments at their convenience, just like booking…
Reading Time: 4 minutes By Chloe From Clearwave | November 10, 2023 Missed appointments are an inconvenient but common occurrence in healthcare. Patient no-shows…
Reading Time: 4 minutes By Chloe From Clearwave | October 23, 2023 When payments are slow it's frustrating for healthcare providers, meanwhile patients may…