Brandon Beshear, Administrator at Wichita Falls Endoscopy Center
Texas endoscopy center turns to Clearwave to remove patient impediments at check in
The Wichita Falls Endoscopy Center prides itself on providing its patients the very best in digestive health. This includes strong patient-physician relationships, expert care, and overall pleasant experience while there.
To this last point, the Center has removed impediments to a lengthy check in process by moving to Clearwave, a digital self-service check in system.
"I came across Clearwave in an article in Becker's Hospital Review," recalled Brandon Beshear, the Center's administrator. "An endoscopy practice in Pennsylvania I respect had adopted the system and spoke very highly of it. So I researched Clearwave and a couple of other vendors and became convinced that Clearwave offered the most value."
"The fact that the other practice was using Clearwave kiosks at their locations was a big deal to me. I was familiar with them and thought, hey, if it's something they're finding value in then I really need to see something super from someone else before I would consider going a different route. But I didn't see anything as impressive as Clearwave through another vendor."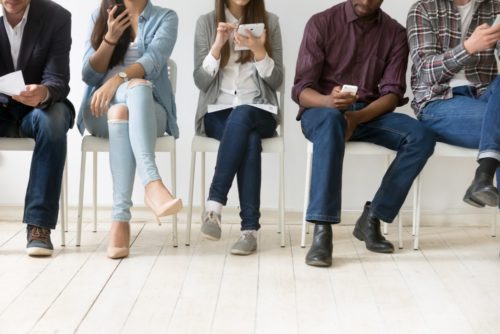 With a medical staff of eight and 23 full-time employees, the Wichita Falls, Texas facility sees about 7,500 patients a year. Prior to implementing Clearwave, the Center checked every patient in at its front desk—a lengthy process for patients and a taxing one for staff. Relieving the burden of the front desk and making it easier for patients to check in became a priority.
"Our front office staff was often overwhelmed with work," admitted Mr. Beshear. "But implementing Clearwave took the pressure off. We didn't have to hire another person to ease the workload because Clearwave did that for us."
Through easy-to-follow prompts, Clearwave allows patients to quickly check in for appointments and remit payments right at the kiosk.
"Before Clearwave," continued the administrator, "our staff was manually scanning patients' driver's licenses and insurance cards, and patients were filling out forms on clipboards. They don't have to do that anymore. No more scanning, no more clipboards. 100% of our patients check in at the kiosk."
"The other great thing is that our patients can do a mobile pre-check, so much of the check in process can be handled in prior to their arrival."
Clearwave also verifies a patient's insurance eligibility in real time and allows patients to pay for services while checking in. "The automatic benefits verification that occurs several times before someone arrives is very accurate," noted Mr. Beshear. All this in a sleek, inviting self-check in kiosk.
"And the visual appeal of the product used by staff is impressive. That was one of the things that drew us to Clearwave and repelled us, frankly, from other products we considered. The screen is very well done. It's very easy for our staff to view and manage. It's a strategic advantage in my opinion."
Decreasing patient check-in time had an added benefit for the Center—an improved working environment for front-office staff.
"96 percent of our visits have a reminder sent to them. And many of our patients use mobile pre-check. So our check in time has continued to fall to a little bit less than three minutes on average with Clearwave."
"That's greatly reduced the stress on the business office staff because it's given them more margin. Before they were without margin and overworked. So the efficiencies we picked up allow for a much more manageable level of work to take place every day."
Mr. Beshear was so impressed with Clearwave that he did that Becker magazine article one better. Last October he spoke at the Becker annual conference—making a presentation on the benefits of the Clearwave system.